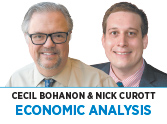 Higher education, like most every other part of the economy, is feeling strain from the COVID-19 virus. Responses vary across colleges and universities. Here is our inside report on what we are planning at Ball State for the upcoming semester.
Our classes will combine in-classroom student interaction with major online components. The typical introductory economics class at Ball State has enrollment of 50 students and meets three times a week at an appointed hour on Monday, Wednesday and Friday. Our physical classrooms readily accommodate such a class size. However, given the necessity of social distancing, a classroom with a capacity of 60 can now safely accommodate no more than 17 students.
Therefore, we will put our lectures for the week in an online format students can view. We'll also provide links to websites, readings that further explain the material, and study questions students are to bring to the classroom. The class will then be divided into three sections of 16-17 students, that each meet one day a week. In those once-a-week meetings, we will go over the study questions and encourage and motivate the students to ask and answer questions. It is similar to the time-honored Oxford-Cambridge pedagogy in which students read material, listen to lectures and then talk about the material in smaller groups with their professor.
Although we certainly have trepidations, we are hopeful—even optimistic—this will be an effective way of delivering course content. We think students will have more of an incentive to be prepared for class. During our time in class, we will be fully masked-up and expect the same of our students. We also intend to keep doors open to ensure reasonable air circulation.
Students who test positive for COVID will be in quarantine. If only mildly ill or asymptomatic, they can attend the class remotely through our university-wide Zoom system. Again, we are hopeful—even optimistic—that this format will preserve the on-campus experience for our students and also help protect the Ball State community from a nasty virus that has caused so much misery.
Our class model is not uniform across our own campus, much less across higher education, and that's OK. One size does not fit all. No one relishes disasters like COVID, but sometimes adversity forces us to engage in prudent risk-taking that generates unintended benefits. At least we can hope so. Wish us and all educators good luck!•
__________
Bohanon and Curott are professors of economics at Ball State University. Send comments to ibjedit@ibj.com.
Please enable JavaScript to view this content.