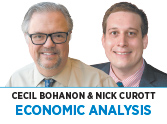 A few weeks back, we lamented the decline of freedom in Hong Kong, which Milton Friedman had so aptly documented as a miracle of the free market in his 1980 "Free to Choose" video series.
Professor Friedman is not around to share his views on Hong Kong's current troubles. However, the executive producer of the "Free to Choose" series, Bob Chitester, who visited Ball State University in the fall of 2019, is alive and well. In a private communication, Chitester told us this: "In the last year of his life (2007), Milton was surprised that Hong Kong was still 'free.' He would not be surprised with what's happened in the last six months."
This observation became ever more poignant this week when Hong Kong newspaper magnate and publisher Jimmy Lai was arrested. His newspaper, the Daily Apple, has the highest circulation in Hong Kong and has been a beacon for Hong Kong democracy. Australian TV reported that "dozens" of policemen ransacked the newspaper's offices.
Most economists, including us, have little faith in heroic action turning the tide of events. Yet the liberties that undergird the operation of a free market and free society are grounded on the expectation that government itself obeys the rules.
American and Western European leaders don't treat their political enemies the way Beijing is treating Lai. And the reason is not so much that their constitutions prohibit it. The basic law of Hong Kong clearly prohibits Beijing's actions. What enforces constitutional rules are not pieces of paper, but the willingness, ability and habits of a people to stand up to government overreach. The foundation of a free market and free society rest on the willingness of citizens to courageously oppose government excess. Heroic courage by ordinary people is at times necessary to preserve freedom.
Lai has used his wealth and position to help his fellow Hong Kong citizens oppose Beijing's excesses. The Hong Kong freedom movement deserves our support and sympathy—but what should we do? Military force is out of the question. Interestingly, Chitester indicated Friedman was "not convinced economic sanctions work against such regimes," and we tend to agree.
So, as the United Kingdom has done, let's open the United States to residents of Hong Kong. Open immigration into Hong Kong was essential to its earlier success. Access to open immigration of its talented people into our land just might help save it.•
__________
Bohanon and Curott are professors of economics at Ball State University. Send comments to ibjedit@ibj.com.
Please enable JavaScript to view this content.