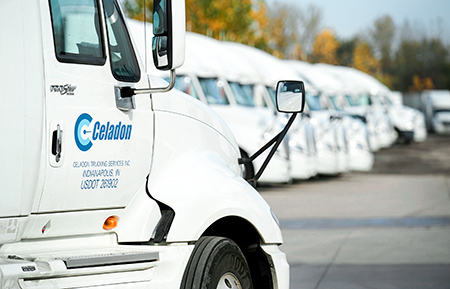 Indianapolis-based Celadon Group Inc. has won a temporary restraining order against a North Carolina-based repossession company that Celadon says has improperly taken dozens of its vehicles and demanded "ransom" for their return, following Celadon's bankruptcy filing in December.
In a suit filed Feb. 6, Celadon alleges that Raleigh-based Triangle Recovery Services has at least 50 of Celadon's trailers, and three of its trucks, with hopes of profiting from its activities.
"Once Defendant Triangle Recovery has possession of a Celadon truck or trailer, Defendant holds the vehicle for ransom until (Celadon) agreed to pay Defendant's fees," the complaint alleges.
In its complaint, Celadon says it has incurred more than $75,000 in expenses because of Triangle Recovery actions, although it does not specify an exact amount.
"Defendant's ransom demands are now causing the Debtors, who have very shallow resources, to direct these scant resources to recovering these vehicles," Celadon's complaint says.
Triangle Recovery advertised itself online, including on its own website, as a place where drivers could drop off Celadon vehicles, the suit alleges. Court records include an image of an advertisement with a photo of Celadon trailers and the words "$ CASH REWARDS $ for locations of abandoned Celadon Equipment anywhere in the U.S."
The image includes contact phone numbers as well as an e-mail address that includes the name of Triangle Recovery in it.
For a time, Triangle Recovery's website also included a button labeled "Celadon Truck Return." That button has since been removed from the site.
Celadon says it used geofencing—a type of GPS technology—to trace its vehicles to a Triangle Recovery storage lot.
Triangle Recovery ignored Celadon's Feb. 4 request that it cease its activities and turn over Celadon's vehicles, the complaint says.
Celadon's complaint against Triangle Recovery is part of Celadon's Chapter 11 bankruptcy case, which is being heard in U.S. Bankruptcy Court in Delaware.
On Thursday, a judge issued a temporary restraining order that immediately prohibits Triangle Recovery from repossessing any additional Celadon vehicles unless it already had a written contract with a Celadon creditor who has court permission to recover the equipment.
George Stephenson, Triangle Recovery's general manager, told IBJ that his company has only recovered Celadon vehicles at the request of businesses and property owners who were unable to reach Celadon in the wake of its bankruptcy filing.
"Celadon abandoned thousands of units nationwide, at distribution centers, truckstops, businesses and personal properties. Interrupting daily business, causing great inconvenience, creating hazards and even encouraging criminal activity and vandalism," Stephenson said via email.
"It appears that Celadon is singling out Triangle Recovery Services, for we are not the only company that has towed or has the authority to repossess their equipment," Stephenson wrote.
According to court records, Triangle Recovery Services is the only company so far that Celadon has sued alleging this type of activity.
Stephenson did not immediately respond to a request for additional comment on Thursday morning about the allegations of asking for ransom.
Please enable JavaScript to view this content.