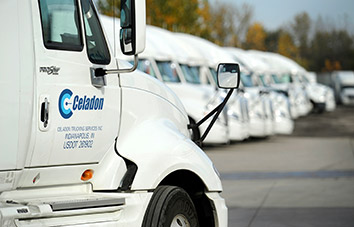 As Indianapolis-based Celadon Group Inc. continues to liquidate its assets in bankruptcy, the trucking company will auction off some of its equipment and furnishings, including the contents of its east-side offices and driver welcome center, over the next two weeks.
Celadon filed for bankruptcy in December and immediately shut down most of its operations, and has been working since then to sell its equipment and real estate in a series of court-approved transactions.
To sell Celadon's office furnishings and equipment, Indianapolis-based Key Auctioneers is conducting four different online auctions, each focused on different types of items:
An auction of items from Celadon's former driver welcome center and training rooms, plus truck parts and grounds maintenance equipment, closes Monday. That auction includes bedroom furniture, wall-mount televisions, office furniture and other items.
An auction of fitness equipment, medical equipment from the company's clinic, televisions and picnic tables closes Tuesday.
An auction of computers, office phones, printers, televisions and other IT and office equipment closes March 16.
An auction of office furnishings including conference tables, desks, chairs, art and other items closes March 17.
More information on the auction can be found here.
Please enable JavaScript to view this content.