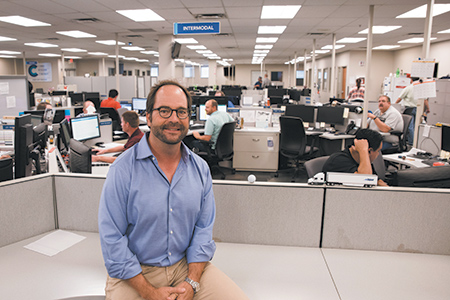 As Indianapolis-based trucking firm Celadon Group Inc. winds down its operations in bankruptcy, its top executive is departing for a job as CEO of Illinois-based STG Logistics.
CEO Paul Svindland told IBJ he will step down at the end of this month, but he will remain on Celadon's board of directors. Svindland said he plans to start his new job at STG Logistics on March 2.
STG Logistics,founded as St. George Trucking & Warehouse Inc. in 1984, is based in the Chicago suburb of Downers Grove. It offers container freight station service for import and export cargo traveling by ocean or air. It also provides storage, transportation and distribution services, and maintains a network of more than 75 warehouses around the nation.
The company is owned by Wind Point Partners, a Chicago-based private equity firm, which acquired St. George in 2016 and combined it with several other logistics companies.
Svindland has spent his entire 25-year career in the transportation industry. He joined Celadon in 2017 and spearheaded numerous turnaround initiatives in what was ultimately a failed effort to save the troubled company.
"We are extremely excited for Paul to join the STG team," said Greg Muldoon, STG chairman and interim CEO, in written comments. "His broad experience across ocean, air, and truckload transportation will provide him with a strong background to strengthen STG's relationships with both customers and suppliers."
Celadon filed for Chapter 11 bankruptcy on Dec. 9 and immediately shut down most of its operations. It's now in the process of working through bankruptcy and selling its assets, including the one part of the business that is still operating: North Carolina-based Taylor Express.
Please enable JavaScript to view this content.