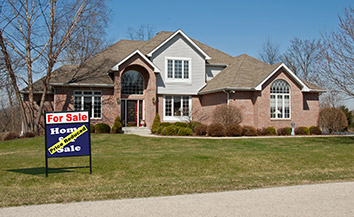 Sales of existing single-family homes made a big rebound in central Indiana in June following a dreadful May and a dismal April hammered by the pandemic
Completed sales in the 16-county area decreased 3.3% in June on a year-over-year basis, but were up a whopping 28.2% over the previous month, according to the latest data from the MIBOR Realtor Association.
Central Indiana buyers bought 3,518 homes in June, compared with 2,745 in May and 3,639 in June 2019.
June's relatively small sales decline came on top of a 23.3% year-over-year decrease in May and a 16.8% decline in April. Area sales had been on the rise in six of the previous seven months before April.
On a year-to-date basis, area sales are down 4.9%, to 15,784, compared with sales of 16,590 through the first six months of 2019.
The median home price in the area reached a record $219,000, up 9.5% from a year ago and 1.9% from the previous month. Median prices have hit all-time highs in four straight months.
The active inventory in June sank 43.6% on a year-over-year basis and 10.2% from May, to 3,563 houses. New listings were down 9.3% on a year-over-year basis, to 3,848, but up 2.2% over May.
Pending sales in June were up 18.5% from a year ago, to 4,269—a positive sign for July sales.
"New listings are recovering, making it appear that sellers are becoming more comfortable as Realtors are being responsive to their concerns and implementing the safety protocols for showings and increasing the number of virtual tours," MIBOR CEO Shelley Specchio said in written remarks.
Marion County
In Marion County—the most active market in central Indiana—closed sales in June ticked up 0.8%, to 1,343.
The median sales price in the county spiked 11.9%, to $185,000. New listings decreased 12.3%, to 1,405. The inventory of available single-family detached houses in Marion County fell 41.3%, to 1,285.
Other area counties
– In Hamilton County, sales slid 8.9%, to 663, in June. The median sales price dipped 0.6%, to $322,500. The inventory of houses fell 44.2%, to 697.
– In Hendricks County, sales sank 13.9%, to 292, and the median sales price increased 8.9%, to $250,003.
– In Johnson County, sales decreased 1.2%, to 251, and the median sales price rose 6.8%, to $218,700.
– Sales in Boone County dropped 11.7% last month, to 143. The median price of a house fell 11%, to $300,000.
– Hancock County sales slipped 9.2%, to 128, and the median price jumped 16.9%, to $228,000.
– Sales were down 11.4% in Madison County, to 155. The median sales price decreased 2.7%, to $126,500.
– Morgan County sales rose 11.2%, to 119, and the median sales price dipped 0.9%, to $173,000.
– Shelby County saw 50 closed home sales last month, down from 63 in June 2019. The median price increased 1%, to $147,500.
Please enable JavaScript to view this content.