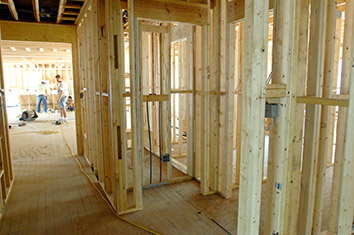 February's snowstorms failed to put a chill on demand for new homes in central Indiana, the Builders Association of Greater Indianapolis announced Wednesday.
Builders in the nine-county Indianapolis area filed 818 single-family building permits during the month, up a robust 32% from February 2020, when 622 permits were filed.
The last time filings were so high in February was in 2004, when 911 permits were filed.
So far this year, 1,590 permits have been filed in the area, up 38% over the first two months of 2020.
Filings in central Indiana have risen on a year-over-year basis in 14 of the past 15 months.
"Home demand continues to surpass production capacity," said BAGI chief executive Steve Lains in written remarks. "It is certainly encouraging to see this enthusiasm evolve over the past year, and yet labor and supply cost increases, coupled with limited lot and home inventory, continue to pose challenges for builders to meet this demand."
County numbers
– Marion County saw 130 permit filings last month, an increase of 2% from February 2020.
– New-home hotbed Hamilton County saw 272 filings last month, a year-over-year increase of 41%.
– Hendricks County's numbers were up 8% in February, to 115.
– Hancock County saw February permits jump 88%, to 79.
– Johnson County saw a 49% increase in filings last month, to 82.
– Filings were flat up 13% in Boone County last month, to 60..
– Madison County filings increased 185% in February, to 57.
– Morgan County filings dipped from 23 to 20.
– Filings stayed flat at three in Shelby County.
Please enable JavaScript to view this content.