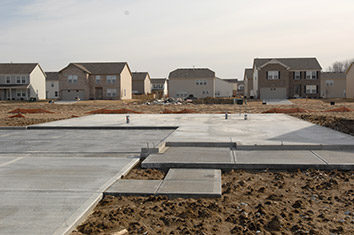 Central Indiana builders saw a huge rush of business last month from people who want new homes, resulting in the biggest month for permit filings in more than 14 years.
Single-family building permit filings in the nine-county Indianapolis area jumped a whopping 45% in September, marking the 13th time in the last 15 months that filings have risen on a year-over-year basis.
Builders filed 819 permits last month, compared with 565 permits in September 2019, according to the latest numbers by the Builders Association of Greater Indianapolis.
The area hasn't seen a bigger month for filings since August 2006, when 937 permits were filed.
Permit filings are up 15% so far this year compared with the first nine months of 2019, despite the pandemic. Year-to-date, 6,277 permits have been filed in the area so far, compared with 5,448 over that period last year.
September's increase followed a 9% year-over-year spike in August, a 12% rise in July, a 20% jump in June, a 12% decline in May, a 5% increase in April, a 20% rise in March, a 34% escalation in February and an 18% jump in January.
BAGI chief executive Steve Lains said a backlog of demand caused by the pandemic is partially responsible for the big September.
"September's 45% increase is certainly a continued indication of the overall market strength, but we do believe that a portion of this month's increase could also be caused by the builders and municipalities catching-up on permits from previous months." Lains said. "Operations and processes were severely disrupted for builders and municipalities with COVID-19 related office closures and 100% online permitting, and both sectors are continuing to adapt to new COVID-19 operations."
County numbers
Marion County permit filings rose 4% in September on a year-over-year basis, from 106 to 110.
Hamilton County saw 239 filings last month, an increase of 15%.
Hendricks County's numbers were up 55%, from 69 to 107.
Hancock County saw permits jump 111%, to 97.
Johnson County saw a 60% increase last month, to 85.
Filings rose 66% in Boone County last month, to 53.
Madison County filings increased 282%, to 84.
Filings remained at eight in Shelby County.
Morgan County filings jumped 64%, to 36.
Please enable JavaScript to view this content.