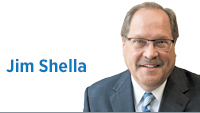 The recent flap over the tweets from President Donald Trump telling four Democratic congresswomen of color to "go back" where they came from has prompted debates over racism, civility and patriotism in this country.
Who loves America? And who doesn't? And just what does it mean to love America?
The dictionary defines patriotism as "devoted love, support, and defense of one's country; national loyalty."
That's vague and, as a result, a lot of room is left for our Republican president and others to question the loyalty of "the squad," as the four members of Congress are known. He accused them of loving terrorists, "hating" the United States and Israel, and said they should feel free to leave the country.
There is just as much room for Democrats to question the patriotism of Trump and members of the GOP. Minnesota U.S. Rep. Ilhan Omar, a member of the squad, accused the president of pursuing a white nationalist agenda.
But on some level, none of this is new.
I've had my patriotism questioned. It happened first when I was in high school. I was a senior in 1972 during the time the Vietnam War was claiming the lives of thousands of young American men, including one from the small Minnesota town where I grew up. The funeral for Marine Robert Reker was an unforgettable event in our village of 850 people. His sister was a classmate of mine, and, because I played trumpet in the high school band, I was asked to blow taps at the graveside service.
When seniors were instructed to write a term paper that year, I decided to do some personal research. My paper was titled, "How to Avoid the Draft."
What I learned was that getting out of the draft was much more difficult than I had imagined. Conscientious-objector status was hard to prove and required government service equal to time that would otherwise be spent in the military. Canada didn't want defectors, and medical deferments might require a serious injury of one kind or another. Often, they were self-inflicted. (I missed the part where you could get a doctor to claim you had bone spurs.)
It turns out my research was unnecessary. When draft numbers came out, I got 326, a safe number. And ultimately, the draft ended before anyone from my class was called.
Even so, the instructor who gave me an A on that paper (a veteran who was active in the American Legion) found an opportunity to question my patriotism at a school program that included an auditorium of people from the community. He called me out and asked me to define the word patriot. My memory is that I gave a relatively eloquent response that included an argument that true patriotism might include challenges to governmental authority.
And that's the reason members of the squad, you could argue, are exercising patriotism even as others question their loyalty.
You see, being a patriot also means you support the First Amendment, and that means you uphold the rights of others to question your patriotism. I spent 40 years as a journalist reporting on government—very patriotic duty, in my view. It's also a good way to have your patriotism challenged regularly on social media.
Of course, much of the current patriot-bashing is being done solely for political purposes.
As comedian Yakov Smirnoff said, "What a country."•
__________
Shella hosted WFYI's "Indiana Week in Review" for 25 years and covered Indiana politics for WISH-TV for more than three decades. Send comments to ibjedit@ibj.com.

Click here for more Forefront columns.
Please enable JavaScript to view this content.