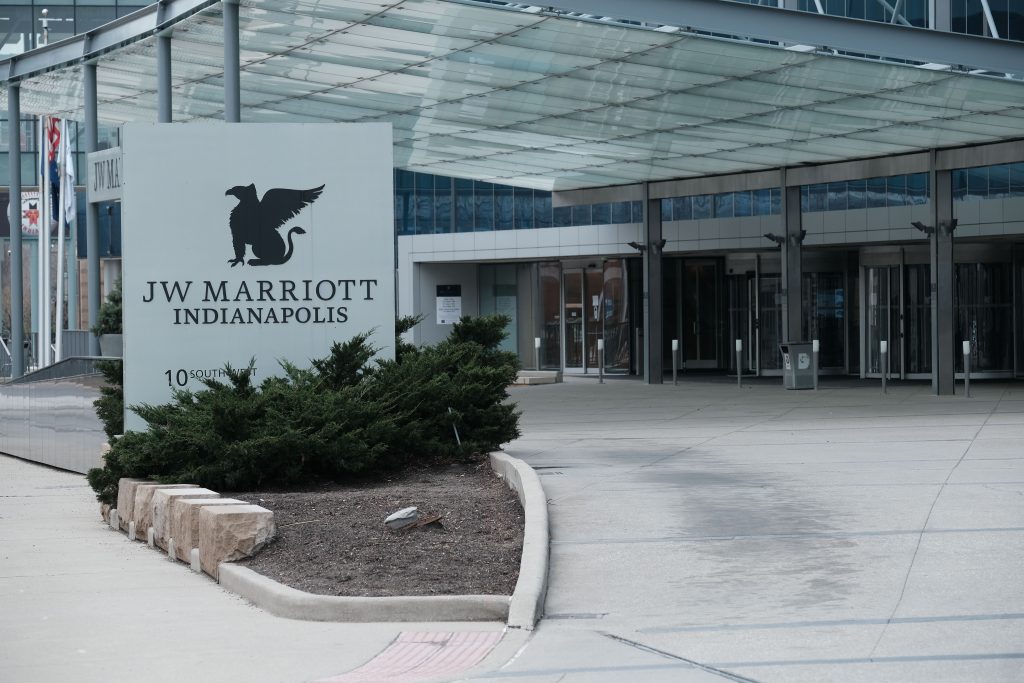 Four out of five Indiana business leaders who responded to a survey from the Indiana Chamber of Commerce said their business has suffered revenue loss during the COVID-19 pandemic.
The Chamber on Thursday said 80% of respondents reported revenue loss; 51% had cash-flow concerns; 34% suspended operations; and 32% implemented employee layoffs.
The survey, conducted April 16-22, received 1,393 responses from Chamber members. The chamber said it used responses to help it make recommendations to the governor for how to reopen the economy.
A big majority of the respondents said they participated in the federal Paycheck Protection Program, a small business payroll loan program that ran out of money last week.
Forty-three percent said they received PPP loans and 33% said they were awaiting an answer when initial funding was depleted.
As for getting back to business, a third said companies should resume operations "after May 1." Another third said "when more widespread testing has taken place."
In the "other" category, the predominant response was "as soon as possible"
The survey found 23% of the business leaders didn't think their businesses could survive more than three months under current restrictions and another 37% wouldn't make it more than six months.
More than half (55%) said they wouldn't resume operations with fewer employees, while 21% said they would. A quarter of respondents were unsure.
The business leaders said primary challenges to returning to "normal" included customer retention (48%), finances (46%) personnel (38%) and supply chain (32%).
The Chamber said more than 55% of participants have fewer than 50 employees, with 20% between 100 and 500 employees. A broad cross section of industries was represented with manufacturing accounting for nearly 25% of the total.
"As we have experienced over the past six-plus weeks, the unprecedented stay-at-home requirements and the ongoing uncertainty associated with the pandemic are major factors in the impact on businesses," said Kevin Brinegar, Indiana Chamber president and CEO, in written comments. "When business suffers, employees and their families suffer. We look forward to all beginning to recover together."
The Chamber said it used the survey results, ongoing direct communications with members statewide and knowledge of business operations to make recommendations to the governor on reopening businesses.
Among the steps (as written):
— Statewide return-to-work safety guidelines (for employees and customers). Uniform guidelines established by appropriate state/federal officials will provide certainty of procedures and instill confidence in the workforce. Suggested topics to cover include mask usage, social distancing, disinfecting strategies, testing protocol and mental health.
— Legal protection order through the Indiana Occupational Safety and Health Administration (IOSHA) or other state agency. Companies need assurance that as long as they are abiding by the state return-to-work safety guidelines (as noted above) and any additional IOSHA guidelines based on their industry that they are immune from lawsuits if an employee contracts COVID-19 after returning to work. At minimum, a thorough state-led examination of liability issues is needed.
— Set COVID-19 testing standards and expectations. Increased testing will not only speed the return-to-work process but also provide greater peace of mind to all Hoosiers.
— Formalize state support for small businesses. A variety of initiatives— additional state or private sector investments; accelerated government payments to business vendors; potential tax credits and exemptions; and more— were proposed for consideration in the effort to assist small businesses.
— Continued support for telecommuting and ensure reliable, high speed broadband. In the short term, telecommuting seems the best course of action for employees across many industries. While Indiana is blessed to have quality broadband service reliability through various providers, state/federal assistance to strengthen internet capabilities should be deployed to any rural area where service may be lacking.
Please enable JavaScript to view this content.