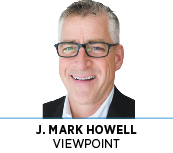 It was hard to miss March Madness this year. Not only was there great basketball, but we all felt the city come alive with fans and residents, witnessed the world's largest bracket on every broadcast and heard so many positive mentions of Indiana. What a proud time to be a Hoosier and a resident of the state responsible for hosting all 66 of the NCAA Men's Basketball Tournament games, in six venues.
The vision, planning, execution and impact achieved by the dedication and hard work of civic partners, government agencies and so many volunteers will long be remembered. From the early days of hosting global sporting events until today, we have proven how our city collaborates for the greater good—a unique quality that continues to define us in the best way possible.
March Madness is serving as continued inspiration for the Indianapolis Host Committee as we move forward plans for Indianapolis' next signature event—the College Football Playoff National Championship game on Jan. 10, 2022, at Lucas Oil Stadium.
In just 276 days, Indianapolis will host its first College Football Playoff, welcoming more than 100,000 visitors and generating $150 million in economic impact over the multi-day celebration. ESPN's broadcast will attract an anticipated audience of more than 20 million, while more than 1,000 credentialed media will cover the event from Indianapolis and more than 1,500 volunteers will create an amazing experience for the teams and their fans.
Having just celebrated a new champion, March Madness leaves a lasting impact—from the artists whose poetry, performances and art graced Indianapolis streets to the third-graders who competed in "The Read to the Final Four."
Once again, we are fortunate to have so many partners who embrace the sustainable good that comes through these mega-events. The Indy Championships Fund corporate partners have provided unwavering support, despite the challenges from the pandemic. The Indianapolis Host Committee, partnered with the CFP Foundation, has committed more than $1 million to programs providing rewards, recognition and professional-development opportunities to benefit teachers.
This week, we unveiled a newly remodeled and newly equipped middle-school media center, the first of four in central Indiana. Each media center will provide a new innovative experience, making a positive impact on students and teachers for years to come.
We've invested in Teach Indy, which is a partnership among Indianapolis Public Schools, the Indianapolis Mayor's Office of Education Innovation and The Mind Trust. Teach Indy recruits, develops, rewards and retains more outstanding educators for Indianapolis.
We have also partnered with the Indianapolis eLearning Fund and the Mayor's Office of Education Innovation and other philanthropic contributors to underwrite the Indiana eLearning Lab. This virtual hub gives Indiana educators access to content and best practices for teaching remotely, providing critical resources for navigating remote teaching during COVID and sustainable assistance for many years to come.
I am immensely proud to be on Team Indiana, a state willing to practice hard, play harder and score—for the good of our community.
Congratulations to all involved in the tremendous success of this year's unique March Madness, and now we look forward as Indianapolis and Indiana are once again poised to seize a once-in-a-lifetime opportunity.•
__________
Howell is chairman of the Indianapolis Host Committee for the 2022 College Football Playoff Championship and an Indy Championships Fund board member. He is also CEO of Conexus Indiana.
Please enable JavaScript to view this content.