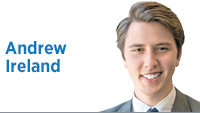 Each day, I browse through dozens, perhaps hundreds, of politically charged posts online, few of which I ever engage with. A mix of self-righteous posturing and autocorrected gibes, I find little joy in joining the circus. Crafting an educated narrative in 600 words is difficult enough; finding the right 280 characters is Herculean.
One recent misguided post struck me, however, and highlights an insufficiently appreciated point.
An acquaintance shared an article trumpeting Sen. Bernie Sanders' proposal to ban for-profit charter schools and place a moratorium on federal funding to new charter programs. "Charter schools have been ripping off states," the user's caption exclaimed, praising the self-described Democratic socialist's opposition to school choice, "while profiting off education for over a decade now in Indiana."
Posts like this are indicative of an increasingly shallow debate. And to the great detriment of the thousands of students, teachers and parents across Indiana who benefit from our two-decade experiment with school choice.
Indiana's charter debate warrants nuance.
Nuance begins with understanding what a charter is and what it is not. You might be surprised to know that all charter schools in Indiana are by statute not-for-profit, public institutions. Far from the greed-fueled caricature, these programs are offered tuition-free, without regard to merit and, on the occasion more demand than space exists, by lottery.
Accounting for just shy of 5% of Indiana's schools, brick-and-mortar charter programs serve a markedly higher share of students of color and low-income Hoosiers than their traditional counterparts. More, they welcome students of diverse needs and talents, providing an often-welcome alternative to the state's mandated curriculum.
Ultimately, Indiana's charter schools aim to supplement and complement traditional public education, not supplant it. These schools plug gaps in our local school systems and provide parents, teachers and students the opportunity to pursue a program that best fits their individual aspirations.
Hoosiers are already reaping the benefits.
The state's top-performing high school, according to the U.S. News & World Report's coveted annual rankings of public high schools, is a charter program. Boasting the 10th-best program in the nation, Evansville's Signature School also nabbed the title of the country's most challenging high school, according to the popular Jay Mathews Challenge Index.
Signature is just one success story of many. Charter schools also spur pedagogical innovation in all of our schools; help develop, attract, and retain a 21st-century workforce; and provide a realistic pathway out of poverty in some of Indiana's most marginalized communities.
Lawmakers of all stripes should celebrate this and empower communities to mirror these successes.
None of this is to say charter programs live without faults or that a debate on the merits of for-profit education, in example, is not needed. Quite the opposite is true. But to have that debate and tackle the myriad of challenges charter programs face, advocates and opponents must elevate the conversation.
The charter debate is complex and multifaceted, touching issues of race and economic inequality. Not to mention the hot topics of school funding equity and teacher pay that dominated the recent legislative sessions. To pawn the subject off as something simple, to boil it down into a maxim, is a disservice to all.
For the sake of Indiana's kids, we need more adults in the room.•
__________
Ireland is an international scholar at Sungkyunkwan University's Global School of Business in Seoul, South Korea, and a digital media consultant. Send comments on this column to ibjedit@ibj.com.

Click here for more Forefront columns.
Please enable JavaScript to view this content.