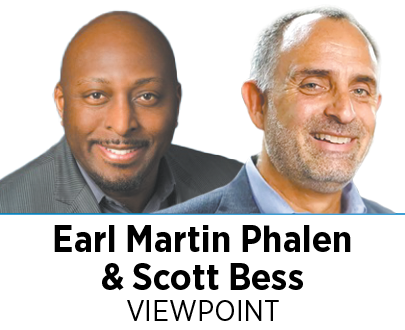 To understand how school-funding changes have made Indiana's public education spending less equitable, let us introduce you to TaeVion. She attends a public charter school on Indianapolis' far-east side, where gun violence has taken a toll.
TaeVion sleeps with her head facing away from her bedroom window to minimize the chance that a stray bullet would deal a fatal blow. Sometimes she runs to school, rather than waiting at the bus stop, so she's not a sitting target.
TaeVion's school is part of Phalen Leadership Academies, a network of public charter schools that serves many students who experience similar trauma.
Giving these students the support they need to thrive—social workers, social and emotional supports, and more—requires resources.
But the state's public charter schools receive $2,000 less per pupil on average than do their traditional public-school peers. For a 500-student school, that amounts to $1 million per year, enough to hire 14 teachers. Those gaps make it especially challenging to offer needed support to students who face some of the biggest obstacles to success. This is especially critical for charter schools, which serve a higher share of students from low-income families than do traditional public schools—75% compared to 48%.
This is just one of the inequities that have emerged as unintended consequences of changes to Indiana's funding system over the last decade, according to a report released last fall by Indianapolis-based Richard M. Fairbanks Foundation.
Students from low-income households receive less than their fair share of funds. And spending for students with disabilities and English language learners is insufficient to meet their needs. These funding gaps also disproportionately affect students of color.
Two changes contributed to these outcomes. The 2008 property tax reforms capped local property tax rates but allowed districts to raise more funds through referenda, which have been most successful in wealthier districts. This has widened gaps in spending between the wealthiest and lowest-income districts, and has hurt public charters, which do not share in additional funds raised through these referenda.
In 2015, the state also changed its formula for calculating additional funding for students from low-income households, which reduced funding for those students 35%, with a disproportionate impact on public charter school students.
For Purdue Polytechnic High School, a network of public charter schools in Indianapolis and South Bend that serves predominantly students from low-income households and students of color, a facilities funding shortfall forced students at their flagship school to move locations twice within the first two years of operation, challenging their ability to execute their school model.
No one intended these outcomes. A few key changes would help address them.
◗ Indiana grants the same basic state funding to all districts, regardless of their ability to generate or access local property tax revenue. Instead, the state should differentiate aid based on local wealth.
◗ Indiana also should grant more equitable funding for students from low-income households and English language learners and create a fairer system for special education funding to take into account students' broad spectrum of needs.
◗ Finally, it's time we share new local property tax funding with charter schools in the district.
We must ensure children who face the highest climb get the resources they need for success—so we can thrive as a state and help all students reach their potential.•
__________
Phalen is president and CEO of Phalen Leadership Academies. Bess is head of schools for Purdue Polytechnic High School.
Please enable JavaScript to view this content.