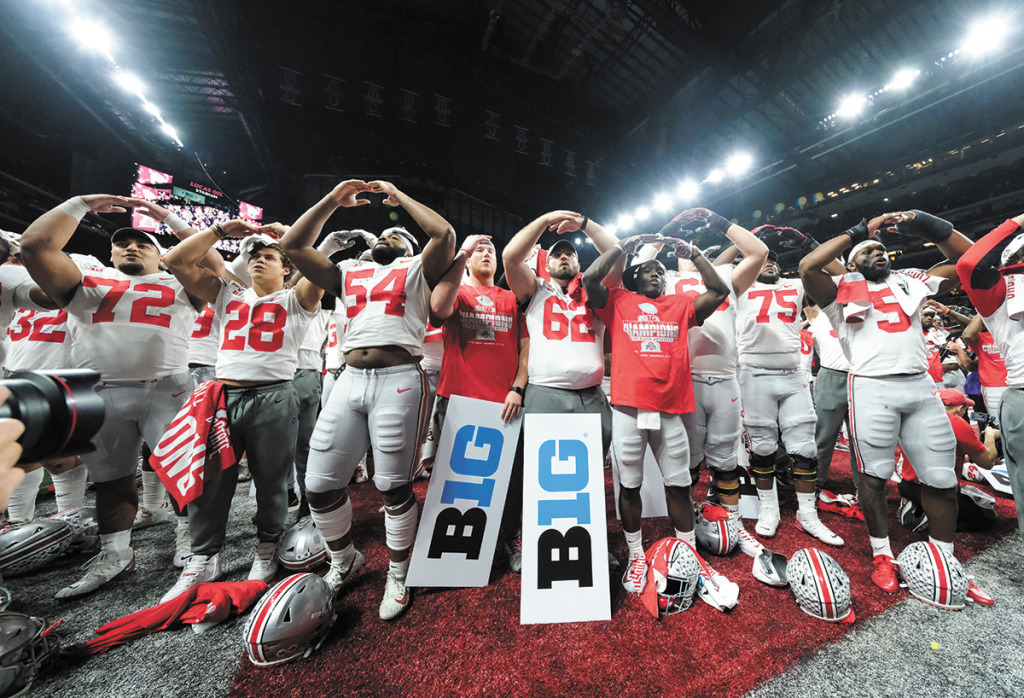 Local officials are betting big on Indianapolis' continued success as a sports city by this summer submitting two dozen bids for championship-level events slated through 2030.
The effort to secure Big Ten, NCAA and national athletic-governing-body events is being led by the Indiana Sports Corp. at a time the not-for-profit commission is juggling challenges tied to the pandemic.
The group is busy adapting its plans for events already years in the works—including the Big Ten football championship in December and next spring's NCAA Men's Final Four. And it's taking on new tasks, including an effort to bring a college basketball "bubble" to the Indiana Convention Center this winter.
All the while, it's been preparing for major championship bid cycles.
This year, the Indiana Sports Corp. submitted 24 separate bids—some for multiple years—to the NCAA, the Big Ten and other sports-governing bodies.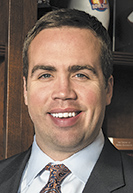 "We try to bid, frankly, on as much as we can when it makes sense for the venues we have in this space," said Ryan Vaugh, president of the Indiana Sports Corp.
For years, the not-for-profit has enjoyed a cozy relationship with the Indianapolis-based NCAA (particularly for men's and women's basketball) as part of a deal struck when the amateur sports body moved its headquarters here in 1999. The deal includes hosting a men's Final Four in Indianapolis once every five or six years. But for that and all other sporting events, the city still has to go through a competitive bid process.
"We want to be good partners to the NCAA and there's a lot of advantages for them to have events in Indianapolis or immediately surrounding, and to want to support the facilities that we have and keep them busy," Vaughn said.
Industry insiders say it's not unusual for a city like Indianapolis to put in bids for a couple of dozen events during cycles.
"One of the tourist drivers in Indianapolis is sports," said Marc Ganis, owner of Chicago-based agency Sportscorp Ltd. "It's historically one of the ways by which Indianapolis brings in outside money and spending."
In fact, the state as a whole is often viewed as a linchpin in the NCAA's championship strategy.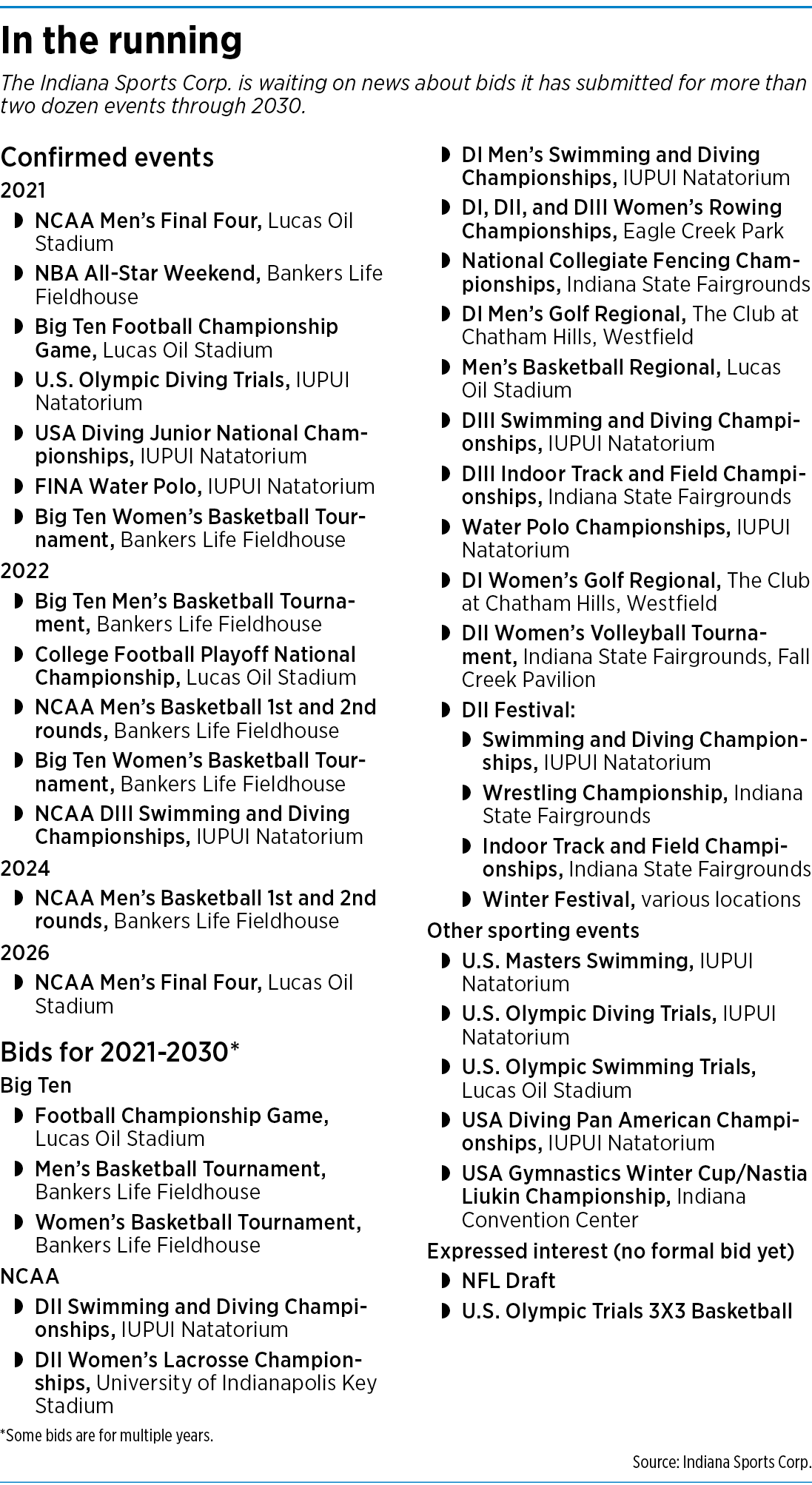 For example, during the last four-year NCAA bid cycle—2019-2022—cities across the state bid on more than three dozen championship events, securing at least a dozen. This time around, Indianapolis alone has put in for 16 championships across the association's three divisions; it's not clear how many events were pursued by the rest of the state during this cycle.
Bids for NCAA men's and women's basketball championships are conducted on a separate cycle that won't come up for another couple of years, Vaughn said.
Additionally, the Indiana Sports Corp. this year bid on Big Ten men's and women's basketball and football championships. The Big Ten typically operates on a four-year cycle, but this year extended it to seven, running 2023-2030.
The commission also put in for U.S. Olympic trials for swimming and diving in 2024 and a handful of other national amateur sporting events.
Indianapolis "does have a strong history with amateur and collegiate sports," Ganis said. "So, they have to be in the running and Indiana Sports Corp. has to be out there pitching."
No favorites
Every year, the NCAA governs about 90 championships across 24 sports in three divisions.
The public is most familiar with events like the Final Four and the College Football Playoff National Championship (which is not conducted by the NCAA). But the city's sports commission works just as seriously to land lesser-known events for swimming and diving, wrestling, and track and field. This year, the commission has also put in bids for water polo, fencing and lacrosse.
The bids aren't just for downtown facilities, either. They include venues at IUPUI—like the Natatorium—along with spaces at the University of Indianapolis, the Indiana State Fairgrounds, local golf courses and city parks.
Allison Melangton, a former president of the Indiana Sports Corp., said the organization considers less-prominent, lower-division events just as important as larger ones because of their significance to participating student-athletes.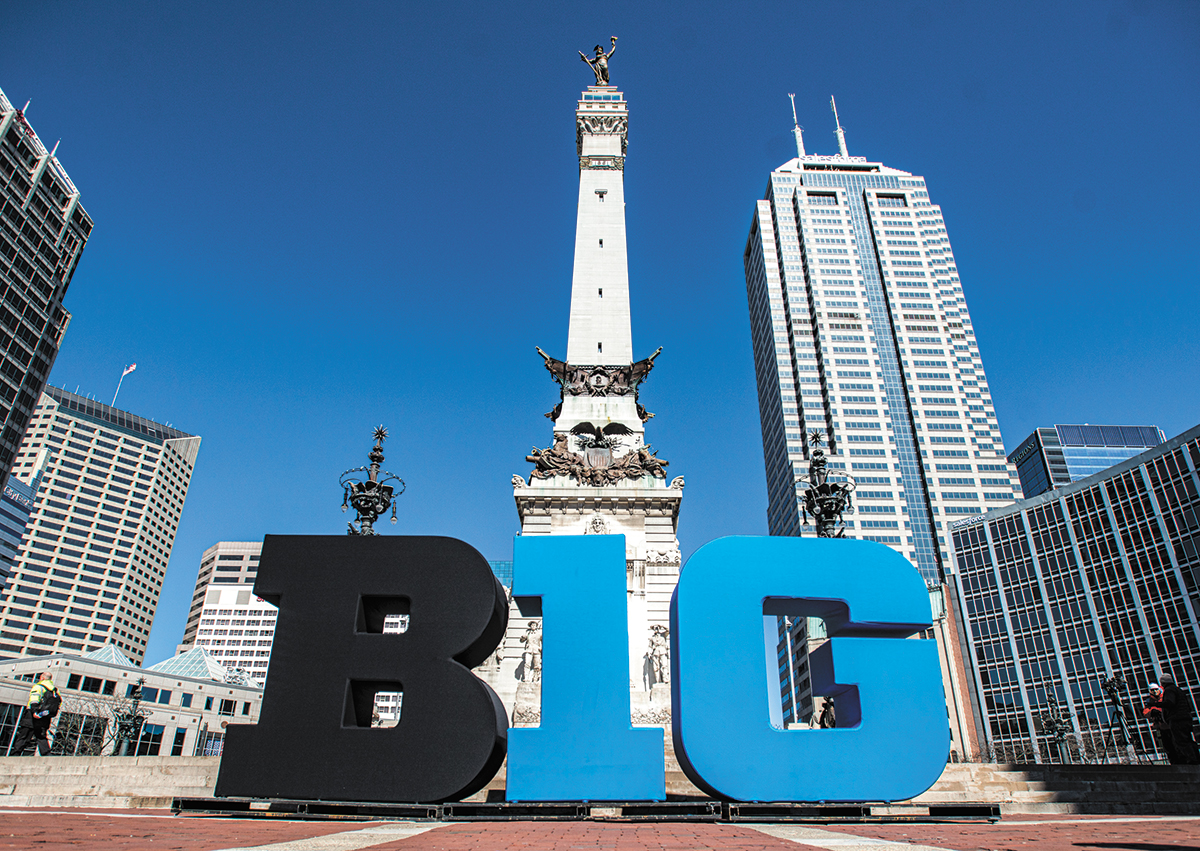 "If you get to the real core of it, it's about providing the best student-athlete experience in whatever sport championship is being hosted," she said. "So, it may not be as high-profile as football and basketball, but to those athletes that participate … it's the most important thing in the world."
For some events, the city might be the only bidder; for others, it could be competing with dozens of cities. The Indiana Sports Corp. declined to share details of which years it bid on for competitive reasons.
But the city's dance card is already relatively full for several years, including two Final Fours, men's and women's Big Ten and NCAA basketball, and the NCAA Division III Swimming and Diving championship. Currently, 2023 and 2025 are the only years through 2026 that Indianapolis does not have a major collegiate or amateur sporting event on the books.
Melangton, who was with the Indiana Sports Corp. for 20 years before taking a role at the Indianapolis Motor Speedway in 2014, said she expects the city to win its fair share of events from its bid slate.
"For the Indiana Sports Corp. to submit for a whole bunch of events is absolutely the smart thing to do, even though it's a lot more work to do it that way," she said. "You want as good an opportunity to land as many events as you can, so I'm sure that's why they did it. And that is the right thing to do. And because of that, they'll land more championships."
Bubble time?
A decision on the submitted bids is not likely to come for several months, and the Indiana Sports Corp. has plenty on its plate to pass the time. That includes its efforts to create a college basketball bubble in the city this season, to help teams mitigate COVID-19 risks.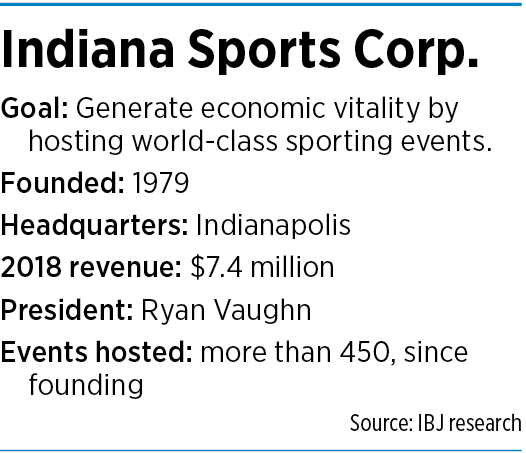 Vaughn said the organization is already fielding dozens of questions from interested teams—he declined to say which ones—and he hopes movement toward creating specific bubbles could start as early as next week.
"It's foreseeable to us that we could have multiple controlled environments, where we're doing a group of non-conference teams later this year, then we go to … the beginning of the next year, facilitating the need for conference-only games," he said.
Experts say turning Indianapolis into a basketball bubble could be lucrative, given the proximity of the city's sports and convention facilities to downtown hotels.
"I think it's fantastic," Melangton said. "I have the utmost confidence in the leadership group that they're working with, that they'll come up with the right solutions and do everything they can to serve the organizations that need these bubbles. It's a great move on their part and a winning strategy for everybody."
Andy Mallon, executive director of the Indiana Convention Center, the likely site of such a bubble, said in a statement he, too, thinks the Indiana Sports Corp.'s efforts will have a positive impact.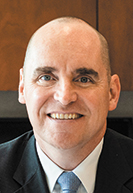 "The convention center and system of walkways connecting it to our hotels create the ideal environment for a sports bubble of this kind," he said. "We also are one of the few, if not only, convention centers in the country with a proven track record of hosting multiple basketball tournaments safely during the pandemic. Take those together, and I think we are uniquely positioned to support the NCAA and Indiana Sports Corp. if they decide to host college basketball in our city."
More on its plate
The Sports Corp. is also shoring up plans for this year's Big Ten Football Championship and next year's men's Final Four. Both events are tentpoles in the city's sports-focused branding.
Successfully pulling off those events—with or without fans—could go a long way in helping the city secure more, particularly at a time commissions are having to rapidly adapt to the changing pandemic environment.
So far this year, the group managed to keep the Big Ten women's basketball tournament on track in early March but had to scrap most of the Big Ten men's tournament the following week because of the rapidly deteriorating COVID-19 situation across the United States.
For Vaughn, the upcoming championships already on the books, potential new bubble events, and the new slate of bids all indicate that ISC's efforts are continuing to pay off. He said the Sports Corp. continues to land events because of its strong history with the NCAA and Big Ten—and he's optimistic that will continue.
"Our mission is to have a positive economic impact on the city by hosting major sporting events," he said. "If we can step up and do some of these events that we traditionally haven't done or haven't done in a while, that's great."•
Please enable JavaScript to view this content.