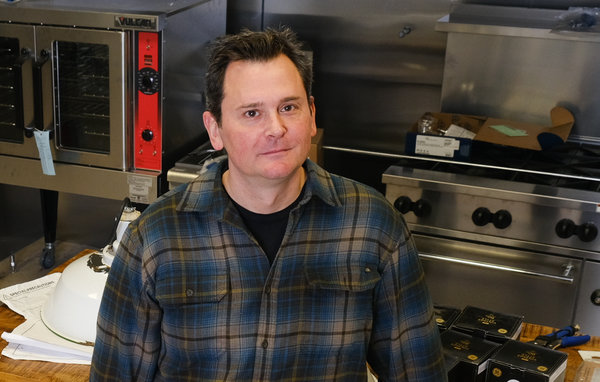 Greg Hardesty, one of the first chefs and restaurateurs in Indianapolis to develop a national reputation, is scaling back operations at his Studio C kitchen and culinary studio while he undergoes treatment for acute lymphoblastic leukemia.
Hardesty, 51, said he was diagnosed last week and has begun a treatment regimen that he expects to last four to six months.
"I had some good results just after the first round of chemo," Hardesty told IBJ on Thursday. "I'm feeling very confident that I'm going to recover fully."
Acute lymphoblastic leukemia is a cancer of the bone marrow and blood. Hardesty said he had developed symptoms over the past three months—fatigue, body aches and bruising—but brushed them off until a high fever and extreme fatigue sent him to the emergency room over the Fourth of July weekend. After a week's worth of medical tests, he was diagnosed July 10.
Hardesty opened Studio C, 1051 E. 54th St., early last year as a flexible, food-focused culinary studio. The establishment has offered, at various times, private dining, pop-up lunch service, a small retail market and a coffee bar, among other things.
The establishment had just resumed offering private dining a few weeks ago after COVID-19 restrictions began to lift. Regular dining has been put on hold again as Hardesty deals with his illness.
Hardesty said he hopes to stay engaged in the business and even do some small private events as his health permits.
In the meantime, Studio C General Manager Nic Kobrehel will be running the place by himself, offering coffee, iced tea, wine and baked goods Wednesdays through Saturdays from 9 a.m. to 4 p.m.
Kobrehel said he plans to sell some baked goods from outside vendors, including Fletcher Place bakery Amelia's and pop-up shop Indy Dough, as well as some of Hardesty's neighbors.
These vendors, Kobrehel said, represent "a beautiful family—a collaboration of people that love Greg and (Studio C)."
Kobrehel said he also hopes to expand Studio C's existing wine club and offer occasional wine tastings to help keep the business afloat during Hardesty's absence.
Hardesty, a five-time James Beard Foundation Great Lakes region semifinalist, built his reputation at a series of well-regarded local restaurants, including Meridian-Kessler's Recess, Mass Ave's Elements and H2O Sushi near Broad Ripple.
He also has helped launch the careers of several notable local chefs, who first worked for him and then went on to launch their own restaurants—including Jonathan Brooks of Beholder and Millktooth; Neal Brown of Pizzology, Ukiyo and The Libertine; and Abbi Merriss of Bluebeard.
Please enable JavaScript to view this content.