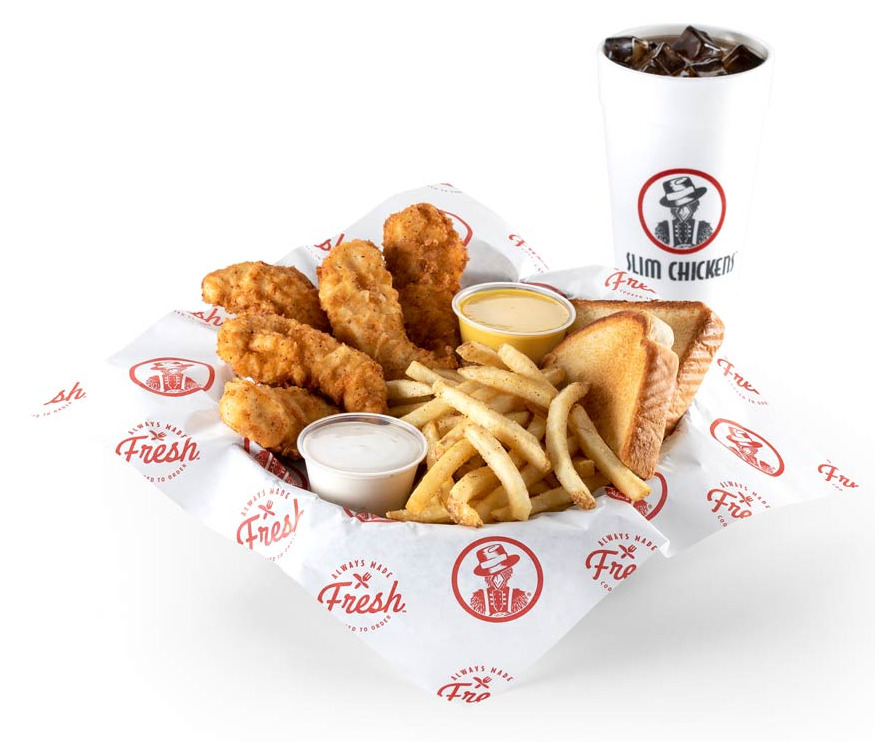 A fast-growing quick-casual restaurant chain that specializes in hand-breaded chicken tenders plans to open at least five locations in central Indiana.
Fayetteville, Arkansas-based Slim Chickens has restaurants in the works for the Traders Point area of Indianapolis, Westfield, Greenwood, Franklin and West Lafayette, according to Jackie Lobdell, the company's vice president of franchise development.
The Westfield Advisory Plan Commission on Monday night approved Slim Chickens' plans for a 4,095-square-foot restaurant on 1.17 acres of undeveloped land at 100 E. Spring Mill Pointe Drive, near the intersection of State Road 32 and Austrian Pine Way.
"I'd like to thank them for choosing Westfield to move into the Midwest market, so I really appreciate that," Advisory Plan Commission member Victor McCarty said.
The West Lafayette location is expected to open in December, while the estimated opening date in Traders Point is sometime in February 2023. It has not yet been determined when restaurants in Franklin, Greenwood and Westfield will open.
Slim Chickens offers a menu that includes chicken tenders, wings, sandwiches, wraps, chicken and waffles, and salads. It also serves Southern-fried appetizers, such as okra, pickles and mushrooms, and has 17-house-made dipping sauces.
Slim Chickens was founded in 2003 by Greg Smart and Tom Gordon, who opened their first restaurant in Fayetteville. The chain now has about 150 restaurants in at least 29 states, plus the United Kingdom and Kuwait.
The company agreed in December 2021 to a franchise deal with Miami-based Dos Primos Capital Group LLC for 60 restaurants in Indiana and the southeast region of Florida.
Slim Chickens has five locations in Kentucky, two in Illinois and two in Ohio.
In 2019, Slim Chickens announced a minority investment by Atlanta-based 10 Point Capital and a goal of opening 600 restaurants in 10 years. That goal has been exceeded, Lobdell said.
"We have 900 units in development deals, and we'll probably open between 50 and 60 this year, and that growth will kind of exponentially increase year-after-year," Lobdell said.
The quick-casual and fast-food chicken scene in central Indiana continues to get more competitive with the addition of Slim Chickens.
Louisiana-based Raising Canes Chicken Fingers also plans to enter the Indianapolis area with locations in Avon and Noblesville.
Raising Cane's offers a limited menu that consists of deep-fried chicken fingers with dipping sauce, crinkle-cut fries, coleslaw, Texas toast and soft drinks.
Athens, Georgia-based Zaxby's, which specializes in chicken fingers, has five local restaurants.
Atlanta-based Chick-fil-A also has more than 30 restaurants in central Indiana, while Miami-based Popeye's Louisiana Kitchen has more than a dozen in the Indianapolis area. Atlanta-based Church's Chicken operates nine restaurants in Indianapolis.
Please enable JavaScript to view this content.