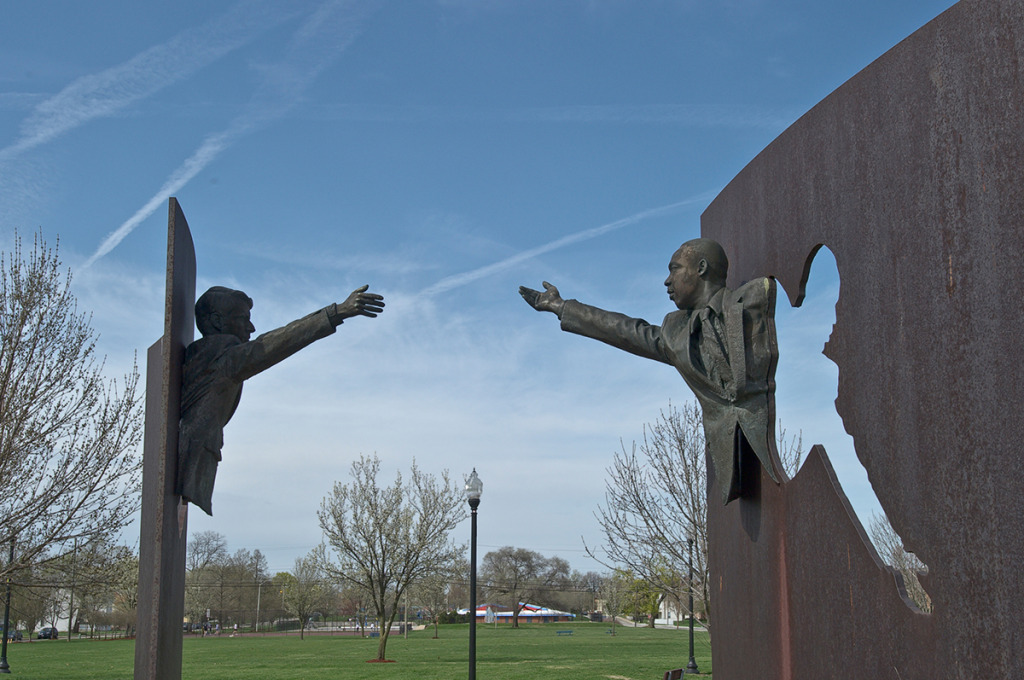 The city of Indianapolis on Monday announced plans to spend $5 million on improvements at the Kennedy-King Memorial Site at Dr. Martin Luther King Jr. Park.
The city said the investment will pay for a new plaza, pavilion and public art at the park in the Kennedy King neighborhood north of downtown.
The park is the site of one of the city's most important events of the 20th century. On April 4, 1968, Sen. Robert F. Kennedy announced the assassination of civil rights leader Martin Luther King Jr. during a speech at the park. He was widely credited for helping ease the anger and grief that sparked riots in many other cities.
Kennedy himself was assassinated on June 5 of the same year. In 1995, the sculptural "Landmark for Peace" memorial was dedicated on the park's grounds, which run from 17th Street to 21st Street between Park Avenue and Broadway Street.
Using a $5 million city bond, Indy Parks is expected to make improvements near 19th Street down the center of the park toward the Landmark for Peace Memorial. Planned additions include:
a celebration and event plaza
Eternal flame artwork with interpretative panels
a new pavilion area along the walkways
expanded parking
connection to a new pedestrian pathway along North Park Avenue
new walkways and seating areas.
In April, the city announced a $5 million capital campaign to fund upgrades at the park. At the time, the city pledged $1 million in infrastructure work, primarily focused on new sidewalks, lighting, and pedestrian walkways that encourage greater connectivity to the surrounding neighborhood.
Please enable JavaScript to view this content.