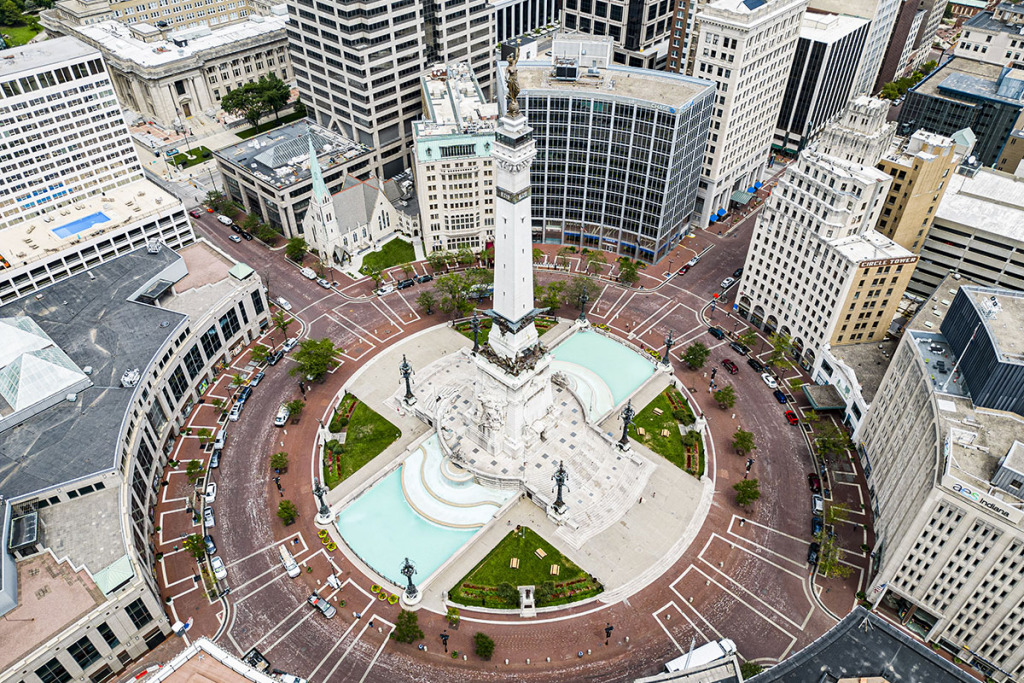 The city of Indianapolis is allocating $3.5 million to address safety and cleanliness issues downtown, it announced Thursday.
Mayor Joe Hogsett said during news conference announcing the funding that the endeavor will support efforts by the Indianapolis Metropolitan Police Department, Department of Public Works and the Office of Public Health and Safety, as well as civic group Downtown Indy Inc.
"There's a lot we're looking forward to in downtown—and that's not an accident. It's the result of a lot of hard work from people across city agencies and organizations," Hogsett said during his public remarks. "So today, we're here to say in one voice, the best of Indy is still downtown, the place where it all began."
The money—remnants of the city's $420 million from the American Rescue Plan Act—is expected to help pay for several initiatives for about 18 months.
IMPD's initiatives include increasing overtime shifts for bike patrol officers, as well as new mobile security cameras and a grant program for small to mid-sized businesses hoping to tap into the IMPD b-link program, which forms a network of nearly 130 downtown cameras and 22 license plate readers aimed at reducing crime. The grant program is expected to launch in early 2023.
The Office of Public Safety in early 2023 is expected to launch the city's first-ever clinician-led response team for individuals experiencing temporary or chronic homelessness. The team, will coordinate the effort with Downtown Indy Inc., which plans to work with service providers to hire social workers and other support staff. The initiative coincides with other ongoing city and not-for-profit efforts to develop permanent housing solutions for homeless individuals and families. The team will operate 24 hours per day.
DPW plans to designate a crew focused on downtown cleanliness and maintenance, including in alleyways and other problem areas. Additional sidewalk power washing is expected to be part of the initiative, as well as additional trash cans aimed at reducing litter. Downtown Indy Inc. plans to increase the number of cleaning ambassadors in the Mile Square.
The city also plans to add a new public restroom to its safe food distribution site.
City-County Council President Vop Osili said he believes the funding will go a long way in beautifying downtown, which he acknowledged suffered extensively during the pandemic.
"Downtown Indianapolis belongs to and serves our entire city as an economic engine, as a hub for arts and culture and as a seat of local and state government," he said. "Downtown is both a keeper of our city's history and a driver of its future. These investments in health, safety and beauty of downtown help ensure that we step into that future with our best foot [forward], because forward is absolutely the direction downtown Indianapolis is going."
The partnership with Downtown Indy on the project is the single-largest commitment the city has made to the organization in several years.
Taylor Schaffer, CEO of Downtown Indy Inc. and former deputy mayor under Hogsett, said the organization's relationship with the administration is strong, and believes the funding presents another opportunity for Downtown Indy to step up and take on some big challenges.
"Downtown Indy historically has stepped up in the ways that made sense for downtown at that moment in time," she said. "But we want to ensure that continues and accelerates over the next 18 months, knowing that we're about to be the host city for so many major events in that period … [we] really want to see that momentum continue downtown. That's what these funds, and specifically this programming, is intended to do."
Through early 2024, Indianapolis is expected to host more than 400 conventions and events, such as the 2024 NBA All-Star Game, the USA Swimming 2024 Olympic Trials and two Big Ten Conference football championship games.
"And so I hope this infusion of support will help change perceptions," Hogsett said. "Whenever I talk to visitors who come to Indianapolis, they are blown away by our downtown—how safe it is, how clean it is; so much different than maybe the communities where they're coming from. I take a great sense of pride in that. We want downtown to always be the heart of the city."
Please enable JavaScript to view this content.