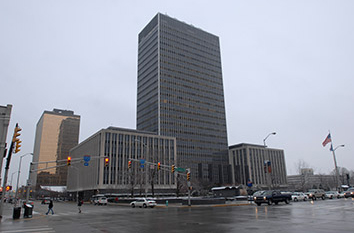 The Indianapolis City-County Council on Monday voted to allocate $1.1 million toward costs associated with mailing every registered voter an absentee ballot application for this year's elections.
On March 18, Mayor Joe Hogsett and City-County Council President Vop Osili announced that Marion County would take steps to encourage voters to cast ballots by mail for the primary election, which has been moved from May 5 to June 2 amid the COVID-19 pandemic.
The duo said that city-county government would mail every registered voter an absentee ballot application with instructions on how they can request to vote by mail to encourage residents to stay away from polling sites on Election Day.
Now, the council has allocated the funding necessary to do so, despite pushback from some Republicans who argued the spending was irresponsible.
Mailing absentee ballot applications to Marion County's nearly 650,000 registered voters is expected to cost $550,000 for the primary. The council also allocated $550,000 for the fall, in case social distancing is still being encouraged at that time. That figure includes the cost of mailing the applications, return postage and the cost of mailing actual ballots.
Altogether, the council voted 18-4 to allocate just more than $2 million of additional funding to election costs, which includes funding for vote machine rentals and other equipment needed following the county's move to vote centers and given the expected high voter turnout in the general election, a council spokeswoman told IBJ.
Some councilors questioned whether it was financially wise to spend more than $1 million to mail absentee ballot applications when voters could easily obtain those on their own. Printable applications are available online here.
In moving the election to June 2, the state also gave all voters the opportunity to vote by mail without needing a special reason to use an absentee ballot.
Council minority leader Brian Mowery said resources could better be spent encouraging people to request an absentee ballot without spending the money to mail them out to everyone.
"I think we're being a little irresponsible with taxpayer's money," he said.
He said he understands mailing out applications for the general election would be necessary, but not for the primary election, when voter turnout is usually low.
"Folks, we're talking about a primary election," adding that people are already crowding many places during the stay-at-home order, including parks, hardware stores and fast food restaurants.
But Democratic councilors disagreed, saying the money is being spent to keep residents safe and to remove voting barriers.
"By the time June 2 rolls around, hopefully we're on the other side of this surge, and I feel like if we do not send this mailer out and give these residents this option, we're going to be taking two steps backward, and we cannot do that in Marion County," said Councilor Kristin Jones. "It's too dangerous, and I think this is not a partisan issue, this is a public safety issue."
Councilor Keith Potts, a Democrat, said it doesn't matter whether the funding is for a primary or General election. If it allows even one person to remain safe, it's worth it, he said.
"The cost of our neighbors' public health is not something I am personally willing to negotiate on," he said.
Also on Monday the council allocated an additional $750,000 to the Office of Public Health and Safety for COVID-19-related expenses, including personal protective equipment and hand sanitizer; thorough cleanings of public facilities, including the City-County Building; warehouse space for the coroner; and overflow morgue space, which the county last week announced was available should hospitals exceed their capacity.
Please enable JavaScript to view this content.