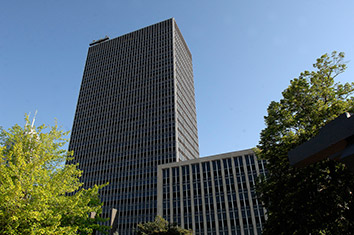 The Indianapolis City-County Council on Monday unanimously approved a $1.29 billion budget for 2021
Mayor Joe Hogsett made the budget proposal in early August and council members have spent the past two months vetting it in various committees.
Also, in a late-Monday vote, the council approved a controversial proposal that calls for adding four civilians to the Indianapolis Metropolitan Police Department General Orders Committee. The committee, which guides and approves department procedures, is currently made up of two members appointed by the police chief and one appointed by the police union.
Republican council members said adding civilian input to the committee was a good idea, but expressed concern at the major step of putting it under civilian control.
The approved budget calls for revenue and expenses that are up about $78 million from 2020's budget. It proposes taking in $113,884 more than it spends, leading Hogsett's administration to characterize it as the fourth consecutive balanced budget since he took office in 2016.
"This balanced budget prepares for an uncertain financial future while continuing to make investments that will keep our roads paved, our neighborhoods safe, and our community moving forward," Hogsett said in written remarks. "Importantly, this budget also focuses investments in neighborhoods hardest hit by COVID-19 and builds upon existing programming aimed at addressing food access, homelessness, and mental health challenges."
The budget includes more than $261 million for the IMPD, $158 million in road, bridge, and sidewalk infrastructure projects, and $44 million for stormwater projects.
It also aims to help the city prepare for anticipated revenue dips in future years because of the pandemic by flattening most department budgets.
Public safety initiatives and community justice services eat up the largest chunk of the budget, representing 37% and 21% of spending, respectively.
Please enable JavaScript to view this content.