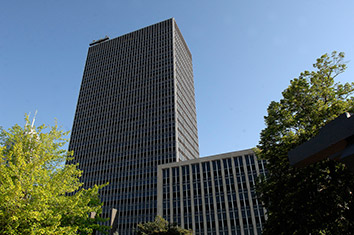 Indianapolis Mayor Joe Hogsett's nearly $1.3 billion budget proposal for 2021 aims to help the city prepare for anticipated revenue dips in future years while maintaining government spending as the economy recovers from the COVID-19 pandemic.
Both revenue and expenses are up about $78 million from 2020's budget, bringing the 2021 proposed city-county budget to roughly $1.29 billion.
The proposed budget calls for taking in $113,884 more than it spends, leading Hogsett's administration to characterize it as the fourth consecutive balanced budget since he took office in 2016.
City Controller Ken Clark told reporters Monday afternoon that the proposed budget for 2021, which still needs to be vetted and approved by the city-county council, includes department expense budgets that are flat-lined in order to prepare for expected dips in revenue in 2022.
Governments are already preparing for a dip in income tax revenue in 2022 and beyond because of the pandemic, which has led to high unemployment. But because of the way the state distributes income taxes, that impact won't be felt until 2022.
Clark said the budget, however, continues to make investments where the city is able. That includes investments in infrastructure and funding to maintain staffing levels without having to make cuts or furlough employees. However, there won't be cost-of-living raises this year. The budget also includes no tax increases.
"We are threading a needle here," he told reporters Monday afternoon. "We want to continue government spending during this time because us restricting further spending in the local economy is only going to hurt the local economy."
Public safety initiatives and community justice services eat up the largest chunk of the budget, representing 37% and 21% of spending, respectively.
Public safety investments highlighted for 2021 include about $3.7 million for new and existing violence reduction and prevention initiatives and grants through the Office of Public Health and Safety; $250,000 to continue to support the Tenant Legal Assistance Project and the Eviction Avoidance Project, which launched this year; and $500,000 of funding for food programming that addresses food insecurity in Marion County. The budget also includes continued funding for body cameras for IMPD officers and dash cam upgrades for 25 police vehicles.
The budget also includes $1.4 million for new police vehicles, and $1.5 million for Indianapolis Fire Department to purchase six new trucks and four ladders.
As for criminal justice services, the budget includes increased funding for additional staff for the public defender, Marion Circuit Court and coroner's offices to help manage increased workloads.
The city's public works investment for next year includes $158 million for road, bridge, sidewalk and trail projects, and $44 million for stormwater projects. Both are increases from 2020.
Thomas Cook, the mayor's chief of staff, said the proposed 2021 budget does not include much new programming. The directive from Hogsett was to try to maintain as much existing programming as possible.
But the city will see an expansion of the Lift Indy program—a community development program that aims to revitalize neighborhoods through two years of investment in economic development opportunities, affordable housing, infrastructure updates and more—from one neighborhood to two. Funding from the 2021 budget would support neighborhoods hit hardest by the pandemic, Cook said.
Other special investments include funding for five veteran services officers, continued support for Indianapolis arts organizations through $1.1 million of direct grants, and $2 million in scholarships and grants for Marion County residents pursuing a postsecondary degree or credential through the Indy Achieves program.
The city expects to receive $384 million in property tax revenue next year, or $15 million more than this year, and $354 million in income tax revenue, which is about $24 million less than this year.
Clark said the administration used conservative revenue estimates when crafting this year's budget, especially when estimating income taxes.
The budget was introduced Monday night with no discussion. It now heads to various council committees to be vetted. Each department's budget will be heard individually in committee.
The budget likely won't return to the full council for final approval until October.
Please enable JavaScript to view this content.