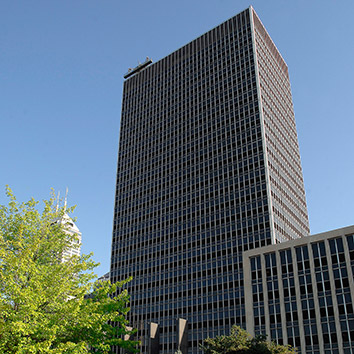 The Indianapolis City-County Council on Monday passed a proposal to temporarily limit fees charged by third-party delivery services to restaurants during certain public health emergencies.
The measure, which was introduced Feb. 22, passed by a vote of 20-5.
Proposal 106, co-authored by councilors Keith Potts, D-District 2, and John Barth, D-District 7, applies to periods when dining capacity is limited by orders from county or state health authorities, and for 90 days after the expiration of the order.
The measure limits total fees to no more than 20% of a meal's price. It also prohibits third-party delivery services from attempting to make up lost fees by passing costs on to drivers or customers.
Delivery services could face citations of up to $500 for charging more than the outlined amount.
The proposal was originally intended only for the current COVID-19 pandemic, but it was amended by the council to include future health emergencies.
UberEats, GrubHub and DoorDash are among the companies that will have comply with the new rule if they aren't already.
Barth and Potts said some services were charging as much as 30% to 40% of a meal's price for delivery, causing restaurants to lose money on their transactions.
Local restaurants have seen delivery orders skyrocket over the past year because of the pandemic.
Proposal 106 "puts basic, temporary protections in place to ensure local restaurateurs, workers, and drivers keep more of their earnings while making sure customers keep getting the same value they've always received from Indy businesses," Potts said in written comments.
Republican council members Brian Mowery, Michael Paul Hart, Joshua Bain, Paul Annee and Michael Dilk voted against the proposal. Mowery, the minority leader, said the council could do more for businesses and restaurants by lessening "regulations and red tape" and letting restaurants open at full capacity instead of at 75% under county health mandates.
Please enable JavaScript to view this content.