Eight years after the Ballard administration started work toward completely rebuilding the streets on Monument Circle—work that never commenced—Mayor Joe Hogsett's team is dusting off the plans and strategizing how to turn the project into reality.
But city officials still haven't solved the problem that's kept the project on the shelf: finding as much as $60 million to pay for it.
Still, they've been busy with other street repairs that they say will build the case for federal funding for the Monument Circle project—namely on Market Street east and west of the Circle. That work is done on the block that includes both the City-County Building and Indianapolis City Market, and it's nearly finished in the block immediately west of the Circle. The Department of Public Works is now laying the groundwork for the next Market Street phases.
But the larger goal is to persuade federal officials, as well as state leaders, that streets and sidewalks on the Circle itself must be addressed.
"It's a significant lift because it's an expensive project," Hogsett told IBJ. "There's no two ways about that. Now, it also happens to be Indianapolis' best known and most famous roundabout. In fact, I would suggest it's central Indiana's first roundabout. But it's a complicated issue."
That's in part because the project will involve city, state and federal officials—through both funding and various approvals. The Soldiers and Sailors Monument and land beneath it is owned and operated by the state. The city owns the streets, sidewalks and other infrastructure surrounding it. And the federal government typically provides funding for such road projects.
In this case, the proposal is not really about visible surfaces. It's a rebuild of the concrete and gravel that serves as the base for the bricks, curbs and other elements that help the Circle stand out from the rest of downtown.
That base is deteriorating. And while there's no immediate crisis—Monument Circle can support traffic—the underlying problems mean cosmetic fixes like the bricks are in constant need of repair.
Officials hope that, in the process of shoring up the street and sidewalk structure, traffic patterns can also be tweaked to make the Circle more pedestrian-friendly and a better place for public events and activities. That might include reducing vehicular traffic from two lanes to one, plus a parking lane along the curb.
The discussion comes at a key moment. The state is working to address water problems inside the Soldiers and Sailors Monument and is preparing for work outside. Also, arts and culture not-for-profit Big Car Collaborative and Downtown Indy Inc. have been increasing programming on the Circle.
The street project could also provide a much-needed psychological boost to the downtown core, which has struggled to recover from the pandemic that sent office workers home (including many who have not returned) and the race-related riots that changed some perceptions of the area.
And the street work both on Market Street and the Circle would complement efforts by the Department of Metropolitan Development to rethink what it has defined as downtown's south side—essentially the area from Ohio Street down to South Street.
There's been a burst of ongoing and planned development in that section, including work at Gainbridge Fieldhouse and two adjacent projects planned by the Simon family, a planned extension of the Indianapolis Cultural Trail, proposed hotels, an Indiana Convention Center expansion at Pan Am Plaza, and now a proposed redevelopment of the Diamond Chain manufacturing property into a mixed-use project that includes a soccer stadium.
DMD is expected to make recommendations about a comprehensive plan for that part of downtown soon.
But in the end, being able to rebuild the Circle's streets still comes down to money.
"Really, the only thing that's been hindering getting [this project] done has been the cost," said Department of Public Works Director Dan Parker. "The underlying problems with the Circle, and why the bricks won't hold, is that the concrete underneath needs to be replaced."
DPW repaired hundreds of bricks in advance of the NCAA Men's Basketball Tournament in 2021 and again leading up to the College Football Playoff National Championship in January. But more areas already need repair.
The underlying crumbling concrete is not the only impediment; the bricks themselves can't hold up well to car traffic. In fact, the city hasn't used bricks at all in its Market Street rebuilds. It's using pavers that look like brick but are much stronger. But on the Circle, the city will continue to use bricks until the concrete subsurface is repaired, so that the surface materials will match.
The Market Street repairs have been designed to fit aesthetically with the eventual Circle repairs, Parker said.
"What we've been trying to do is … complete Market Street first and show everybody that, then figure out a way to get this last centerpiece project done, which would tie into the design of those segments," he said.
For the most part, Indianapolis gets its portion of federal funding through the Metropolitan Planning Organization. But the MPO doesn't receive enough money annually to allocate such a large federal disbursement to a single project.
While the city received $419 million from the American Rescue Plan in 2021, federal restrictions prohibited spending it on road projects. Instead, Indianapolis spent $50 million on stormwater system upgrades.
City officials have other options. They could ask Congress to add a line item in the federal budget (something that's happening for a portion of Market Street's repairs); the City-County Council could incorporate the funding into the city budget; or the Department of Public Works could pursue a matching grant through the U.S. Department of Transportation, which could secure as much as 50% of the project's funds.
Parker said federal dollars will likely fund at least part of the project.
Hogsett said state funding is another option—and he thinks a joint state/city financing plan could emerge.
"I haven't talked directly to the governor about this, so I can't speak on his behalf. And I certainly wouldn't pretend to speak on behalf of the Indiana General Assembly. But I think everybody values Monument Circle as an important asset, not just for the city of Indianapolis, but as an emblematic symbol important to the state of Indiana," the mayor said. "It is our capital city, and it's the center of our capital city. So, we take it very seriously."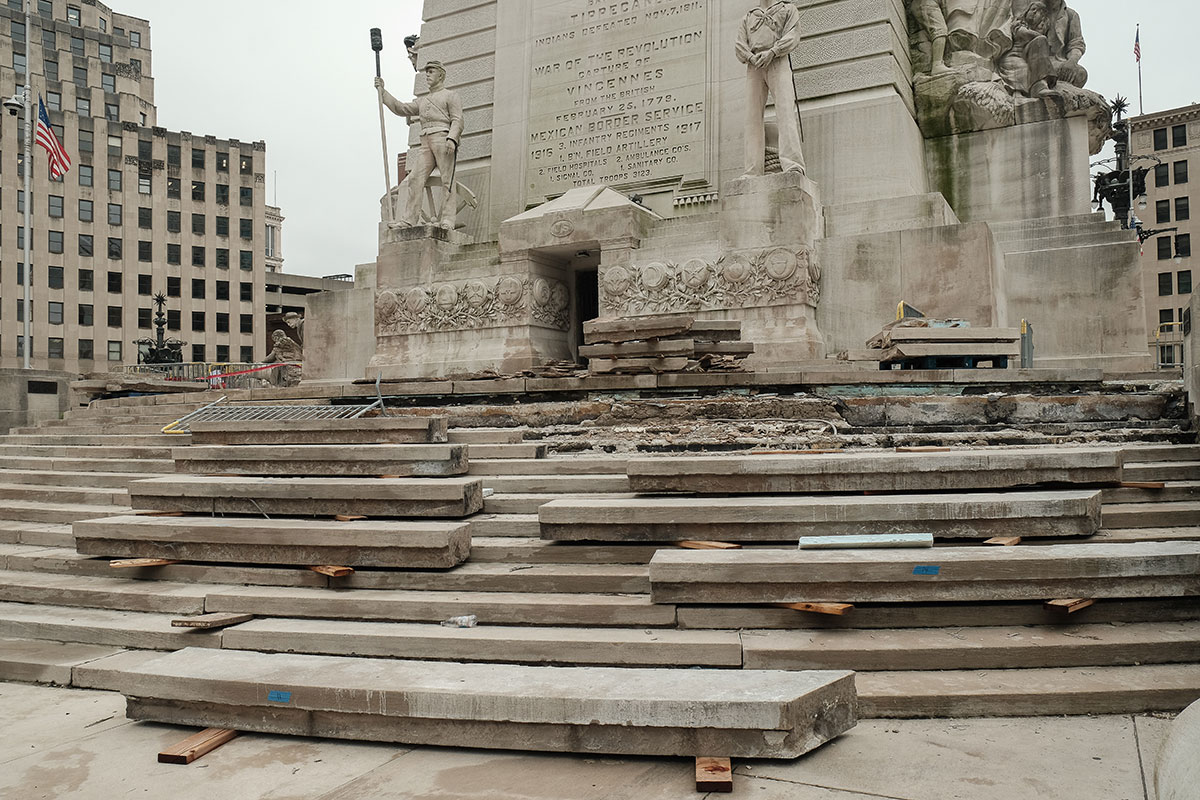 Design, timeline dilemma
Even if money for the Circle rebuild were secured early next year—a time frame Parker said is unlikely—construction probably wouldn't begin until late 2024 or early 2025.
"From the moment funding is secured, we're probably looking at a timeline of at least 12 to 18 months before the start of construction," he said. "Typical road construction projects require 12 months of planning, design and outreach. This one is going to have to be a federally funded project—there's going to have to be some component of it that is federally [supported], so that's going to add more months to the design process."
It's not entirely clear how the rebuild would unfold, either. Parker said the project's size, and the fact that Monument Circle is home to many businesses, means the work would likely be done in phases.
The revamp could be further slowed by the Circle's complicated structure of city/state ownership.
"The inside bollards surrounding the monument designate where the state property starts, but the project entails going up to the edge of the monument itself," he said. "To have that seamless transition from the monument to the street requires all of it to be replaced. The historical documentation that needs to take place is pretty extensive. And that's part of the reason why it's just a really expensive project."
Retired Brig. Gen. Stewart Goodwin, executive director of the Indiana War Memorials Commission, said he is looking forward to working with the city to give future Circle visitors a powerful experience.
"I believe the relationship that we have with the city is very good," he said. "The brick part of it … I can tell you that we will do everything in our power to make sure that's maintained—but that is something that must be done in concert with the city. When that time comes, I'm sure that both of our agencies are going to be able to work it out together."
The extra mile
At least 100 businesses have a home on Monument Circle or one of its spokes, based on IBJ research. That includes IBJ Media (owner of IBJ), as well as AES Indiana, Bose Public Affairs Group, Chase, Columbia Club, Emmis Corp., the Indianapolis Symphony Orchestra (Hilbert Circle Theatre), Hilton Garden Inn, HNTB, the Sheraton Indianapolis and another hotel under construction at Washington and Meridian streets.
DMD Director Scarlett Andrews said the city would likely use its approach to the Market Street rebuild outside of City Market as a model for how to handle a rebuild of the Circle, by still encouraging people to visit the space even during construction.
"I think we found in the case of City Market that, when one or more of [those] entrances were not accessible, just having clear signage went a long way," she said. "And so, working with those businesses that remain open on the Circle—whether it's the couple of restaurants on the southwest quadrant or others—and providing as much accessibility to their entrances as we can is important."
Bob Schultz, interim president and CEO of Downtown Indy Inc., said his organization is excited about potential updates to the Circle, particularly because the group oversees the public programming as part of a contract with DMD. The group this year is working with Big Car Collaborative to host Spark on the Circle, which brings food trucks, entertainment, games and other programming to Monument Circle every weekday. Most days feature musicians, and picnic tables have been added to enjoy take-out or home-packed meals.
Schultz said that, while he believes the Circle has been successfully activated in recent years—this summer in particular—more can be done, and that the street repairs will go a long way in those efforts.
"I do believe what we're doing is working but isn't ideal," he said. "We're retrofitting programming in the middle of the state's largest traffic circle and having somewhat of a successful effort on it," he said. "But as we redevelop, we need to think about how we can build into it intentional experiences and infrastructure to support public programming—perhaps a concert shell, perhaps space overlooking the monument for experiences as well."
Schultz pointed to Downtown Indy's "Shining A Light" initiative as a key component of its programming, which runs a light show every night focused on honoring veterans with a colorful and symphonic display on buildings surrounding Monument Circle.
"We have added that element of technology—just think of what we can do with the physical environment, when given the opportunity. That's what we're excited about: discussions that can take us in that direction."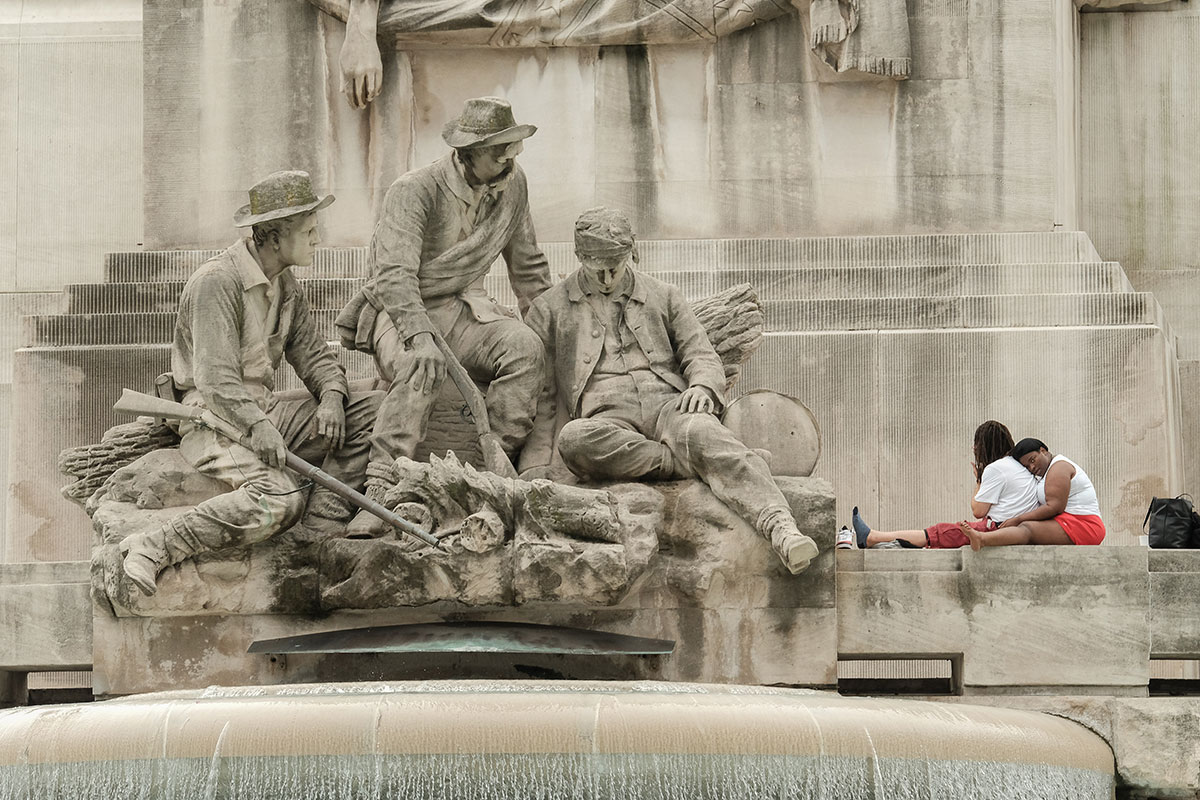 'Think big'
Some building owners said the street-improvement plan is a prime opportunity to enhance one of the city's most prominent landmarks, and they'd like that to include a balance between vehicular and pedestrian traffic.
"We are proud and excited about the opportunity to support collaborative efforts and discuss the vision of what Monument Circle can be for our people, customers and visitors," Kelly Young, director of public relations for AES Indiana, said in written remarks.
The company owns its building at One Monument Circle and has been there for decades—something it plans to continue, Young said.
"As a Monument Circle stakeholder, we want to be at the table to have conversations like this one. This is an exciting opportunity to think big—and be big as we envision this complex yet connected beautiful space."
Some organizations, including Columbia Club and the Indianapolis Symphony Orchestra, have previously said they would be opposed to a full restriction on vehicular traffic because of their addresses directly on the Circle.
But DPW's Parker noted that there are currently no conversations to make the Circle pedestrian-only.
"There are [users] that require traffic, but the question is whether there is a way for us to have more facilities for pedestrians and make it safer, but also an easier way for us to close the Circle when we need to," he said. "A lot of those things are going to come out through the design process … but it's about finding the sweet spot of reducing traffic, but keeping it open to vehicles, all while making it more pedestrian-friendly."•
Please enable JavaScript to view this content.