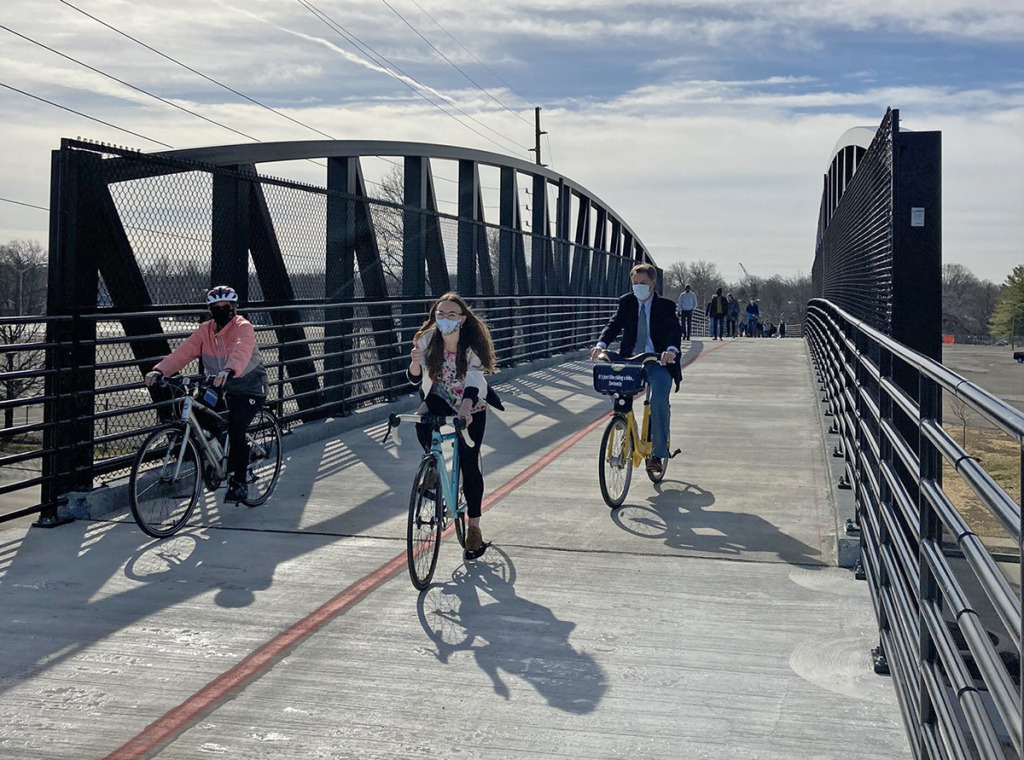 Indianapolis officials on Friday opened the new Monon Trail bridge spanning East 38th Street by the Indiana State Fairgrounds, marking an end to the $4.6 million infrastructure project that was years in the making.
Constructed so trail users could avoid crossing six lanes of traffic on 38th Street, the project required coordination with neighboring community organizations, the fairgrounds, the Indiana Department of Transportation, and the Metropolitan Planning Organization.
The project also included 700 linear feet of new sidewalks along 38th Street, improved trail connections on both sides of 38th Street, and a Pacers Bikeshare station just north of the bridge.
"The completion of this project demonstrates Indianapolis's continued dedication to expanding and improving trails and greenways around the city as well as the safety of those using them," Indianapolis Mayor Joe Hogsett said.
Its design pays tribute to the city's Monon railway heritage with a pedestrian walkway resembling railroad tracks and Monon signage in front of the adjacent Boulevard Station Depot.
The funding included a $2.4 million grant from the Federal Highway Administration Congestion Mitigation and Air Quality Improvement Program.
The Monon Trail is one of the busiest urban greenways in the nation with more than 1.3 million users annually. It's a key link in the Indianapolis Greenways master plan, connecting downtown neighborhoods to northern Marion County, including the Near Northside, King Park, Hillside, Mapleton-Fall Creek, Meridian-Kessler, Broad Ripple, the North Central neighborhood, and Nora.
The Indianapolis Department of Public Works expects to start several trail projects in 2021, including the second phase of the Fall Creek Trail expansion, which will connect with phase one at Burdsal Parkway to the White River Trail at Indiana Avenue.
Please enable JavaScript to view this content.