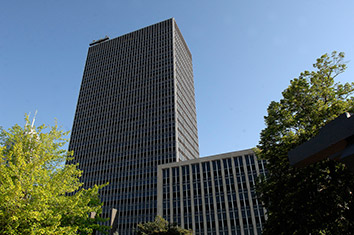 The city of Indianapolis and Marion County plan to offer employees early retirement in an effort to reduce costs ahead of expected budget dips in 2022 and to increase diversity.
The Administration and Finance Committee of the Indianapolis City-County Council on Tuesday voted unanimously to move forward an ordinance that would create an elective retirement program. The measure heads to the full council for approval.
The program would offer monetary incentives to employees who volunteer to retire in 2020 or 2021, depending on their department.
Renee Madison, the city's director of the human resources, said the city is creating the program for several reasons: to support the health and safety of city-county staff considering retirement because of the pandemic; to improve diversity of the workforce; to reduce costs of local government in 2022 (when impacts from the coronavirus pandemic are expected to hit city budgets); and to provide jobless residents in Indianapolis and Marion County employment opportunities.
An analysis of its employees' ethnicities by the city earlier this year showed that the city-county workforce is not as diverse as the city's population.
Those eligible for the program include civilian city-county employees who are age 65 with 10 or more years of service, age 60 with 15 or more years of service, and age 55 if age plus years of service equals to 85 or more.
Police officers and firefighters may also participate, but the eligibility requirements for them vary depending on their pension fund.
Madison said 20% of the city-county workforce is eligible for retirement. Of that workforce of about 7,000 employees, 724 are eligible for the early-retirement program, and 25% of are older than 65.
But nearly 50% of them are public safety employees. Another 17% are Department of Public Works employees, leading the city to put limits on the number of DPW and public safety employees who can participate in the program.
Altogether, 190 employees will be allowed to participate in the program. Of that, up to 25 can be from DPW, 30 can be sworn officers of Indianapolis Metropolitan Police Department, and up to 50 can be sworn members of Indianapolis Fire Department.
To participate, employees will have to apply. The application period will be open for 30 days, from Oct. 15 to Nov. 15.
If more than 190 people apply, participants will be chosen based on total points, which will be assigned based on the applicant's age and their years of service.
Employees will be notified Nov. 30 if they've been chosen to participate in the program, and they must retire by Dec. 31, unless they work for IMPD, IFD or DPW.
DPW employees will have until May 1 to retire to ensure there are enough employees to work through the winter.
Half of the IMPD/IFD employees must retire by July 2 and the other half will have until Dec. 31, 2021.
Those who participate will receive the following incentives:
– 75% of the participant's regular annual base salary for one year;
– An additional lump sum of $10,000 for a health/medical care supplement;
– Payout for accrued leave;
– Option to continue on city-county insurance until the age of 65 with required credible service (this is offered to all retirees).
Ken Clark, controller for the city, said he expects the program to cost the city $12 million in 2021. After that, the city expects savings, but it's difficult to estimate how much.
Some departments will need to rehire, while others may be able to eliminate positions. Madison said she expects m0st positions will be filled.
Please enable JavaScript to view this content.