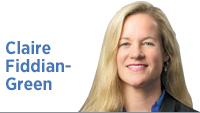 COVID-19 highlighted a challenge that predates the pandemic: the gap between people who have easy access to the internet and computers and people who do not, referred to as the digital divide.
In Indiana, this impacts both rural and urban communities, but to date, state-level solutions have focused primarily on addressing rural needs. More must be done to tackle both urban and rural connectivity gaps and ensure all people in Indiana, regardless of ZIP code or household income, can access the education, health care and other services they need to thrive in our global economy.
Indiana's digital divide is pervasive. A Ball State University study released last summer estimated 42,000 Indiana households with school-age children lack internet access at home. If we want to ensure our population, starting with our children, is set up to succeed, we must address this gap.
As COVID-19 underscored, internet connectivity is a requirement for those needing to participate in e-learning, access health care remotely, find employment and more. As we begin to emerge from the pandemic, there is broad recognition that connectivity will remain a priority. We won't get far as a state if significant numbers of Hoosiers lack access to these opportunities.
More than a dozen bills were introduced during Indiana's last legislative session focused on addressing the digital divide, and six were enacted. While these bills mark meaningful steps toward addressing our state's rural broadband needs, there remains an urgent need to tackle urban connectivity challenges impacting low-income households in cities like Indianapolis.
While federal stimulus money can be used to address connectivity gaps, this funding is short-term by design. That means some eligible households will benefit only temporarily, and once these funds are depleted, the digital divide will once again rear its head.
To be sure, parts of Indiana, like rural Crawford County, have significant connectivity needs due in part to infrastructure gaps. However, the digital divide is just as acute in urban areas with high rates of poverty where residents can't afford internet service.
Purdue University's Center for Rural Development has developed a "Digital Divide Index," which assesses digital inclusion in all 92 counties in Indiana. The tool highlights infrastructure, adoption and socioeconomic gaps and could be used to inform policies and programs aimed at shrinking the digital divide in all parts of the state.
To address the divide in urban areas, cities could consider launching pilot initiatives like the Marion County Dedicated E-Learning Network, which could help schools address the e-learning needs of their students from low-income households. Pilot costs were funded by a combination of federal relief dollars and philanthropy.
A second idea requires changes at the federal level to the Federal Communications Commission's E-rate program. Through E-rate, public schools nationwide can use federal funding to pay for broadband connectivity on site. However, E-rate cannot be used for at-home internet access.
Lifting this restriction would provide greater flexibility to schools to fulfill their missions and address the long-standing "homework gap." It could also help spur the development of innovative solutions aimed at addressing the digital divide in both rural and urban communities.
Eliminating Indiana's digital divide requires addressing both urban and rural connectivity. Undertaking a dual approach is in the best interest of all Hoosiers if we're going to emerge from the pandemic stronger and more resilient as a state.•
__________
Fiddian-Green is president and CEO of the Richard M. Fairbanks Foundation, whose mission is to advance the vitality of Indianapolis and the well-being of its people. Send comments to ibjedit@ibj.com.

Click here for more Forefront columns.
Please enable JavaScript to view this content.