Downtown Indianapolis saw a third-straight Saturday of crowds, with fans flocking to restaurants amid a slate of NCAA Tournament Sweet 16 games on a mild and sunny Saturday.
Restaurants including Pier 48 and The Pub—both across Pennsylvania Street from Bankers Life Fieldhouse—saw steady crowds throughout the afternoon, and District Tap and Harry & Izzy's had wait times exceeding 1-1/2 hours most of the day.
The rush was largely comprised of fans from schools still playing in the tournament, including hundreds from the Chicago area who saw No. 8 seed Loyola Chicago fall to 12-seed Oregon State.
But not everyone in town from Chicago this weekend was cheering for the Ramblers. Take Roberto Valdez, who was cheering on Oregon State—as well as the three other Pac-12 schools still in the tournament (he said he'd like the Beavers to win the title).
Saturday was Valdez's first visit to Indianapolis, but he said he plans to return—whether or not there's an event going on.
"It's just a beautiful downtown," he said. "This experience would definitely invite me to come back."
Valdez said he was spending most of the day with a friend, enjoying the city, but that he felt the masking and social distancing requirements didn't dampen the atmosphere.
"I appreciate that there's a lot of safety measures, obviously with the pandemic still going on," he said. "The NCAA … and the city of Indianapolis [have] put safety safety measures in place to make sure that people are safe but also making it seemed as normal as possible."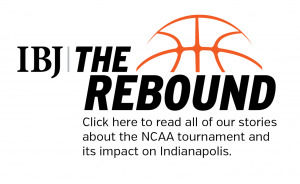 He said the largest fan contingent that he saw downtown Saturday was that of Arkansas, which knocked out 15-seed Oral Roberts in the evening game at Bankers Life. He said that there was "red all over the place."
Throughout the day, many Indianapolis area residents also came downtown to enjoy the tournament, even if they weren't going to games.
"It's great to see everybody able to come together and watch some good basketball and be in this environment here because of March Madness" said Devin Thomas, who lives on the west side. "When you hear 'March,' it's about college basketball—that's what it's about."
Thomas and his friend Ron Coleman, who played Division II college basketball together at the now-defunct St. Joseph's College in Rensselaer.
Coleman told IBJ the experience of having the tournament in one area makes for a different atmosphere for the city at a time where it's trying to fully re-engage with visitors and residents.
"We're just venturing out down here to get a feel for the March Madness action, and just just enjoying ourselves a little bit—getting just a different feel of Indy from what we normally get in our day-to-day lives," he said. "It's good to see different people from out of town here having a good time in the city where we live."
Young entrepreneurs were also making the most of the clear afternoon, including 14-year-old Grace Lucka, who was traversing downtown with her mother, Gayle, to sell Girl Scout cookies. The Luckas drove from Carmel Saturday morning to sell a wagon full of boxes—including to several wait staffers and managers at The District Tap.
"We're hoping all the hungry basketball fans will come out" and buy some cookies, she said, adding she hoped to be "very, very close" to her sales goal by the day's end.
Lucka, a member of Troop 1231, said she may also be downtown Sunday. The pair walked throughout downtown all day Saturday, particularly along busy pedestrian corridors like Meridian and Georgia streets.
And her sales pitch?
"They're really yummy," Lucka said, and the money "goes to a good cause, because my troop is getting ready to work on a huge community service project."
Please enable JavaScript to view this content.