For years, the Marion County Democratic Party has been dogged by accusations of unfair pre-primary election endorsements and internal selection processes, and for years, it's defended itself.
The fight among local Democrats has come to a head in the contentious race for county clerk, pitting county recorder and party chair Kate Sweeney Bell against former state senator and two-time county auditor Billie Breaux.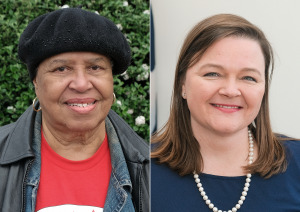 Bell is the party's endorsed candidate, and her run has sparked outcry from some Black elected officials, local religious leaders and other Democrats, who consider Bell's dual roles as candidate and party chair a conflict of interest. Some have called for her resignation as party chair.
The midterm primary on Tuesday presents a potential turning point for the party.
Bell has said that if she's elected clerk, she'll step down as chair—but told IBJ it was out of a desire to reduce her demanding schedule rather than any conflict. Still, the party would have to select a new leader.
A Breaux victory, meanwhile, would deal another blow to the long-controversial practice of pre-primary endorsements and would intensify scrutiny of other processes.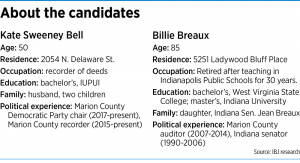 The intra-party conflict centers largely on the selection process for precinct committee people, hundreds of whom fill the unglamorous but foundational elected positions across Marion County. Precincts are the smallest political units.
As party chair, Bell has the authority to fill any slots not taken by elected precinct committee people or the vice precinct committee people they can appoint. While the precinct positions require minimal time commitments in non-election season, they become hugely consequential as elections of all kinds roll around.
Precinct committee people campaign for the party and register new voters and notably vote to fill vacant elected positions. And in Marion County, they choose the candidates on the slate the party endorses before the primary election. Bell herself is on this year's list of endorsed candidates.
"This is a direct conflict," Breaux told IBJ. "… This one person appoints the PC people, then has these same PC people vote to put that person on the ballot. This just seemed so totally wrong to me that I said, '… Something has to be done.' And there was nobody else to run but me, so I did."
Bell defended her dual roles, telling IBJ they didn't pose a conflict and adding, "They're very separate and distinct."
She cited other officials who have led local and state parties while running for election, including Jim Merritt, who was a member of the Indiana Senate during his 2017-2018 tenure as Marion County GOP chair; and Cindy Kirchhofer, who was a state representative during part of her time as Republican county chair.
Longtime complaints
The clerk's race and accusations of conflicts of interest are only the latest controversy regarding Bell, precinct committee people and the party's support of certain candidates.
A July 2020 special City-County Council election drew criticism when Jason Larrison, who'd led the Department of Business and Neighborhood Services under Mayor Joe Hogsett, was chosen to fill a vacant council seat over fellow Democrat and Prosecutor's Office employee Karla Lopez Owens.
The vote, according to The Indianapolis Star, was 12-11—with Larrison, a precinct committee person elected in 2018, voting for himself.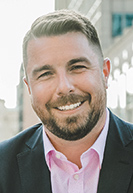 Two months earlier, a county caucus of precinct committee people endorsed longtime Democratic insider Barbara Lawrence in the race for treasurer, over then-Deputy Treasurer Josh Peters. In an open letter that summer, Peters alleged that Bell cleaned out the list of precinct committee people and appointed hundreds of replacements supportive of Lawrence and "under Mayor Hogsett's influence."
"I knew that if [Bell] wanted to stack the deck, she had the ability to do so," Peters told IBJ. "But I wanted to believe that she wouldn't and that, even if she did, maybe I would still squeak by because of my knowledge of the process. But what transpired was a really aggressive … stiffing, putting in anybody and everybody."
Under state law, it's the party chair's responsibility to fill vacancies. Bell wrote in an email to IBJ that "by rule and precedent, all appointed PCs and Vice PCs are wiped clean when PC elections take place" every four years, during the midterms—as in 2018.
Bell wrote that 201 precinct committee people were elected that year, and that she had made 294 appointments since then, leaving more than 100 vacant. Another 350 vice precinct committee person positions were also still vacant, according to Bell.
She denied accusations of unfair appointments.
"If anything, close caucuses have been a calling card. There was a caucus for a [City-]County Council race, decided by one vote. There was a caucus for a countywide elected official, decided by 10 votes," Bell said. "If what I have been accused of were actually true, wouldn't it make sense that those numbers would be very different?"
Support of party leadership hasn't always guaranteed victory for a candidate in a caucus vote.
In October 2019, then-interim Prosecutor Ryan Mears beat Hogsett special counsel Tim Moriarty, the mayor's pick for the role of prosecutor. But before that caucus vote, the internal political battle grew intense, according to IBJ coverage.
Several Democrats told IBJ at the time that Bell took Mears supporters—and even current and former Prosecutor's Office employees—off the party's list of precinct committee people. Several replacements, according to a list, were Hogsett administration employees or their family members.
At the time, Bell said the party had simply removed precinct committee people that no longer lived within their precincts, though some Democrats countered that the deletions appeared selective. And while elected precinct committee people must reside in their precincts, their appointed counterparts don't.
Slating dispute
Some Democrats say the party's pre-primary endorsement and internal voting processes have had far-reaching consequences, disadvantaging less wealthy, younger, non-white and otherwise less-connected members and candidates.
Participating in the party's pre-primary convention is optional but comes with the party's backing and resources. Participating candidates must sign a document that includes a partially refundable fee that is a percentage of the elected position's salary.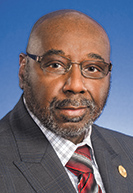 Slating opponents have long dubbed it a "pay to play" system and a barrier to less-resourced candidates.
"When you're 25, 26, 27 years old, if you're married [and] have children … you don't have $1,500 that you can take out of your budget and let it [lie] for a year," said Indiana Democratic Rep. John Bartlett. Bartlett, who was first caucused into office and then competed for the pre-primary endorsement, said he stopped doing so when he realized it was optional.
Several Democratic incumbents and hopefuls, most of them Black, chose not to participate in slating this year.
Bell said the pre-primary endorsements have been discussed for years and might see changes after the May 3 primary.
"It's a conversation that deserves [to be had]," she said.
Still, she defended the party's recommended list of candidates. Half are Black and many are women, Bell said, and the current county central committee "is the most diverse in our history."
But some see room for improvement.
Breaux pointed to the July 2020 council special election, for example, in which Larrison, who is white, won party support over Owens, who is Latina.
"I don't have any complaints about them as individuals, but I'm saying, if you're trying to grow a party, and you're trying to show that you're interested in everybody, why do you keep picking the white person?" Breaux asked.
Marion County Young Democrats President RaeVen Ridgell said she felt the complaints about the party reflected broader, structural problems.
"Sometimes, it's not intentional exclusion," Ridgell said. " … As a Black woman in this space, I know what exclusion feels like. So I entered this space with the intention of making sure that I'm not complicit in that, to the best of my ability."
Asked if the ongoing controversy embroiling the party had affected the Young Democrats' engagement efforts, Ridgell said the group had only recently restarted in-person events and "only time would tell" the controversy's impacts.
"The people who are involved in that controversy have been here way longer than I've been alive," Ridgell said. "So I cannot speak to that. I can speak to what we're working on and what we're trying to achieve. … People have been complaining [about] this structure, and I have to work within this structure right now."
Proving loyalty
Some Democrats allege that the role of personal connections has grown.
"We need to take a hard look at what we're trying to accomplish," Breaux said. "And if we're trying to say that, 'The only people who are qualified are my personal friends,' OK, let people know … If that's not the criteria, and we want to open up this party, as we have been in the past, and as we need to be as we go forward, we need to have people come in and sit at the table."
Peters similarly saw some of the party's endorsement and internal voting results as a symptom of a narrow inner circle.
"I don't believe I was not the favored candidate because I'm a member of the LGBTQ plus community or that, necessarily, other candidates have not been because of their race," Peters said. "But I think, when you have a group of people in charge who don't have a diverse, open group of people around them, they want to put their friends, their supporters—people that they can depend on when they need them to do something—they want those people in those positions."
Several years before his role at the Treasurer's Office, Peters was working at a warehouse, then at a real estate company. He was pushing 30 when he went back to college for a political science degree and took an unpaid internship with the party.
"It was just to get my foot in the door," Peters said. "I knew that I'd have to kind of work my way up."
Under then-Chair Joel Miller, Peters said, he felt "welcomed and plugged in." After graduation, in 2014, he applied for and landed a project-management job with the party.
Within six months, Peters was political director, then executive director.
Hogsett took office in 2016, and in 2017, the county party underwent a reorganization, which Peters said he largely presided over. Bell was elected chair.
"[Bell] told me, 'We're going to find a place for you. We'll figure it out.' I was there for three weeks after the reorg," Peters said. "… They were still telling me, 'Yeah, you know, keep helping us with the transition and get us going and we'll figure it out.' And then Kate called me into her office and told me that I was no longer needed."
Asked if she felt the party contained in-groups and out-groups, Bell referred to the close caucus votes, and the statutory and state party rules she follows.
"There will always be people who think that they could do it better and who definitely think that they would do it differently, and I say to that, 'Look at my record,'" Bell added. "… We win! I know Joe Hogsett thinks that he got 72% of the vote. I would offer that we—all of the people of our party—worked to help achieve that monumental accomplishment."
Election ahead
Whether the intra-party fight will affect the outcome of the clerk's race won't be known until Tuesday.
Meanwhile, Bell and Breaux are both actively campaigning.
Bell has emphasized both her eight years of experience as recorder, and her knowledge of the clerk's wide-ranging duties, including overseeing elections.
"If I am elected clerk, to ensure the safety and fairness of every single vote will be paramount," Bell said.
She's already got some related priorities lined up.
"I hope to have conversations with clerks across the state, as well as our secretary of state. We have some of the most restrictive hours for voting," she said, as well as restrictions on mail-in voting.
Breaux has also positioned herself as a staunch defender of voting rights, drawing on her history of activism and policymaking.
"I am running a strong race and the reason I think I have a chance is because I am a proven elected official. I have been before the public," Breaux said. "… I have fought for civil rights and the right to vote almost all of my adult life and there would be no other reason for me to get in this race other than to make sure that we give Marion County the best representation that we possibly can."
And what comes next for the party could depend largely on what happens in the primary.
"First, we cross that hurdle that is May 3: Election Day," Bell said. "Once that happens, we will be able to address more of these issues. And we will."•
Please enable JavaScript to view this content.