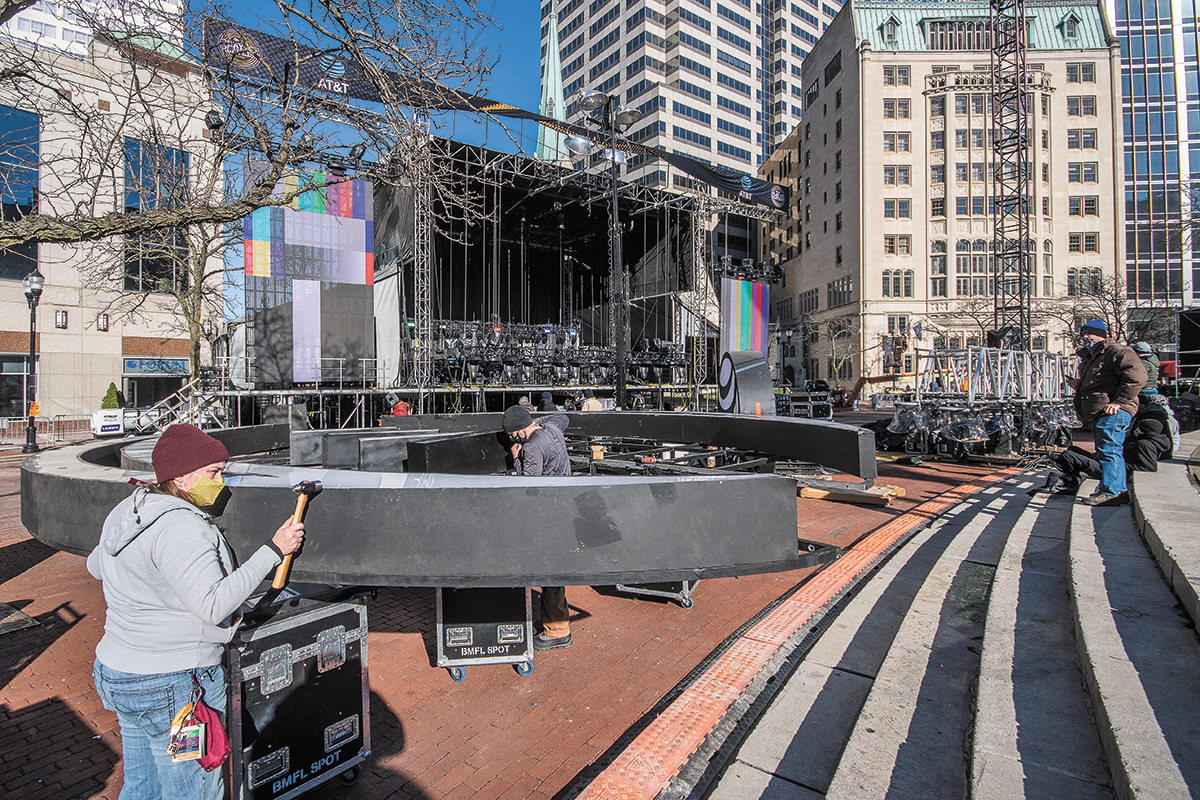 Bill Hancock joked about January weather in Indianapolis when visiting here a few weeks ago. Actually, during several visits.
Hancock, executive director of the College Football Playoff, said the Indianapolis host committee guaranteed a game-day high temperature of 60 degrees when submitting its bid to host the national championship.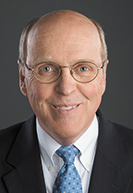 If that were true, the organization could ask for its proverbial money back. Temperatures are expected to be in the 20s, 30s and 40s this weekend and through Monday's championship, with light rain (and even some snow) possible.
Of course, the game itself will be played indoors, at Lucas Oil Stadium with the roof closed. Some of the big fan events, however, will be outside, including high-profile concerts scheduled on Monument Circle, an aerial dance troupe performing on the Salesforce Tower, a zipline, and a "Touchdown Bag Jump," where adults will climb 25 feet and jump down into a large airbag (minors will climb 15 feet before jumping).
Joking aside, Hancock said, "We're going to embrace whatever weather there is." And that's a good attitude for a weekend expected to get frosty.
This will be the eighth year for the College Football Playoff National Championship—and it will be the first in a city where winter often includes snow. (One note: When Atlanta hosted the 2018 title game—also between the universities of Georgia and Alabama—the pre-kickoff high was about 38 degrees, with ice and rain earlier in the day.)
So, will colder temperatures keep fans from enjoying free entertainment on the Circle on Saturday, Sunday and Monday? Unlikely.
Here's the schedule—and the projected temperatures, as of IBJ's deadline on Wednesday:
◗ On Saturday, rapper Doja Cat, pop trio AJR and R&B vocalist Pink Sweats will perform. The Weather Channel predicts a high of 40 degrees and partly sunny skies, with a 24% chance of precipitation. The low is expected to be 38 degrees.
◗ On Sunday, when rock duo Twenty One Pilots, pop singer Ava Max and Indianapolis band Huckleberry Funk will perform, the expected high is 44—but temps are projected to plummet to 12 degrees. The chance of rain early is 70%, with light snow possible.
◗ On Monday, when country-pop singer Sam Hunt and country-rap artist Breland will perform, the high is only expected to hit 23 degrees, with a possible low of 11 late that night, and mostly clear skies.
So, it's a mixed bag of weather. "Downtown concerts are a lot more fun at 40 degrees than at 20," acknowledged Mark Howell, chair of the Indianapolis host committee, when the concerts were announced in November.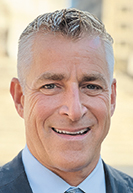 Of course, not everything associated with the football championship will take place outside. In fact, Playoff Fan Central—which includes games, autograph sessions, exhibits, clinics and pep rallies—is open Saturday through Monday in the Indiana Convention Center.
If 2012—when Indianapolis hosted the Super Bowl—is any indication, crowds will come downtown for the outdoor activities, no matter the weather.
Among the 16 cities that have hosted the NFL's Super Bowl, only Indianapolis, Detroit, Minneapolis and East Rutherford, New Jersey, are places commonly associated with cold.
During the Indianapolis event, in 2012, the city hosted two weeks of free concerts on Georgia Street as part of Super Bowl Village festivities—and the weather ranged from frigid to mild.
The crowds were so big, in fact, they bordered on unsafe.
On Feb. 3, 2012, when party duo LMFAO performed, the crowd on Georgia Street swelled to an estimated 50,000 people. Speaking to the Associated Press after the concert, West Lafayette resident Kaitlyn Blacha said people continued to arrive on Georgia Street after the area was packed to capacity.
"At times, I was pinned so tightly, I didn't even have to hold my body up," Blacha said. "Nobody could turn back. We were just stuck."
She said security officers ushered attendees to nearby alleys to alleviate pressure on Georgia Street. Eleven people were injured, according to authorities, with incidents no more serious than shortness of breath and scraped knees.
Such instances of so-called "crowd crush" made the headlines in 2021, when 10 attendees at Travis Scott's Astroworld festival died in Houston.
Looking ahead to the Monument Circle shows, the Indianapolis Fire Department hasn't established a specific number for maximum capacity. The agency said it planned to allow 5,000 to 10,000 attendees, based on variables such as weather and crowd behavior.
Fire Marshal Michael Beard said a comprehensive public safety plan has been formulated by the fire department, the College Football Playoff executive staff and other Indianapolis public safety agencies.
"Our primary focus is maintaining a safe environment for event attendees and staff," Beard said in a statement provided to IBJ.
"These coordinated efforts include designated personnel at the events to monitor capacity concerns, egress and ingress control, and overall event safety," he said. "We are prepared to make adjustments as necessary and are confident that the efforts we have taken to address concerns and potential issues will be handled proactively and safely."
One notable difference between the Georgia Street concerts of 2012 and the Monument Circle concerts of 2022 is the pandemic. Presently, there are no guidelines that reduce an event's capacity because of health concerns.
Unlike past concerts on Monument Circle, the College Football Playoff stage is on the north side of the circle and faces south toward the monument.
In 2006 and 2007, when musicians such as John Mellencamp, Faith Hill and Chris Brown celebrated the NCAA Men's Basketball Tournament and the beginning of an NFL season, stages were placed on the south side of the monument and faced south toward Meridian Street.
Susan Baughman, president of the Indianapolis host committee, said the concert area will be contained with attention paid to the number of attendees entering at the south side of the circle.
"One of the things that we've talked about is not necessarily needing to set [an attendance] record, but to have a good fan experience," Baughman said.
When asked about crowd-control problems that marred the LMFAO concert on Georgia Street, host committee chair Howell said he believes Monument Circle will be a different story in 2022.
"This city is a good learner," he said. "That was 10 years ago. We've had a lot of major events since then. Those types of situations haven't been repeated based on what we learned then."•
Please enable JavaScript to view this content.