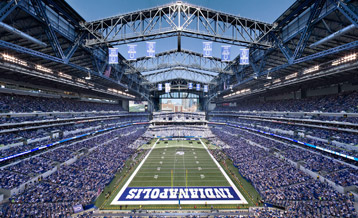 The Indianapolis Colts are moving ahead with plans to host home games without mask or vaccination requirements this season despite the resurgence in COVID-19 cases across the country in recent weeks.
The franchise opens its preseason at home Aug. 15 against the Carolina Panthers and will be permitted to operate at full capacity following discussions with local and state health officials.
Roger VanDerSnick, chief sales and marketing officer for the franchise, said the team doesn't plan to go beyond requirements issued by the Marion County Public Health Department. Masks will be recommended for all fans, but not required.
"We don't have any plans to do that, because it's not required today," VanDerSnick said. "If something changes, we'd have to respond, but right now that's not part of the plan."
VanDerSnick said the team is "monitoring the situation and will work with" the health department to determine if changes are necessary closer to the start of the season.
Temperature checks and health screenings for those attending games at Lucas Oil Stadium also have been discontinued, but the venue will remain cashless and rely solely on mobile ticketing for Colts games like it did in 2020. The NFL also is expected to require anyone with field-level access to provide proof of vaccination.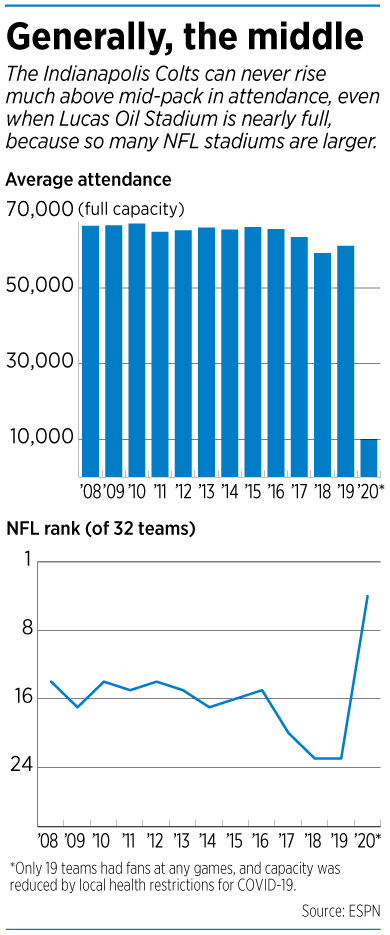 In a statement, the county health department said it "continues to have discussions with the Capital Improvement Board and Colts leadership to ensure the fan experience at Lucas Oil Stadium this season is both fun and safe."
The effort to give Colts fans a more normal game experience follows a 2020 NFL season that saw strict crowd limits and fewer promotions and activities than those seen in a typical year.
Last season, the health department limited capacity at Colts games, allowing 2,500 fans at the earliest games to about 12,500 by the end of the year. As a result, many season-   ticket holders opted to transfer their 2020 tickets to this year, VanDerSnick said.
The Colts on June 29 became the last team in the league to be approved to have full capacity for their home games, which will allow about 63,000 people to attend home games.
Brian McCarthy, a spokesperson for the NFL, said there "will be more information communicated by the clubs and league" about specific protocols fans will need to follow, once the season is closer.
"While we continue to monitor developments, all 32 clubs have been cleared by local and state officials to have fans with no capacity issues," McCarthy said.
Fan activities return
Fans will be permitted to tailgate in team-controlled parking lots, unlike last year. This includes more than 9 acres of parking lots south of Lucas Oil Stadium the Colts quietly acquired last year for about $6.3 million.
Additionally, Touchdown Town is back and the Colts cheerleaders and team mascot Blue will be back on the sidelines.
Several other changes are also planned, including:
— A new 21-and-up area in the former Blue Room space;
— A four-game ticket package called Fan Duel Fan Pass that includes $100 in betting credit with Colts partner Fan Duel;
— Mobile food orders for suite ticket holders;
— Remodeled Colts Pro Shop and the addition of two walk-in stores to replace memorabilia booths.
The Colts also plans to hold giveaways and distribute team-centric handouts at each home game this season. The team didn't offer much in the way of free memorabilia to fans in 2020 to limit the amount of contact staff had with fans.
IUPUI professor David Pierce said he expects the team is doing everything to "make it as quickly back to normal as possible," but indicated he wouldn't be surprised if the team opted to reinstitute masking policies because of the sheer volume of people who are likely to attend games if conditions get worse.
"My assumption would be that they're trying to eliminate as many of those [barriers] as they possibly can," said Pierce, director of the school's Sports Innovation Institute. "The things that have made the experience better, though, I expect those will stick to make things more operationally efficient."
A semblance of normalcy
Continued concern about exposing players to COVID-19—particularly with cases back on the rise due to the disease's delta variant—means in-person interaction between athletes and their most ardent supporters will still be next to impossible.
Through agreements with the NFL Players association, the league has imposed policies preventing fans from receiving autographs from players for a second straight year, including at the team's training camp in Westfield, now under way.
And most on-field activities will be more restrictive than in years past, only open to individuals who have been fully vaccinated.
Group on-field experiences will be shorter than in years past, too, said VanDerSnick. Public-facing initiatives like youth football competitions will generally only be permitted before and after games, when players aren't present.
"We're going to try to return to normal overall, but the on-field piece will see a difference from 2019," VanDerSnick said, adding that full halftime shows aren't likely to be on the docket this year.
The Colts do plan to hold an in-person ceremony at halftime of their Sept. 19 game for Peyton Manning and Edgerrin James, where the two will be presented their Hall of Fame rings. The Ring of Honor induction for former linebacker Robert Mathis, which was originally set for last season, will occur at halftime of the Nov. 28 home game against the Tampa Bay Buccaneers.
Another on-field festivity set to make a return after a noticeable absence in 2020 is the full field flag for the National Anthem. While the flag the team plans to use this year will be slightly smaller to stay distanced from the sidelines, VanDerSnick said the team is "really happy about" the return of the patriotic display.
The Colts have also worked closely with Lucas Oil Stadium personnel to reset the gameday experience for fans to what it was like before the pandemic. The team will forego single-serve, covered food packaging at concession stands like it had last year, VanDerSnick said. The team will continue to implement a cashless payment system, however. 
"That really wasn't a very good experience [for fans], but it was something we had to do," he said. "We're pleased that in concert with the health department, we're able to return back to 2019 standards. That's fun."
The team plans to introduce dozens of new menu items in the coming weeks, VanDerSnick said, including new craft beer offerings, food and specialty drinks.
IUPUI's Pierce said while he's surprised the Colts are quickly moving away from the single-serve food options, he expects the shift to more streamlined payments is a long-term move.
"I do think even if the actual physical concessions aren't grab-and-go, these advances in technology that allows for the cashless and frictionless fan experience are going to stay," he said. "People five years from now aren't likely going to associate that as a COVID-related adaptation but just as something that's gotten better about the game day experience."
Strong ticket sales
VanDerSnick said it's likely the Tampa Bay game—which will see Tom Brady back in Indianapolis for the first time since 2015—will be a sellout. He added several other home games are on track to sell out as well.
In the past three seasons, only one home game has sold out, with the Dallas Cowboys game drawing nearly 67,000 in late 2018. The Colts have generally been in the lower half of the league for attendance since they opened Lucas Oil Stadium in 2009.
"We're pretty confident that we'll have a number of sellouts, because ticket sales are so strong," he said. "We think some of those sellouts may occur several weeks before the games. We're very excited to have a full house—the energy and emotion is going to be great and it's obviously very helpful for the team."
VanDerSnick said the Colts are expecting to have a hard sellout for their suites, with only a couple of their luxury boxes still available for a handful of games. A limited number of club seats are also available. The team is already 25% above its full-year goal for season tickets—and that's three weeks before the preseason. He declined to share what the team's goals are for season tickets, and how many have so far been sold.
"Our new business sales across all aspects of admissions are really quite strong," he said, adding the team has met or exceeded its goals across the board for this point in the year. "We're really pleased with where we stand. We've got some work left to do with [multi-game ticket] sales … and single-game sales that we'll focus on as we get closer to the dates of each of the home games."
Please enable JavaScript to view this content.