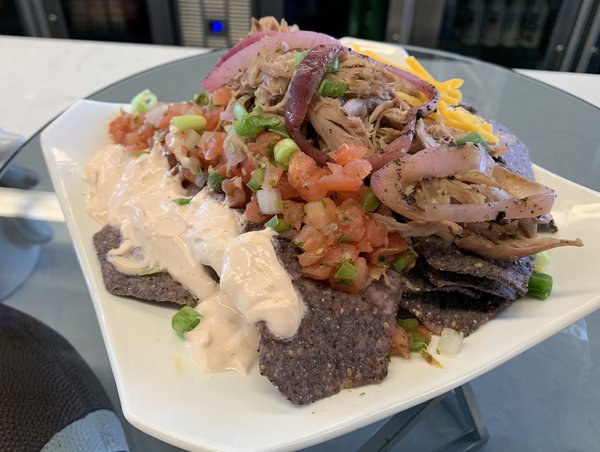 Fans attending Indianapolis Colts games at Lucas Oil Stadium this season will see a new concessions menu that mixes creativity with the familiar.
Colts hospitality vendor Centerplate announced Thursday that it has added several food items that aren't typically found at sporting events, plus some that feel right at home. It also revised the beverage menu with new beer offerings.
Among the new menu items:
— Chicken waffle sandwich basket ($10), with crispy fried spicy chicken breast, smoked bacon, locally sourced maple syrup, maple waffles and strawberry jam.
— Fried mushroom po' boy basket ($9), with fried portobello mushroom slices, fresh spinach and garlic aioli on a baguette.
— Hoosier duck nachos ($12), with queso blanco cheese, shredded duck, pico de gallo and sour cream.
— Nacho fries ($7), with chorizo and Hatch chili cheese sauce.
— Heartland cheesesteaks ($12), featuring shaved seasoned beef, onions, peppers, and beer cheese sauce.
— Jumbo Colts forged hot dog, an Eisenberg Angus Beef hot hog topped with chopped bacon and sweet corn relish.
— Buffalo chicken basket ($9.50), a deep-fried breaded chicken breast dipped in buffalo sauce, served on a bun with fries.
— Burgers of the Game with fries ($10) include the Buckhead Burger (cheddar cheese, breaded green tomato, grilled peach BBQ sauce), Green Chili Burger (green chilis and tri-colored tortilla chips) and Carolina BBQ Burger (cheddar cheese, vinegar pulled pork and battered fried pickles).
Three "healthier" options all priced at $8 also have been added to the menu: the Circle City Cobb Salad, Beets & Greens Salad  and California Wrap.
Large domestic beers (Budweiser, Bud Light, Michelob Ultra, Miller Lite and Coors Light) are priced at $12. Large premium beers (Shock Top, Estrella Jalisco, Blue Moon and Modelo) run $14.
Craft beer flights ($10) offer three choices among Metazoa Hoppopotamus, 4 Day Ray Blood Orange, St Joseph's Kolsch, 2 Deep Cream Ale, Sun King Wee Mac, or Sun King Osiris.
Also added to the drink menu are flavored seltzers and souvenir cocktails.
Among a host of items being added to the suite menu are three-foot Italian subs, tenderloin and shrimp kabobs, creamy corn dip, warm pretzel bites, mac & cheese fritters, goose sausage and beef barbacoa tacos.
"Each season, we look to improve and enhance every aspect of the Colts gameday experience, which of course includes the many and varied food and beverage offerings throughout the stadium," said Roger VanDerSnick, Colts chief sales & marketing officer, in written remarks. "We are excited we are able to highlight the vibrant Indianapolis culinary culture at our games, all while adding new options to an already exciting and satisfying menu."
Please enable JavaScript to view this content.