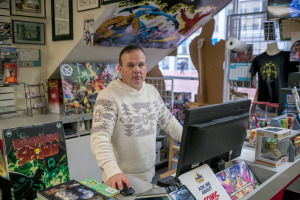 Downtown Comics
11 E. Market St.
Co-owner: Doug Stephenson
Downtown Comics at 11 E. Market St. is just a half-block from Monument Circle—and that's been a pretty good spot to weather the pandemic.
Still, it hasn't been easy, says Doug Stephenson, who opened the store 30 years ago with a partner in a different downtown location.
When the pandemic hit and office workers went home, the store lost a huge piece of its customer base—people who had subscriptions to regular comics and would come in every Wednesday to nab the latest releases.
But the proximity to the Soldiers & Sailors Monument—maybe the most visited and photographed spot downtown—has helped out-of-town visitors find the shop, whether they're in town for Gen Con, a volleyball tournament or a college football game.
"My business model completely changed," Stephenson said of the downtown store's sales. "If you look at my sales chart, everything moved from Wednesday, which is traditionally the biggest day for comic stores … to the weekends."
It helped, too, that Downtown Comics has two other locations—one in Castleton and another in Avon, closer to more people working from home—as well as an online store. In fact, the percentage of the company's sales that come from the downtown location dropped from about 35% before the pandemic to about 25% today.
But Stephenson points to positive signs downtown that make him optimistic about the coming year.
"I'm seeing people coming back to the offices and seeing them back in the store," he said. "People are coming through the front door and saying, 'Hey … it's been about three years.' And then they restart their subscriptions."
He expects that even more workers will return in the spring as word gets out that downtown is coming back and is safe. "Downtown is getting nice again," Stephenson said.
And in planned developments near Gainbridge Fieldhouse and the Indiana Convention Center, Stephenson sees downtown's residential and tourism sectors growing significantly.
One challenge, he said, is what to do long term with Monument Circle. That might mean closing it to traffic, an idea Stephenson said he used to oppose.
"I think now it would probably be better off … with a plaza situation," he said. "We start putting retail shops and cafes in those dead spots on the Circle. Give it a patio atmosphere like European cities do."•
Please enable JavaScript to view this content.