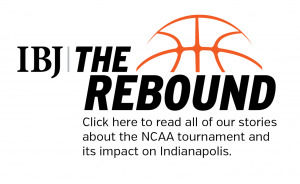 Swish—an art and music festival that will run through the NCAA Men's Basketball Tournament—kicks off Saturday with performances downtown and at the Indianapolis International Airport.
Organized by the Arts Council of Indianapolis with creative input from startup cultural development firm GangGang, the event is being funded by a Lilly Endowment Inc. grant received by Indiana Sports Corp.
The event includes 50 visual and poetry installations throughout downtown as well as a handful of three-dimensional murals.
And over the course of three weeks, more than 500 musicians, dancers, storytellers and others are set to perform.
Here's the schedule for this weekend's performances:
Georgia Street
Connects to the Cultural Trail on Capitol Avenue and spans from Capitol Avenue to Pennsylvania Street.
Saturday, March 13


11 a.m.: DJ Iman Tucker
Noon.: Shawn McGowan
2 p.m.: Dough Henthorn
4 p.m.: Brandon Meeks Quartet
6 p.m.: The Warrior Kings

Sunday, March 14


Noon: DJ SoundsbyTodd
1 p.m.: Love Battalion
3 p.m.: DJ Rusty Redenbacher
4 p.m.: Yadin Kol
6 p.m.: The Phelps Connection
Lugar Plaza
Along Washington Street between Delaware and Alabama streets, across from downtown Indy's Julia M. Carson Transit Center.
Saturday, March 13

11 a.m.: The Phelps Connection
1 p.m.: DJ Top Speed
2 p.m.: Naptown Stomp
3 p.m.: Taylor Deshawn
3:30 p.m.: Mr. Daniel
4 p.m.: Bembe'

Sunday, March 14

11 a.m.: Pat Petrus
1 p.m.: DJ Iman Tucker
2 p.m.: Ballet Folklorico Mosaicos
3 p.m.: Cathy Morris
4 p.m.: Renee King
Davlan Park
At the corner of Massachusetts Avenue and Alabama Street.
Saturday, March 13


11 a.m.: Sister Sinjin with Kaitlyn Ferry
1 p.m.: DJ Liiightwerk
2 p.m.: Snyder
3 p.m.: Pohjo
4 p.m.: Scott Matelic
5 p.m.: Keith Beatty

Sunday, March 14


11 a.m.: Jacob LeFever
1 p.m.: Aimee and Dave
2 p.m.: Longevity
3 p.m.: Vandi Enzor
4 p.m.: Doug Henthorn
5 p.m.: Breanna Faith
6 p.m.: Sweet Tunes
Indianapolis International Airport
Saturday, March 13, in Civic Plaza

3 p.m.: Adam Gross
5 p.m.: Alaina Renae
6 p.m.: Haley Urbanowski
Please enable JavaScript to view this content.