More than 600 artists, musicians, dancers and other creative types are expected to take part in Swish, a three-week arts and cultural festival that will take over sidewalks and outdoor cultural spaces in downtown Indianapolis starting Saturday.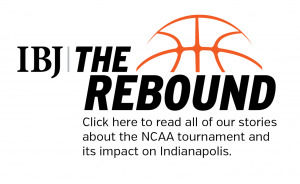 Timed to take advantage of thousands of visitors who will be in the city for the NCAA men's basketball tournament, Swish is expected to add vibrancy to the downtown environment while providing work to central Indiana artists who have struggled during the pandemic.
Organized by the Arts Council of Indianapolis, the event is being funded by a Lilly Endowment Inc. grant received by Indiana Sports Corp to create a safe, welcoming environment for residents and visitors during the tournament.
The event will feature:
– Street and sidewalk galleries, with nearly 50 visual and poetry installations displayed in storefronts in key areas downtown and at Indianapolis International Airport. Art will be on display on Monument Circle, Washington Street, Georgia Street and around the exterior of Circle Centre.
– Immersive basketball-themed 3D murals, painted by four visual artists. The 10-foot-by-10-foot-by-10-foot murals will be showcased at Lugar Plaza, Monument Circle, Georgia Street, and the Majestic Building at 47 S. Pennsylvania St.
– A public art crawl offering self-guided tours that will allow guests to see a 60-foot mural of Indiana Pacers great Reggie Miller, portraits of Indiana Avenue jazz legends, racial justice-related murals and other public artworks.
– A music and performance series featuring more than 500 musicians, spoken-word artists and dancers will deliver diverse performances starting March 13. The performances will take place along the Indianapolis Cultural Trail, and at Lugar Plaza, Georgia Street and Davlan Park, with additional locations at the Indianapolis Artsgarden, Monument Circle and Indianapolis International Airport.
"In Indianapolis, arts and sports have always made great teammates, and this powerful collaboration will allow the city's amazing artists and creatives to reach, and connect with, an even bigger audience," said Julie Goodman, president and CEO of the Arts Council of Indianapolis, in written remarks. "Indy was 'made for this moment,' and Swish will take things to a level that will truly enable us all to showcase what we are made of."
Event details, including information on artists and a map of artwork locations, will be available Friday on the Arts Council of Indianapolis website and on social media at @artscouncilindy.
Please enable JavaScript to view this content.