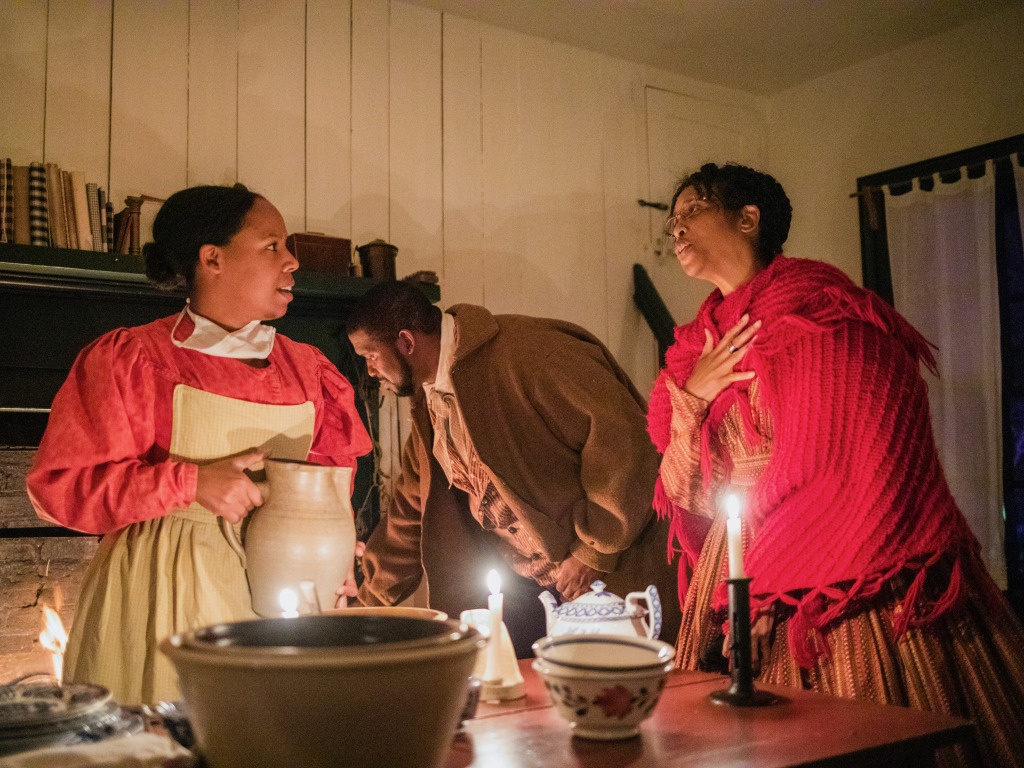 For Conner Prairie visitors accustomed to encountering snapshots of time—such as 1836 Prairietown, 1859 Balloon Voyage and 1863 Civil War Journey—at the living-history museum, an upcoming exhibit depicts the past (and present) in a new way.
A modern building will be constructed at the Fishers campus as part of Promised Land as Proving Ground, an exhibit that will address nearly 1,000 years of Black history.
Dr. Charlene Fletcher, Conner Prairie's curatorial director, said up-to-date technology will be prevalent in the facility that presents information from pre-colonial Africa up to the 21st century.
"In this country, when we start talking about Black history, we typically begin with enslavement," Fletcher said. "It's important that we stop with that narrative. Black history does not begin with slavery, nor does it end with the end of the Civil War. We're still making history day by day."
Fletcher said themes such as activism and community development will be part of the exhibit that aspires to place the experiences of Black residents in central Indiana within a global historical context.
"We will bring it forward and ask visitors, 'What role do you play in this story?' " she said.
The concept of Promised Land as Proving Ground took shape in December 2020, when Lilly Endowment's Religion and Cultural Institutions Initiative awarded a three-year grant of $500,000 to Conner Prairie. Part of the money was earmarked to hire a religion curator for research and program development, a role Fletcher was hired for in 2021.
Promised Land as Proving Ground will open in phases, Fletcher said, with some elements opening within Prairietown this summer. The new building that encompasses what she described as a "wide swath of history" is expected to open in 2023.
The exhibit received high-profile support at the end of 2021, when Conner Prairie was selected, with eight other U.S. museums, to be part of a Smithsonian Institution cohort participating in the "Fostering Critical Conversations with our Communities" program. 
Fletcher said Conner Prairie applied for the program, a collaboration with the International Coalition of Sites of Conscience, with Promised Land as Proving Ground in mind.
"Museums have grappled with accurately and honestly telling the truth of history for quite some time," she said. "I am pleased to see that there are institutions that are doing that work. And I'm also pleased to see that there are so many who recognize that more needs to be done."
Norman Burns, president and CEO of Conner Prairie, said the Smithsonian's support will advance the museum's diversity, equity, accessibility and inclusion programming.
"The key to the success of the Promised Land as Proving Ground project is the inclusive collaboration with communities that have traditionally been excluded at Conner Prairie and elsewhere," Burns said in a prepared statement. "Conner Prairie is deeply committed to serving these diversified audiences with inclusive, representative programming that is highly accessible—to not only become a place where traditionally excluded groups see themselves and their histories represented, but also a place where white audiences can broaden their understanding about excluded groups and their own advantages."
Although slavery was illegal in Indiana and the state played a prominent role in the Underground Railroad, it fell short of being a welcoming place to Black Americans.
In 1837, a state law defined public schools as existing solely for white residents. When the state's constitution was revised in 1851, Black people were barred from settling in Indiana. And in the 1920s, the state was known as a stronghold of the Ku Klux Klan.
"Indiana has a very troubled history when it comes to equity and race relations," Fletcher said. "We talk about that troubled past (in Promised Land as Proving Ground)."
In the Smithsonian cohort designed to facilitate "sometimes difficult or ignored" conversations between museum personnel and the public, Conner Prairie is joined by:
Evergreen Aviation & Space Museum, McMinnville, Oregon.
Greensboro History Museum, Greensboro, North Carolina.
Michigan State University Museum, East Lansing, Michigan.
Museum of History & Industry, Seattle.
Orange County Regional History Center, Orlando, Florida.
Shedd Aquarium, Chicago.
Southern Museum of Civil War & Locomotive History, Kennesaw, Georgia.
Wisconsin Veterans Museum, Madison, Wisconsin.
Fletcher said Promised Land as Proving Ground will be followed by a Conner Prairie overhaul of its Native American exhibition areas.
"We are currently working to properly establish and maintain relationships with Native American communities so they have active roles in that planning," she said.
Please enable JavaScript to view this content.