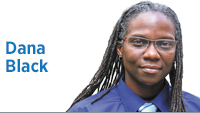 During 2019 Indy Pride week, there was a dust-up when longtime state senator and candidate for Indianapolis mayor, Sen. Jim Merritt, wanted to march in the parade. This sparked heated discussions among residents, which prompted Merritt to hold a press conference June 6 where, at the end of his speech, he said, "Please judge me not by my past votes, or even by words here today. But rather judge me by my actions I pledge moving forward as your next mayor."
Say what?
As Merritt makes his run for mayor, he would like for us to forget the votes he has taken and the bills he has written or co-sponsored in our Statehouse the past 30 years. Some have been counter to the needs of a diverse city like Indianapolis. Sorry, senator; that just isn't possible.
I remember 2014, when you and many of your Indiana GOP colleagues were working diligently on HJR 3, a resolution to amend the Indiana Constitution banning same-sex marriage, and the Religious Freedom Restoration Act (known as RFRA), a bill designed to allow discrimination against the LGBTQ+ in public accommodation. I remember because this was direct action against taxpaying citizens who contribute to our state's economy and vibrant communities, taxpaying citizens like me.
You then said in 2019, if elected as mayor, you would work with the governor to amend the hate crimes law, which passed this year and didn't include gender, gender identity and age. Senator, why wait until you are mayor? You are one of the highest-ranking members in the Senate; you could have used your power and voice while sitting in the chamber, yet you said nothing, offered nothing. And now, we are to believe you will stand up for the most vulnerable people in our city as mayor?
In 2017, you co-sponsored SB 309, a bill designed to de-incentivize renewable energy by rolling back the amount residents could receive by selling their excess solar energy to utility companies. This bill was created to boost revenue for the fossil-fuel industry and contributed to Indiana's ranking as 49th for pollution in 2017. This was not a bill looking out for the health and quality of life for our residents.
I remember in 2005 when you worked with Secretary of State Todd Rokita to pass a voter ID law, the law that was a solution to a problem that didn't exist: in-person voter fraud. We know this law disproportionally disenfranchises seniors, college students and communities of color.
Merritt often touts his conservative values, to which I wonder if he believes in the same philosophy of the Heritage Foundation co-founder and what many call the "father" of the right-wing movement, Paul Weyrich, who does not want everyone to vote.
Some would ask: "What do you mean, you don't have an ID?" But that question usually comes from people who didn't have to dig for months to find birth records because a midwife attended to their birth in rural Kentucky. Or from someone whose mom and dad took them to the BMV for a license, rather being a teen raised in foster care who didn't have a legal guardian to assist with those needs.
I'm sure Merritt is a decent man; however, his 30-year voting record should not be ignored as he suggests. I question Merritt's commitment to Indy's continued growth based on how he has voted in the past. Every Indy voter has a choice; as an African American lesbian voter who likes breathing, I have questions.•
__________
Black is deputy chairwoman for engagement for the Indiana Democratic Party and a former candidate for the Indiana House. Send
comments to [email protected]m.

Click here for more Forefront columns.
Please enable JavaScript to view this content.