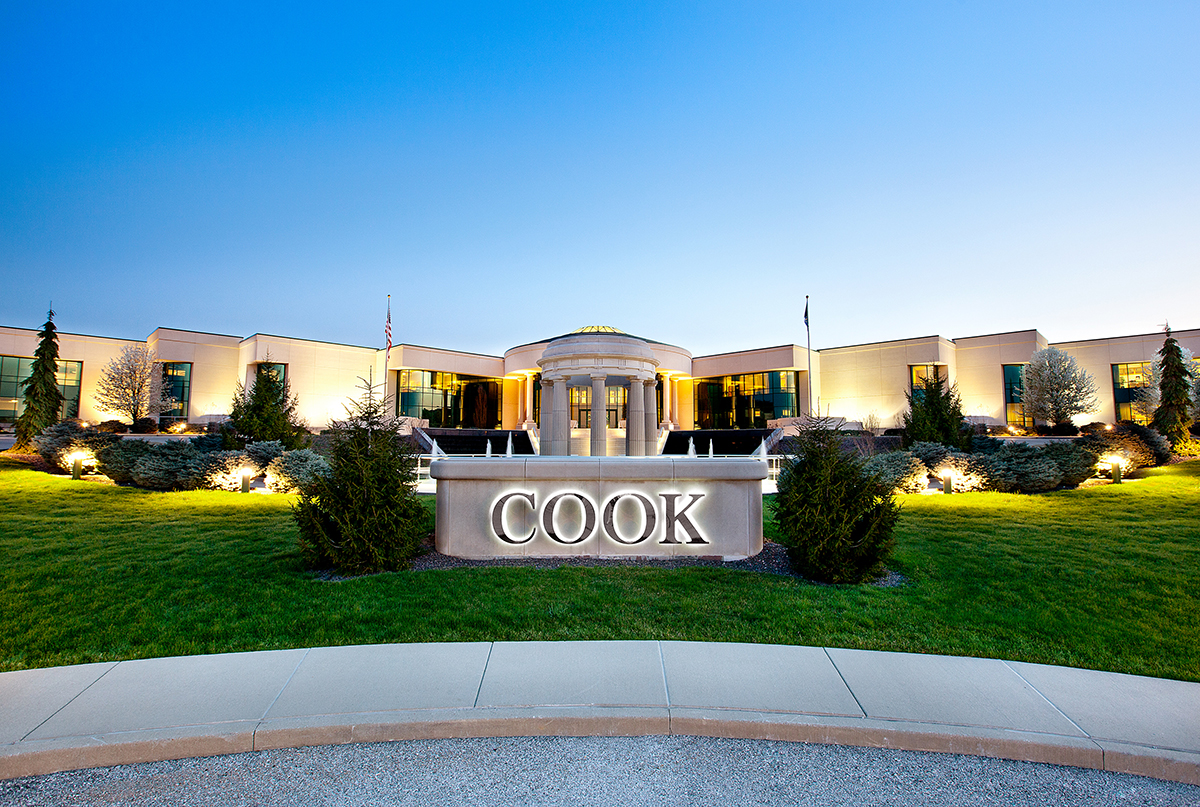 It's a massive, tangled legal case that shows no sign of wrapping up soon. Already, it has dragged on longer than the Golden Gate Bridge construction (four years) and World War II (six years).
The sprawling case against Cook Medical, the Bloomington-based maker of medical devices, has ballooned into one of the largest and longest civil actions in Indiana history.
Since the early cases were consolidated in U.S. District Court in Indianapolis in October 2014, nearly 7-1/2 years ago, the docket has grown by thousands of new claims. It recently topped 10,000, although more than 1,800 claims have been dismissed or otherwise removed.
Cook, Indiana's third-largest private company with $2.1 billion in revenue in 2020 and more than 11,000 employees, is vigorously defending itself against the mountain of lawsuits, maintaining that the products in question—called inferior vena cava (IVC) filters, designed to catch blood clots—are safe.
So far, Cook has won several early cases through jury verdicts or summary judgments.
The plaintiffs have had no successful verdicts against Cook in the early cases consolidated in Indianapolis. However, a Texas jury in 2018 awarded a Houston firefighter $1.2 million in a lawsuit that wasn't part of the federal case.
Cook later appealed the Texas case, and it was settled out of court. Cook's legal counsel also notes that the jury unanimously found that Cook's filter was not negligently designed, but the jury did take issue with the warnings that accompanied the product.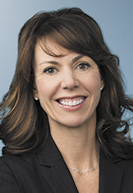 "To date, no sustained jury verdict supports plaintiffs' counsel's claim of a defect in the design [of} Cook's IVC filters; a product used to treat patients with life-threatening medical conditions for more than two decades," Andrea Pierson, Cook's lead outside counsel, wrote in an email to IBJ. "The company's strategy has been, and will continue to be, to defend this important, life-saving technology."
Still, the multidistrict litigation is likely costing Cook millions of dollars, although the private company does not disclose legal expenses. It is using the services of one of the country's largest law firms, Faegre Drinker Biddle & Reath LLP, to help defend it.
Cook declined to make one of its executives available for an interview, but the company issued a statement echoing its attorney's take. "In total, the plaintiffs have had no successful verdicts against Cook," company spokeswoman Marsha Lovejoy wrote.
Multidistrict litigation happens when similar cases, often in the thousands and filed in federal courts across the nation, are pulled together into one district court. This is so the company doesn't have to go through the arduous process of discovery over and over, and so the plaintiffs can pool their resources and save time and money.
Pierson said Cook has urged the court to require screening of cases before filing to ensure that only legally valid claims are maintained. The court has held several bellwether trials, which test the sufficiency of claims in cases representative of much of the multidistrict litigation.
It's not unusual for multidistrict litigation to drag out for 10 years or more, she added.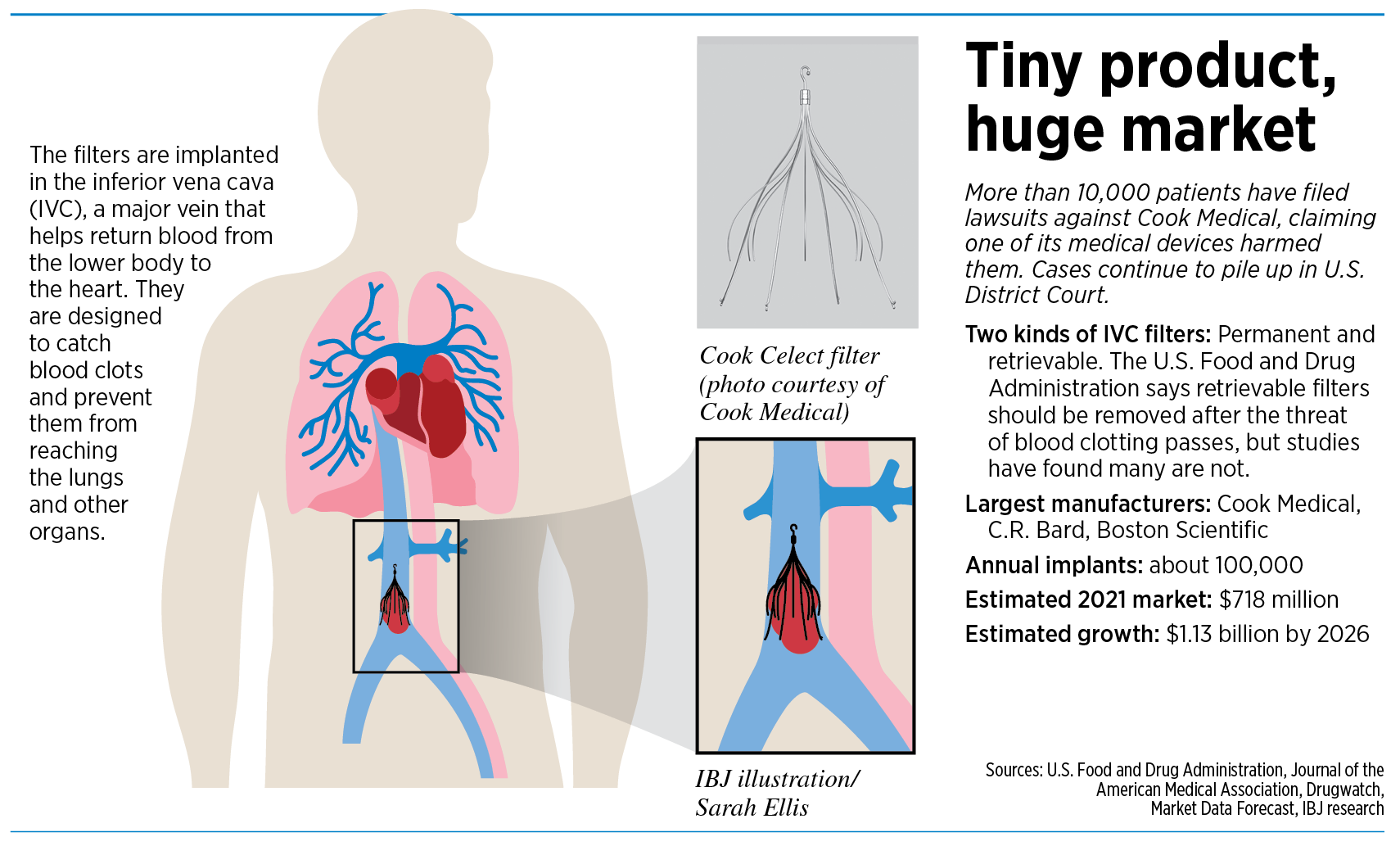 'A lot of moving parts'
The case has grown so large and has dragged out for so long that some plaintiffs' lawyers are privately wondering if their clients will ever go to trial.
For the most part, the civil action against Cook has lurched along in fits and starts, including a long delay from the pandemic that shut down much of the federal jury trials for months. Some attorneys and even the federal judge overseeing the matter are frustrated.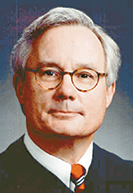 U.S. District Judge Richard Young, who is presiding over thousands of consolidated claims, told IBJ the cases are "very complex … with a lot of moving parts."
He said he plans to meet with attorneys from both sides next month to schedule additional bellwether trials.
Cook won the first two bellwether trials, the first by jury verdict and the second when the judge tossed out the case on the grounds it was barred by Illinois' two-year statute of limitations. Several other bellwether cases have also been dismissed due to statutes of limitations.
The cases involve two different models of the Cook filter, statutes of limitations that vary widely by state, and seven different categories of injury claims, according to severity. All that has complicated the matter, Young said.
"We're doing our best to push it across the finish line," he said. "… It's frustrating that we can't move it forward a little bit. But hopefully this year, we'll make some good progress on it."
Cook's IVC filters are small, metal, cage-like devices inserted into a vein that returns blood from the lower half of the body to the heart. The devices are designed to capture blood clots so they don't reach the lungs.
Cook said the filters help prevent an estimated 100,000 deaths associated with pulmonary embolism every year in the United States. About 200,000 blood-clot filters are implanted nationwide each year.
For patients who cannot take blood thinners—either because anticoagulant therapy has failed or is not suitable for a patient, IVC filters are one of the limited medical tools available, Cook said.
The devices come in both permanent and retrievable models. The two Cook models in dispute in this case—the Celect and Günther Tulip—are retrievable IVC filters. Retrievable models are often used in cases of short-term risk of serious blood clotting, such as after surgeries or following traumatic accidents.
In 2010 and again in 2014, the U.S. Food and Drug Administration issued safety notices warning about possible dangers associated with leaving retrievable IVC filters in place too long. The agency said it had received reports that the devices had broken, migrated through the body or caused organ damage.
The FDA said it recommends doctors remove a retrievable IVC filter as soon as blood-clotting danger passes, usually within a few months. But several medical studies have found that many filters have not been retrieved, and patients still have the metal filters inside them years later.
Trial by jury
In many of the cases filed against Cook, patients have claimed the filters are defective and that Cook did not warn doctors of the risks.
In the case of the Houston firefighter, a surgeon had implanted a Celect filter in 2015 to prevent blood clots from reaching his heart and lungs. Doctors planned to remove the filter when the blood-clot danger passed.
During a typical filter removal, doctors place a catheter into the inferior vena cava to grab the small hook at the end of the filter. Once attached, the catheter and the IVC filter are pulled from the body.
But seven weeks after the firefighter's implant, doctors were unable to retrieve the filter. According to the lawsuit, the filter had moved and embedded itself in a blood vessel. It also perforated the patient's aorta and small intestine. A surgery to remove it was also unsuccessful.
Pierson, Cook's lead outside lawyer, said the Texas jury found the filter was not negligently designed but did take issue with the warnings that accompanied the product.
"Because the verdict was unsupported by the law or facts, Cook filed an appeal," Pierson wrotte in an email to IBJ. "The matter later was successfully resolved between the parties. "
In another case, a federal jury in Indianapolis awarded $3 million to a Georgia woman in 2019 who claimed a Cook Celect filter deteriorated inside her body, and that a strut broke off and migrated to near her spine, requiring surgery, which didn't succeed. Other parts of the device, she claimed, traveled to her thigh and protruded through her skin.
But just a few weeks later, the judge vacated the jury award and ordered a new trial, saying the plaintiff did not have overwhelming evidence to show the company's filter was defective or caused her injuries. The judge also said he erred in allowing the plaintiff's lawyers to admit a certain exhibit into evidence.
Young, the judge, told IBJ he believes the case has since been settled, although settlements are not entered into the docket.
Even so, word of the two million-dollar verdicts quickly lit up the websites of plaintiff attorneys across the nation. Law firms began posting videos, urging people who had IVC filters to call them to discuss their case.
"Did your doctor implant an IVC filter to trap blood clots?" said one video, posted on the website of a Pittsburgh law firm. "…The devices may move or break away. Some IVC filter patients have already received large settlements."
Some plaintiff lawyers point out that the two large jury verdicts (although one was overturned by Young) could lead to bigger payouts.
"Cook is going to have to defend the Celect filter again and again," Baltimore lawyer Ronald V. Miller Jr. wrote on his firm's website this month. "At some point, it is reasonable to expect them to realize that juries won't support them, which will hopefully lead to a Cook Celect IVC filter class action settlement."
As of Feb. 15, Cook faced about 8,400 open cases, according to a report by the U.S. Judicial Panel on Multidistrict Litigation. The cases have all been consolidated in Young's courtroom.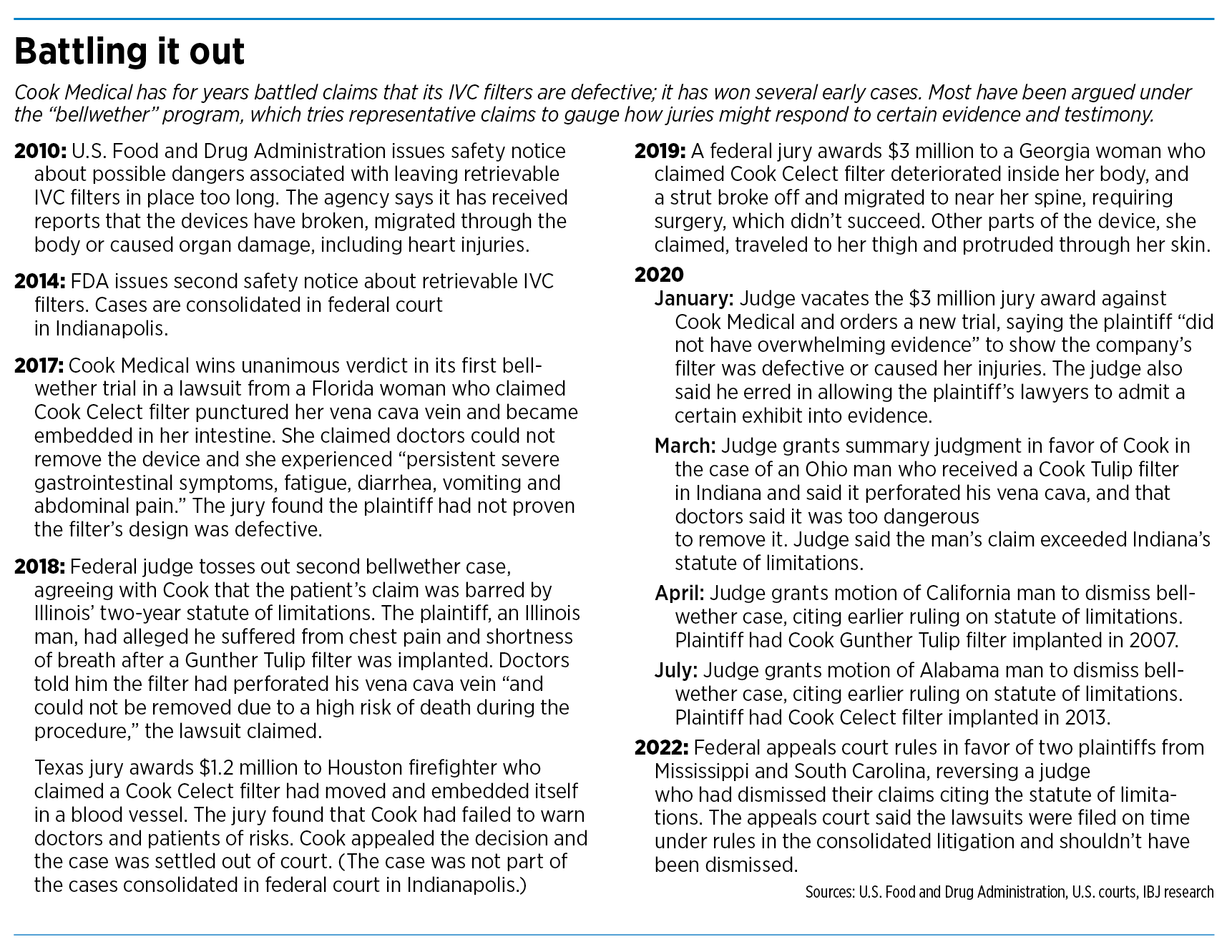 How much longer?
At a certain point in multidistrict litigation cases, the judge ends the discovery process, stops scheduling bellwether trials, and sends all the cases back to their individual courts. Or the judge can approve a group settlement, if all parties can agree on it.
Last year, for example, opioid manufacturer Johnson & Johnson and three large medical distributors agreed to a nationwide settlement totaling $26 billion. In a related case last year, Purdue Pharma, maker of the highly addictive painkiller OxyContin, was dissolved and the company's owners, the Sackler family, were ordered to pay $4.5 billion.
But whether such a group settlement could ever be reached in the Cook case is questionable.
Young said the cases are all very different in types of injury claims, from allegations of severe harm to no symptoms whatsoever.
"So how do you reach a global settlement when you have that range of cases?" Young said.
He has already agreed to dismiss hundreds of cases that fell beyond the statute of limitations in their respective states.
In the meantime, a similar multidistrict litigation against another manufacturer of IVC filters, C.R. Bard, has been assigned to federal court in Arizona. The judge there has already remanded many of the cases back to the individual courts, allowing those plaintiffs to litigate their cases.
Some plaintiffs' lawyers in the Cook case say they hope the trials can resume soon.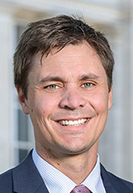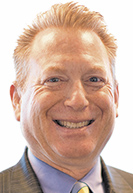 "This case has been pending for a very long time," said Stuart Goldenberg, a Minneapolis lawyer who is representing more than 60 clients in the Cook case. "None of these cases can proceed to their own individual jury trials until there is a remand [from Judge Young]."
Joseph Williams, an Indianapolis lawyer who represents more than 50 clients in the Cook case and is a member of the plaintiffs' steering committee, said he's hoping for action. "We are very interested in doing whatever we can to get as many cases moving forward as possible," he said. "And it does seem that, right now, and for the past couple of years, that has not been happening in this [multidistrict litigation]."
He added it would be "silly not to acknowledge" that the pandemic has slammed the brakes on jury trials for many months.
"But I can tell you that the plaintiffs are committed to try and get this thing wrapped up," he said. "And I know that the court is, too. The court is constantly asking for ideas and things on, how can we move this forward?"
The Cook case is far from the longest cases in multidistrict litigation history. One of the most noteworthy is all the asbestos personal injury and wrongful death cases in federal courts, which were consolidated in the Eastern District of Pennsylvania in 1991. More than 192,124 lawsuits were filed in that case, and as of Feb. 15, 35 cases were still active.
Each month, more cases pour into Young's courtroom, swelling a docket that already has more than 21,000 entries for orders, motions, notices and claims. Among 185 multidistrict litigation cases ongoing around the country, the number of Cook cases is sixth-highest.
The only cases with more open lawsuits are 3M Combat Arms for military earplugs (288,601 cases), Johnson & Johnson for talcum powder products (37,453), Proton Pump Inhibitor for heartburn and reflux drugs (13,398), Sanofi-Aventis chemotherapy drug (11,998) and C.R. Bard for hernia mesh products (15,460), according to the Feb. 15 report from the U.S. Judicial Panel on Multidistrict Litigation.•
Please enable JavaScript to view this content.