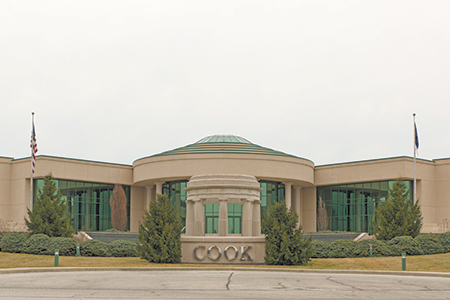 Indiana life sciences company Cook Medical has agreed to sell its reproductive health business unit to CooperCompanies, a California medical-device company, for $875 million.
The two companies announced the acquisition in a joint statement Monday evening after the stock market closed.
The reproductive health unit includes products for obstetrics and gynecology, in vitro fertilization and assisted reproductive technology. It had revenue last year of $158 million, representing about 7% of Cook Medical's total annual revenue of about $2.2 billion.
Bloomington-based Cook said the sale would not affect manufacturing employees, who could move to other operations. The unit has operations in Spencer, Indiana; Vandergrift, Pennsylvania; and Brisbane, Australia.
CooperCompanies, based in the San Francisco area, operates two major business units: surgical and vision. It has 12,000 employees and annual revenue of $2.9 billion.
"After the closing of the transaction, Cook will continue to manufacture products for CooperSurgical during a two-year transition period and will increase manufacturing capacity to keep up with growth," Cook said in a statement. "No manufacturing jobs are at risk because of this partnership. Employees in manufacturing who support these products will continue to do so during the transition period and eventually will cross train to manufacture other Cook Medical products."
Cook did not say how many of the unit's employees work in Indiana or the other locations.
Under the deal, CooperCompanies will pay Cook $675 million at closing and an additional $200 million, paid in four $50 million annual installments.
"This agreement will allow us to invest in future growth and new technologies," Pete Yonkman, president of Cook Medical and Cook Group, said in written remarks.
Cook Group, founded in 1963, said it will continue to operate as a privately held, family-owned company.
Please enable JavaScript to view this content.