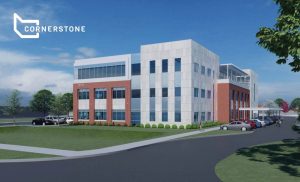 Indianapolis-based Cornerstone Cos. Inc.—which has carved a big niche in health care real estate—plans to keep growing its portfolio with a new $15 million development in Carmel and $60 million in acquisitions in six states.
Cornerstone said it has closed on a 3-acre parcel of land at 12174 N. Meridian St. in Carmel where it is set to build a three-story, 40,000-square-foot medical office building for four tenants.
The project, named Carmel Medical Arts Pavilion, will house AHN Orthopedics, Carmel Pediatric Dentistry, Team Rehab and one other undisclosed tenant.
The building will feature covered physician parking and an outdoor terrace on the third floor. Cornerstone will serve as the developer, construction manager and property manager for the project.
Cornerstone has developed eight other medical office building projects along the North Meridian corridor, totaling more than 288,719 square feet.
Meanwhile, Cornerstone said its Medical Office Building Fund V has acquired nine properties in six states for $59.9 million. Cornerstone serves as the general partner of the private-equity fund, which focuses solely on medical real estate.
The portfolio, totaling more than 300,000 square feet, includes a four-property portfolio of more than 111,000 square feet in Greenville, South Carolina; a 21,000-square-foot ophthalmology clinic in Paducah, Kentucky; the 79,000-square-foot Northwest Medical Center in Poplar Bluff, Missouri; the 57,000-square-foot Danville Polyclinic in Danville, Illinois; the 20,000-square-foot PACE of Southeast Michigan Center in Eastpointe, Michigan; and a 14,000-square-foot multi-specialty surgery center in Columbus, Georgia.
Cornerstone Fund V's holdings now include 24 properties in 12 states, totaling more than 610,000 rentable square feet and annual net operating income of $10.1 million.
Founded 35 years ago, Cornerstone has developed more than $1 billion in medical facilities and manages more than 5.5 million square feet of medical office space.
Please enable JavaScript to view this content.