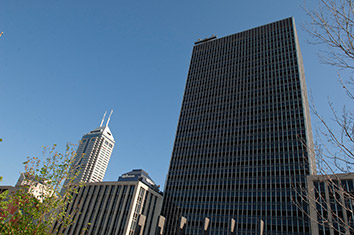 An Indianapolis City-County Council committee on Wednesday advanced a plan by the Indianapolis Public Library to issue $5.3 million in bonds for facility upgrades and projects.
The Municipal Corporations Committee voted unanimously to advance to the full council two proposals tied to a bond issuance the library seeks. The library must have council permission before issuing debt.
The full council will vote on the matter next month.
The $5.3 million bond would be used to purchase materials, furniture and equipment for the new West Perry Branch and install solar panels on that facility. It would also pay for facility upgrades—renovating bathrooms, replacing carpet, etc.—at the Pike and Nora branches, which haven't seen significant updates in more than 30 years.
Funding would also go toward Phase II of the library's Center for Black Literature and Culture digital project, which includes digital displays library patrons will be able to interact with.
Debt repayment will be included in the library's 2021 budget. Officials said issuing the bond shouldn't increase taxes.
The bond's repayment period would be short at two years, with the library paying about $46,000 in interest.
Please enable JavaScript to view this content.