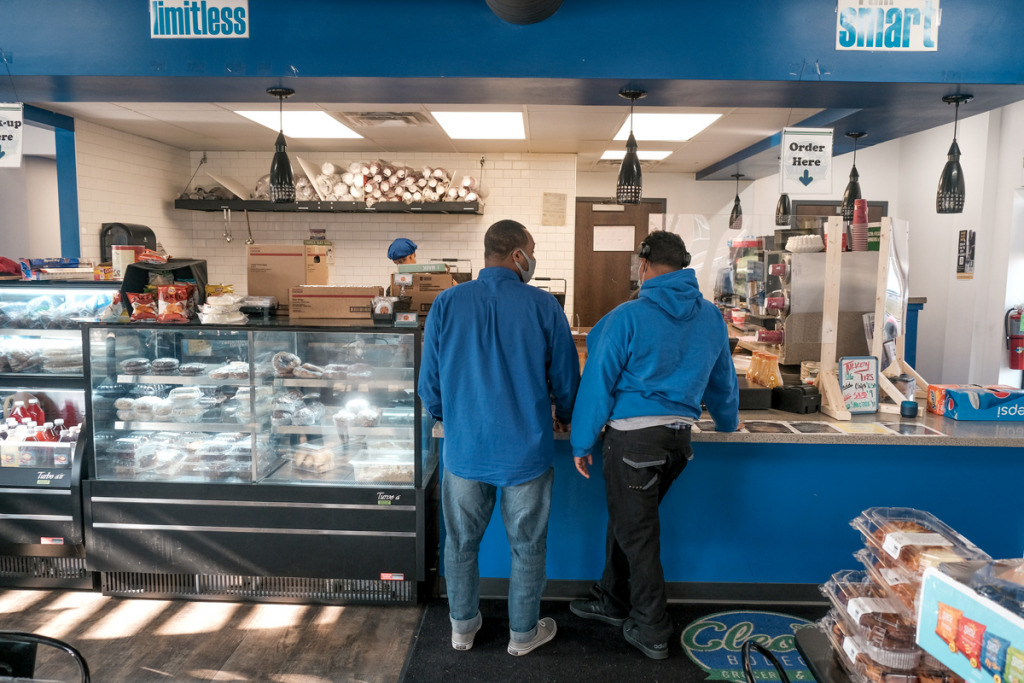 A City-County Council proposal could move the needle forward on food insecurity and access problems by creating a structure that brings together and guides stakeholders already working on solutions.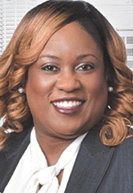 Proposal 337, which was introduced last month, creates the Division of Community Nutrition and Food Policy under the city's Office of Public Health and Safety. It aims to reduce food insecurity by addressing racial inequity in food systems, including improving equitable access to healthy food in food deserts and other low-income areas.
The proposal also formally recognizes the existing Indy Food Council, currently housed in the Office of Public Health and Safety, as the Indianapolis Community Food Access Coalition, breathing new life into a group that has lain dormant in recent years. And it creates a 13-member advisory commission responsible for evaluating and advancing city-wide food-policy initiatives.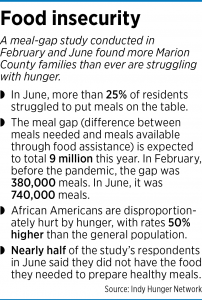 La Keisha Jackson is the District 14 councilor sponsoring the proposal and is chairwoman of the council's Community Affairs Committee. She said the goal is to create a body that brings together all the stakeholders currently working in separate silos in both city-county government and in the community to have a better shot at eliminating hunger and ensuring all residents have access to healthy foods.
Jackson said the proposal will be heard in her committee this month but won't move to the full council for a vote until January.
The groundwork for the proposal started in 2018 when Mayor Joe Hogsett began working on his own food-insecurity and -access initiatives. At the same time, the Indy Food Council, which was losing steam after its creation four years earlier, embarked on a strategic planning process for its future.
The proposal comes as the pandemic creates even more food insecurity in the Circle City.
A survey this summer by the Indy Hunger Network found that the food gap—the number of meals needed to ensure enough food assistance is available for individuals with need—had nearly doubled since February. The survey found that 740,000 meals would be needed per month to address the gap, up from 380,000 before the pandemic hit.
In addition, a 2019 report by SAVI found that more than 200,000 Indianapolis residents, or a fifth of the population, live in a food desert, meaning they lack access to healthy food.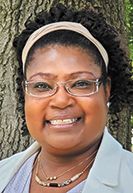 The council proposal also comes as a broad coalition of corporate, not-for-profit and government organizations prepares to launch a food-relief and sustainability program called Food Secure Indy. That program, led in part by Elanco Animal Health Inc. and its CEO, Jeff Simmons, is aimed initially at coordinating food organizations to fill that need for 740,000 meals per month.
Simmons told IBJ last month that addressing the need requires a deliberate collaboration. Already, the movement has had buy-in from Mayor Joe Hogsett, as well as Gov. Eric Holcomb, Anthem Inc., Corteva Agriscience, the Indiana Pacers, AgriNovus and the Central Indiana Corporate Partnership.
The City-County Council's proposal is focused more on developing nutritional options within neighborhoods. It creates a structure that allows information to flow freely among city officials, community leaders and philanthropic organizations working on food issues, said Milele Kennedy, the city's food policy and program coordinator who worked with Jackson on the ordinance.
"We're hoping that this is just the next step of many toward creating a sustainable and really open and honest flow of information around the needs within our food system," she said.
What's proposed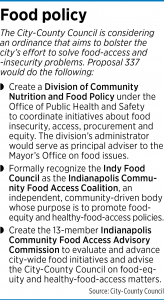 Establishing the Indianapolis Community Food Access Coalition, a new iteration of the Indy Food Council, is a pillar of the proposal.
The council was created in 2014 to bring together organizations and individuals involved in the various stages of keeping a community fed—to catalyze ideas and advance initiatives for a sustainable food system. Food councils exist in cities across the country to solve food-related problems.
Indy's council was born out of the Food System Action Group, which was formed in 2012 to create the Indy Food Fund to award nearly $50,000 to nine organizations to launch local food projects that improved health, enhanced ecology, and created economic and civic opportunities for residents and neighborhoods.
The Indy Food Council has grown dormant, said Sandy Cummings, administrator of chronic disease programs at the Marion County Public Health Department, who was a member of the council from its start, but the need for it still exists. Indianapolis' food system is very fragmented, she said, and food councils bring together all the important players in the food system.
She's happy to see that the council is being reignited under a different name, and that government policy will give it a backbone.
The proposal recognizes the Indianapolis Community Food Access Coalition as an independent, community-driven body whose purpose is to promote policies related to food equity and healthy food access and to provide advice to policymakers, local organizations and funders of food initiatives and community investments.
Matt Giffin, interim director of the Office of Public Health and Safety, said the coalition will be an independent advocate for food access and food equity.
The administrator of the Division of Community Nutrition and Food Policy will serve as a liaison between the coalition and city-county government.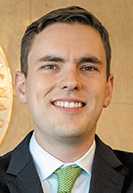 The coalition's work will be bolstered by an advisory commission, which will oversee the work of the City-County Council and the city. The Indianapolis Community Food Access Advisory Commission will consist of 13 members, including an executive member from the coalition and the administrator of the Division of Community Nutrition and Food Policy, who will serve as co-chairs.
The other members will be a business owner or employee of an organization that promotes economic development in the city; a member with professional expertise in transit, housing or public safety; three members with professional experience serving Marion County organizations involved with food equity, food access or food insecurity, including a public health administrator; three Marion County residents who are farmers or food entrepreneurs; and three members of the community.
The commission, which will operate under the Division of Community Nutrition and Food Policy, will be required to meet at least quarterly. It will be charged with:
◗ identifying health-food-access and food-equity needs and goals, with priority given to low-income and food desert areas;
◗ establishing opportunities to connect retail and for-profit food operations with funding resources that could include community development grants, healthy-food financing and other economic development opportunities;
◗ receiving information from city agencies on the food-equity impact of each agency's work;
◗ making recommendations to the City-County Council about more effectively coordinating city's food-related functions;
◗ collecting data to assess existing food policies and recommend new policies;
◗ making annual recommendations to the Office of Public Health and Safety and the City-County Council regarding budget priorities for the Division of Community Nutrition and Food Policy.
Why implement change
Jackson said the advisory commission will provide autonomy and accountability to the city's work and will create strategies to close gaps in existing systems.
Food access is important to her because her district is one without a grocery store, making it difficult for her constituents to access nutritious food.
Julie Burns, CEO of Jump IN for Healthy Kids and a member of the Indy Food Council, told IBJ the strategic planning the Indy Food Council started in 2018 helped lead to Proposal 337.
As part of that work, and simultaneous work by Jump IN for Healthy Kids to try to set up healthy corner stores in the city, it became clear that food-access and -equity work didn't have a centralized home within the city, Burns said. So Jump IN for Healthy Kids secured a grant to reconfigure the food council to better coordinate food-system work. A consultant helped lead that effort and proposed the structure that led to Proposal 337.
Burns said the consultant and the group discovered in their research that food councils tied to government had stronger programs.
The advisory commission, she said, will be able to connect the independent coalition to the City-County Council, which holds the city's purse strings.
Giffin said the changes Proposal 337 introduces will ensure that community members and people who have relevant professional experience are part of the food-policy decision-making process from the very beginning.
When Hogsett's administration announced in 2019 its plan for addressing food insecurity and access (which included funding for an app to connect residents to food assistance, a ride-share program taking residents to grocery stores and more), some felt the approach was top-down, rather than something that came from community consultation, Giffin said.
Kennedy said the mayor's initiatives have been quite successful. Community Compass, for example, has had more than 10,000 users since its January launch and has been updated with features that include search and filter capabilities. It's now available in both English and Spanish and has a user feedback feature.
It's been a vital tool during COVID-19, helping community members find access to food pantries and more near them, Kennedy said.
The Lyft Grocery Access Program is also ongoing. Initially intended to serve only food-desert areas, it is now available to all Marion County residents, thanks to a partnership with Feed Indy. Residents who need transportation to a grocery can get a ride for $1.
And the Neighborhood Food Champions program just closed its application process. Champions will help address food challenges in their own neighborhoods.
Burns said there's still "loads of opportunity" to make a real difference, and that the infrastructure Proposal 337 allows that work to "really get going."
While the proposal won't likely change the way separate organizations work, it might help them connect the dots between their work and other pieces of work in the community, she said.
"That's the hope—that we get a tighter alignment that allows for more efficiency and effectiveness," Burns said.
Kennedy said the mayor, the City-County Council and the community have now all embraced the reality that significant disparities in food access need to be addressed.
"The great thing is that we have a plan, and we have all been working toward doing what we need to do to move the needle," she said. "It's not something that's going to happen right away, but we do know that this is something that's important for every member of our community, and it's something we need to work together to address."•
Please enable JavaScript to view this content.