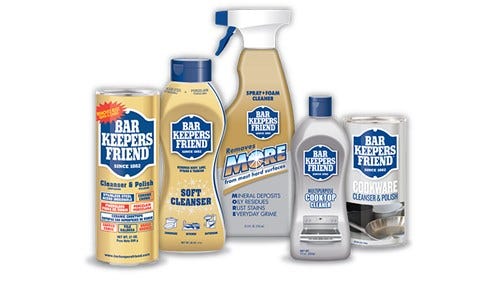 An Indiana commercial court has awarded a former cleaning products salesman nearly a half-million dollars plus interest in a dispute over a bonus that went partially unpaid at the start of the COVID-19 pandemic.
Judge Heather Welch of the Marion County Commercial Court entered judgment in favor of plaintiff Marc A. "Tony" Patterson in the amount of $491,635.62, plus pre- and post-judgment interest. Patterson had sued his former employer, SerVaas Laboratories Inc., for breach of contract after he was not paid his full bonus for the first half of 2020.
SerVaas, based in Indianapolis, manufactures and sells various cleaning products, including its best-known product, Bar Keepers Friend. The company was founded in 1956 by the late Beurt SerVaas, who also owned The Saturday Evening Post and spent 41 years (1961-2002) on the Indianapolis City-County Council, including 27 years as president.
Patterson worked for the company for 37 years as a salesman and executive vice president for sales until he was terminated on Dec. 31, 2020.
In 2007, Patterson and the company entered into a bonus agreement that would allow him to collect a bonus once per "semester," or twice a year. The agreement provided that the bonus would be calculated as 24% of the increase in sales of the current semester over a pre-defined base year.
The bonuses were discretionary, with Matt Selig, SerVaas' chief financial officer making adjustments and reviewing sales records and accounting information "to ensure accuracy and avoid mistakes." The amount of Patterson's bonuses fluctuated, and he failed to earn a bonus in seven semesters.
As the years progressed, Patterson's base salary rose to $151,612 without any change to the bonus calculation. But the calculation did change in 2020 when the pandemic began.
Due to the nature of its business, SerVaas was permitted to continue operating even as emergency orders closed other businesses. SerVaas "thrived" during this time, according to Welch's order, with national retailer Target increasing its order for Bar Keepers Friend by 120% in one day.
To accommodate, SerVaas hired more employees and ran its machines for longer periods of time, leading to higher personnel and maintenance costs. Patterson, like many others, began working remotely, and his sales increased such that Selig estimated his bonus could total $675,000.
"SerVaas wished to review Patterson's bonus in light of the substantial increase in demand attributable to Covid," Welch wrote, adding that the company "reasoned that any sales growth that happened in January or February 2020 could be attributable mostly to Patterson's actions, but any sales growth that SerVaas experienced since March 15, 2020, could not be attributable solely to Patterson's actions."
Patterson's sales for the first semester of 2020 totaled $8.6 million, but Selig subtracted $222,063 based on a "bad debt" that had not been collected from one of Patterson's clients. Then, President Paul SerVaas told Selig to calculate Patterson's commission by taking the first two months of 2020, averaging them and using that average for the next six months.
Under that "alternative method," Patterson was credited with $6.2 million in sales and, after subtracting the "bad debt," was found to have earned a $171,620.40 bonus.
Meanwhile, SerVaas restructured and eliminated the sales department. Patterson was notified in July 2020 that his role was changing and that his bonus had been adjusted under the "alternative method."
Patterson accepted the adjusted bonus, but only as a partial payment. Based on his own calculations, he believed he was still owed $504,597, and he told company leadership that he was not willing to negotiate.
Later, Patterson received a supplemental bonus of $77,229.18, but he determined he was still owed hundreds of thousands more. SerVaas refused to make any additional payments, so Patterson sued in November 2020, seeking nearly $500,000 plus prejudgment interest.
SerVaas terminated Patterson effective Dec. 31 of that year.
In ruling for Patterson on his breach of contract claim, Welch determined the 2007 bonus agreement was, in fact, a valid, enforceable contract.
"Here, Patterson, an at-will employee, presented his consideration and manifested his intent to remain bound to this employment arrangement by continuing to work for SerVaas following the execution of the 2007 Bonus Agreement as bargained for by SerVaas," Welch wrote in the Tuesday order. "Any compensation bonus under this arrangement, therefore, cannot be considered a mere gratuity since SerVaas had offered to compensate Patterson for continued employment services, at least in part, on this compensation structure.
"… Alternatively, the Court notes that any ambiguity arising from the lack of included sales calculation formula is resolved by taking into account the Parties' conduct on this issue … ," Welch continued, adding that their conduct over 13 years showed "the Parties were reasonably certain as to the meaning of 'sales' in the 2007 Bonus Agreement."
The judge then determined SerVaas had breached the bonus agreement in 2020.
"The reductions that SerVaas has provided to the Court do not justify a reduction of Patterson's bonus from approximately $650,000 to approximately $250,000," Welch wrote. "Furthermore, the reductions which SerVaas cites are the kinds of debits which SerVaas has not universally applied in all instances such as unpaid invoices from certain accounts.
"Finally," the judge concluded, "there is designated evidence that shows SerVaas' motivation in applying these discounts was a post-hoc justification for paying Patterson less than what he was entitled under his contract rather than an earnest application of offsets consistent with SerVaas' prior procedures for determining the sales figures."
In calculating damages, Welch agreed with Patterson's calculation that he is owed $491,635.62, which takes into account the two bonus payments he did receive in 2020. She declined to impose SerVaas' deduction for the "bad debt."
As for interest, she imposed an award of 8% prejudgment interest to be "assessed against what amount remained owed to Patterson following SerVaas' initial payment on Aug. 10, 2020, and then reassessed against the remaining amount owed following the second partial payment on Sept. 10, 2020." The court also imposed 8% post-judgment interest and entered final judgment Tuesday.
Because the case was disposed on the breach-of-contract claim, Welch determined Patterson's second claim for unjust enrichment/quantum meruit was moot.
Patterson was represented by attorneys with Kroger Gardis & Regas LLP while SerVaas was represented by attorneys with Ice Miller LLP.
The case is Marc A. "Tony" Patterson v. SerVaas Laboratories, Inc., 49D01-2011-PL-039438.
Please enable JavaScript to view this content.