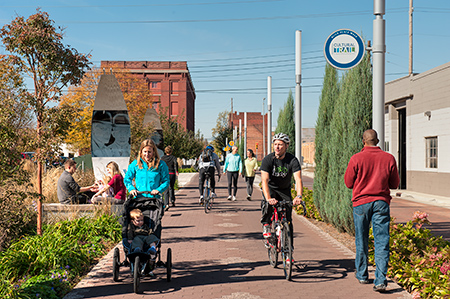 The Indianapolis Cultural Trail Inc. is set to announce this morning that it plans to expand its eight-mile pedestrian and bicycling trail by two miles, thanks in part to a $20 million grant from Lilly Endowment Inc.
This will be the trail's first expansion since it opened in 2013.
The total cost of the expansion is $30 million, which includes both construction and funding for the Cultural Trail's endowment for trail maintenance and public art. Including the Lilly Endowment grant, the Cultural Trail says it has secured more than $26 million in gifts and commitments for the project.
One portion of the expansion will run along South Street, connecting the trail between New Jersey Street near Fletcher Place to Capitol Avenue near Lucas Oil Stadium.
The other expansion will begin on Indiana Avenue at the Madam Walker Legacy Center (formerly the Madam Walker Theatre). The extension will run northwest along Indiana Avenue to 10th Street, then will extend west along 10th Street to the planned bridge that will connect with the 16 Tech innovation district.
"We are grateful to Lilly Endowment, along with other generous supporters, for helping us realize our vision to expand the Trail to better connect our city's unique cultural destinations and neighborhoods," said Karen Haley. the Cultural Trail's executive director.
Haley said the Cultural Trail won't begin construction until it has the full $30 million in hand.
She said her organization hopes to complete the design phase of the project by the end of this year, with construction beginning at the start of the 2021 construction season. Including design and construction phases, the project is expected to take three years. The designer is the Indianapolis office of Rundell Ernstberger Associates, the same firm that designed the original trail.
Additional details on the expansion are available on the Cultural Trail website.
Please enable JavaScript to view this content.