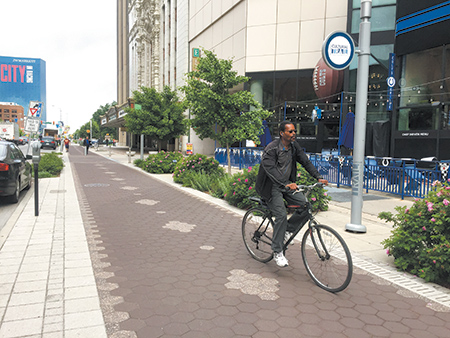 The Indianapolis Cultural Trail Inc. is starting work on its $30 million, 2-mile expansion, the trail's first extension since it opened in 2013.
"The additional two miles will bring landscaping, public art and a beautiful connection to our city, our cultural districts and our neighborhoods along Indiana Avenue, 10th Street, and right here along South Street," said Cultural Trail Executive Director Kären Haley at a groundbreaking ceremony on Thursday morning.
"Residents and visitors alike are going to have an easier, a safer and a more beautiful path to travel as they enjoy the wider downtown area," said Mayor Joe Hogsett.
The Cultural Trail will add a leg along South Street, connecting the trail between New Jersey Street near Fletcher Place to Capitol Avenue near Lucas Oil Stadium.
It'll also expand along Indiana Avenue, from the Madam Walker Legacy Center to 10th Street, then west along 10th Street to the planned bridge that will connect with the 16 Tech innovation district.
"This expansion … will stimulate and support growing economic activity, create opportunities for long-standing companies and institutions such as Slippery Noodle [Inn], Greek Islands [Restaurant], Shapiro's [Delicatessen] and Goldman Jewelry," said Stadium Village Business Association President Erica Wells. She said the expansion would also make the neighborhood "more attractive to new developments, businesses and residents."
The project's $30 million budget includes construction and an endowment for trail maintenance and public art. The Cultural Trail has received $28.5 million of the total, said Development and Marketing Manager Sarah Frey.
Lilly Endowment Inc. contributed $20 million to the trail, the city of Indianapolis gave $5 million, the Indianapolis Neighborhood Infrastructure Partnership gave $1.5 million and the Anthem and Eli Lilly & Co. Foundations each gave $1 million, according to the Cultural Trail's website.
Construction is expected to take about 20 months, according to the organization, which would mean completion in summer 2023.
Please enable JavaScript to view this content.