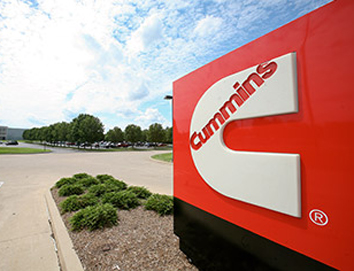 Indiana-based engine manufacturer Cummins Inc. on Tuesday reported first-quarter results that exceeded analyst expectations.
The Columbus-based company raised its full-year revenue and profit outlook based on the improvement.
Cummins reported $6.1 billion in revenue in the first quarter, a 22% increase from the same period of 2020. The company saw a 7% increase in North American sales and 45% rise in international revenue during the quarter.
The results exceeded expectations from analysts surveyed by Zacks Investment Research, who predicted $5.2 billion in revenue.
"Demand accelerated in the first quarter, as the global economy continued to improve, driving strong sales growth across most businesses and regions and resulting in solid profitability," Cummins CEO and Chairman Tom Linebarger said in written remarks. "The strength and breadth of the rebound in demand has surpassed our original expectations and we have raised our full-year outlook."
Cummins reported a first-quarter profit of $603 million, or $4.07 per share, compared with $511 million, or $3.41 per share, in first quarter of 2020.
First-quarter earnings, adjusted for pretax gains, were $4.04 per share, topping analyst expectations of $3.46 per share.
Cummins raised it full-year revenue guidance from a range of 8% to 12% to a range of 20% to 24%
Earnings before interest, taxes, depreciation and amortization, or EBITDA, is expected to be in the range of 15.5% to 16%, an increase from the prior range of 15% and 15.5% of sales.
Cummins shares dropped less than 1% Tuesday morning, to $251.65 each. The stock has risen nearly 12% since the beginning of the year and 61% in the last 12 months.
Please enable JavaScript to view this content.