Moves to finally rid Indianapolis of its distinction as the nation's largest city without a universal curbside recycling program will benefit current businesses focused on recycling and could spur related economic development, advocates say.
Two national recyclers with Indiana operations, Atlanta-based Pratt Industries and Houston-based Strategic Materials, say the change would reduce their need here to import materials from other states by increasing the local supply.
The recycling program, which the city hopes to launch early in 2026, would provide those businesses with an increase of nearly 50,000 tons of in-state materials. Now, both companies need to import materials from as far away as Canada.
The move toward recycling also could help make the case for an in-state glass-processing facility and draw manufacturers that use recycled materials, creating hundreds of jobs.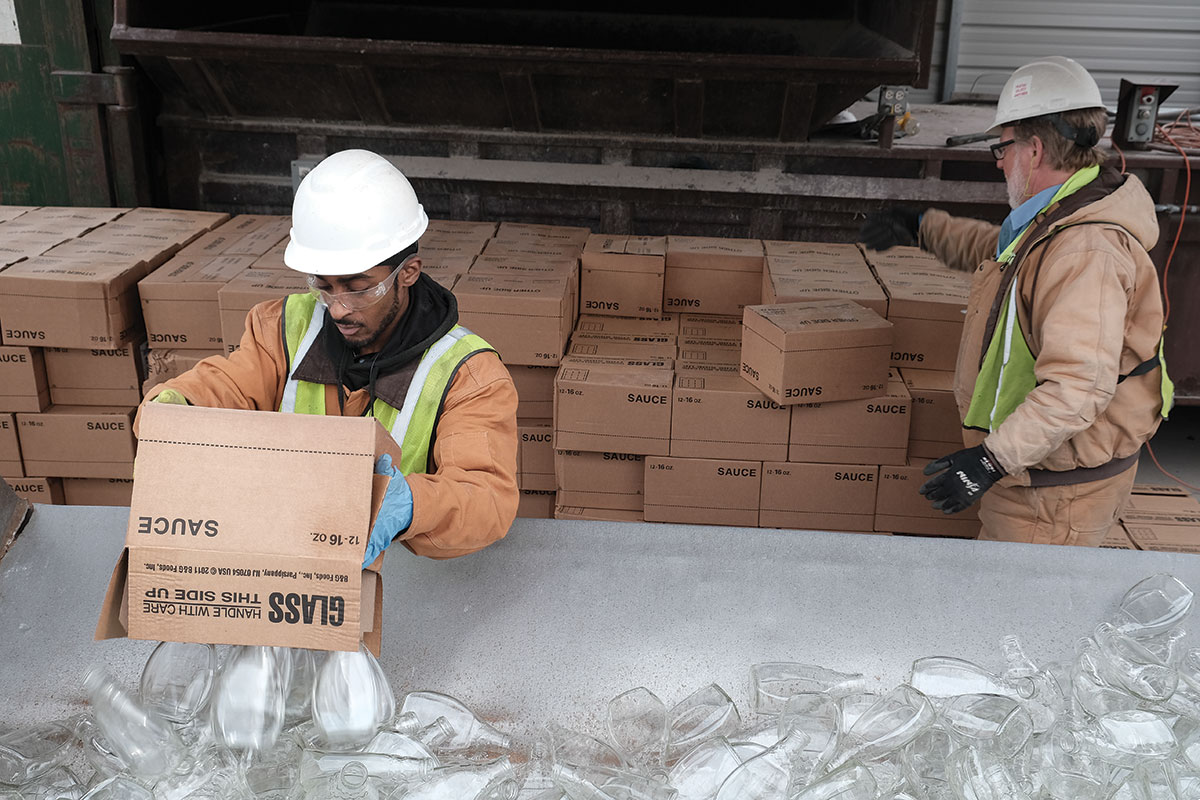 Pratt Industries uses recycled paper fiber to create sustainable packaging. The company has nearly 100 U.S. locations, including Indiana operations in Valparaiso, Whitestown and Gary.
The manufacturer procures more than 15,000 tons of paper each year from Indiana. Shawn State, a spokesman for Pratt, said in a statement that, if Indianapolis started a universal curbside recycling program, Pratt would use all the fiber collected here in its manufacturing process.
The company could also consider opening a facility to process paper, plastic, aluminum and metal cans into a sellable state, State said.
Representatives for Pratt and Strategic Materials said they have seen positive results from other cities' transitions to universal curbside because they add more usable materials to the market.
"When you look at the circularity of it all, it makes sense to run a curbside program," said Laura Hennemann, senior vice president for sustainability and corporate affairs at Strategic Materials, which recycles glass. "I don't believe we would be in business if there were not curbside programs in the United States."
But Strategic Materials, which has four central Indiana locations, would need a nearby facility that sorts glass to reap the full benefits of a closed-loop system in the Indianapolis area, Hennemann said.
Rather than going straight to Strategic Materials from bins, bottles first go to a facility for sorting and cleaning, like Cincinnati-based Rumpke's Dayton facility that processes 40,000 tons of glass per year. Strategic Materials can use "clean" glass, like car windshields, without the help of this kind of processor.
Recycling glass is cheaper than making new glass, Hennemann said. Used glass melts at a lower temperature than sand—how glass is created—which provides a cost- and energy-saving measure for Indiana manufacturers, with the added benefit of decreasing CO2 emissions.
The need for a glass-processing facility is echoed in a 2021 recycling study commissioned by the Indiana Department of Environmental Management.
"A central Indiana glass-processing facility should be evaluated and determined to provide much-needed processing capacity," the study said.
The current materials-recovery facilities in the city are operated by Phoenix-based Republic Services and Houston-based Waste Management. Both recycle glass on a small scale.
The city's Department of Public Works recently issued a request for information that is intended to signal to the industry that the city is interested in expanding local recycling-processing options, according to Morgan Mickelson, director of the Office of Sustainability.
Portia Bailey-Bernard, head of Develop Indy, said in a written statement that Indianapolis could benefit from national trends toward private-sector investments in manufacturing and materials-recovery projects focused on sustainability.
"Indianapolis is well-positioned to attract a project that could not only create hundreds of jobs and generate significant property taxes, but it could also put Indianapolis on the map as a hub for emerging circular economies," Bailey-Bernard wrote.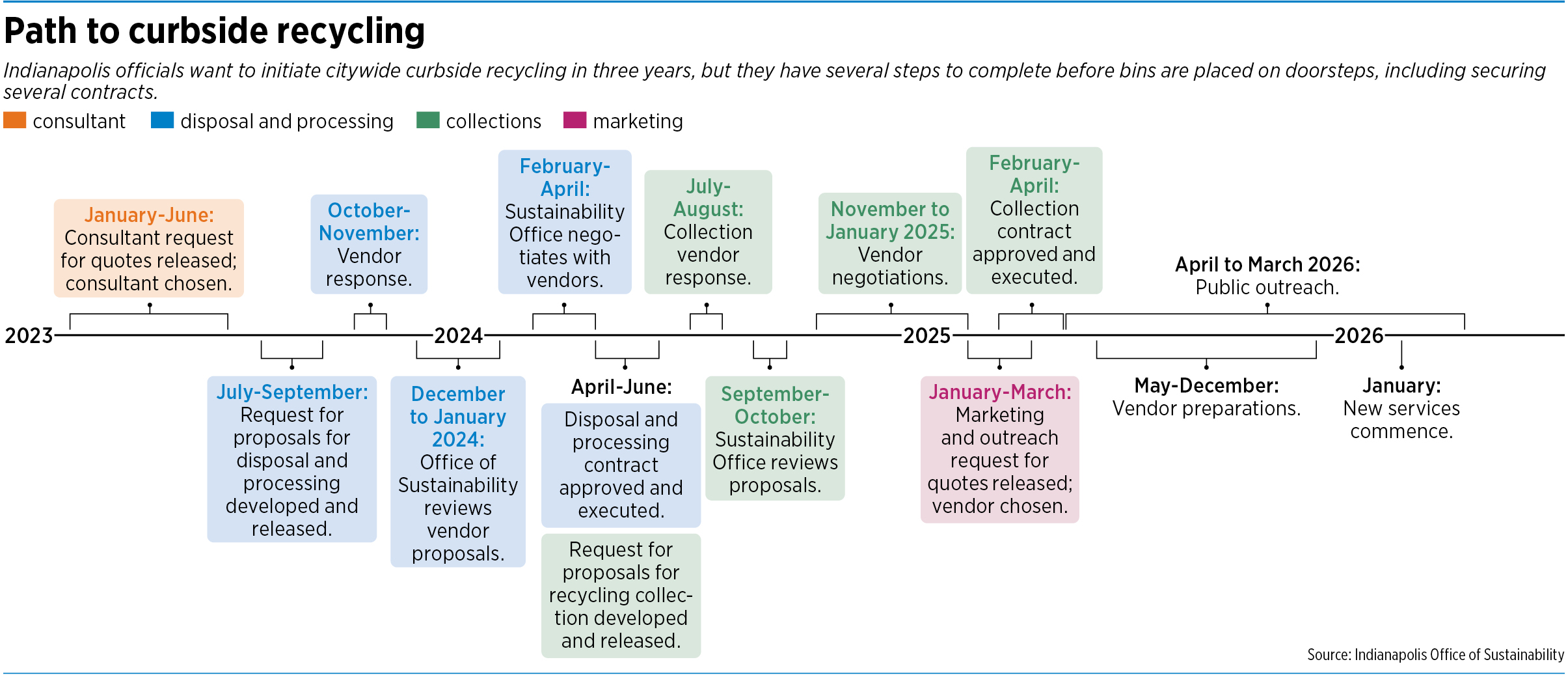 The IDEM study also suggested that a more robust system will be needed if curbside recycling in Indianapolis becomes a reality, likely producing more jobs.
"[Indianapolis' recycling] could amount to over 125,000 additional recycling tons per year," the study said. "While the surveys of the processors did not provide capacity information, a significant increase in recycling would require increases in processing capacity needed for a non-subscription bundled curbside program."
Marion County currently has three trash haulers: DPW oversees four waste districts, Republic Services oversees six, and Waste Management has one. This waste is taken to the incinerator on South Harding Street operated by New Jersey-based Covanta or to the South Side Landfill on Kentucky Avenue. Recycled items are taken to one of three Republic Services locations or picked up from a drop-off location by the same entity.
The goal for establishing universal curbside recycling was set for 2026 because that's when the city is due to renegotiate contracts with the two hauling contractors, the incinerator service and the landfill. There will also be a long-overdue realignment of the sanitation districts, said Abbey Brands, deputy director of policy and planning for the Department of Public Works.
An ongoing barrier for establishing countywide recycling is the low fees charged for trash service, some advocates say. They note the current rate of $32 a year was established in 1987 and does not cover the city's costs.
"As you can imagine, that may have been appropriate in the 1980s. But due to inflation, rising costs of everything, that doesn't even cover the cost to pick up the trash for the city of Indianapolis, much less the surrounding areas," said Marla Cherney, managing director of recycling advocacy group Circular Indiana.
A 2022 waste minimization study found the city spends about $44 per household to dispose of trash, leaving about a $12 shortfall with the annual $32 fee. This adds up to a shortage of $3.2 million per year, which is instead subsidized by tax revenue.
City officials were unavailable to comment on whether the fee would be increased.
Additionally, the study revealed that universal curbside recycling is projected to cost $10.4 million to $17.9 million per year, or between $3.17 and $5.48 per household, per month.
In the first half of 2023, the Office of Sustainability will bring on a consultant to oversee the universal curbside recycling efforts.
Next, the city will seek vendors for disposal and processing, recycling collection, and marketing and public outreach.
The outreach part of the process will be critical because many Hoosiers are not accustomed to recycling.
"Indiana kind of struggles from a recycling-education standpoint," Brands said. "In fact, we very much struggle."
About 11% of Indianapolis residents subscribe to a private recycling service. Each of these households diverts 50 pounds of recycling per month from landfills, compared with the national average of 34 pounds, Brands said.
To get the average non-subscriber even close to that level, the city will partner with a marketing firm to teach residents how to recycle properly.
"The last thing we want to do is put a bin in front of every house, and people treat it as a second trash can," she said.•
Please enable JavaScript to view this content.