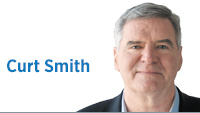 One candidate in northeastern Indiana finds himself running against a not-for-profit journalism center, not just a crowded field, in what might be an early example of how new media affects congressional campaigns.
The congressional seat in northeastern Indiana is "open" in political parlance, meaning U.S. Rep. Jim Banks' decision to run for the U.S. Senate leaves no incumbent. This conservative, pro-GOP district has attracted many candidates, including Fort Wayne businessman, attorney and not-for-profit executive Tim Smith (no relation).
Smith has been the subject of several articles in The Indianapolis Star that were inspired, at least in part, by ProPublica, a journalistic investigative enterprise not known for jumping into political races. To be fair, the coverage is about Lasting Change, not the race, per se, but the organization attracted no such interest until Smith began exploring a congressional run.
Other announced candidates include former U.S. Rep. Marlin Stutzman, who represented the area nearly a decade ago; State Sen. Andy Zay of Huntington, whose current district has some overlap with Indiana's 3rd Congressional District; former local Judge Wendy Davis; and at least four others.
Campaign insiders report there have been many ongoing exchanges with both The Indianapolis Star and ProPublica, and it seems likely there will be further reporting. The articles focus on a lawsuit settled by Smith as well as his advocacy for a not-for-profit immunity grant via a change in state law while another serious complaint was lodged and then immediately reported to police.
No other candidates in this race are under such scrutiny, not to mention from a newspaper 100 miles away with receding interest in state politics and a well-funded not-for-profit based in New York with little to no record on primary political races. It appears to some there are efforts underway to make this race about one candidate, an outspoken Christian trying to do a hard thing among troubled youth.
Here is the essential but as-yet-missing context to evaluate this new dynamic, from the organization's literature:
"In 1968, a group of people in northeastern Indiana came together to provide a home for boys in need of help. Like many non-profit organizations, the start was slow, and the numbers were small, but steadily the impact grew, and lives began to improve.
"The name has changed, and scope of the work has grown exponentially, but the organization's mission remains: to change hearts and bring hope to individuals, families, and communities. Over the decades, the work has expanded to include family preservation services and other home-based offerings, as well as private counseling, but around-the-clock residential services are still at the heart of an organization which emulates the model Jesus taught when he shared how the shepherd leaves the 99 sheep to chase after and rescue the one lost sheep. What started with serving a handful of boys has multiplied, and in 2022, the Lasting Change family of organizations, which is made up of Lifeline Youth & Family Services, Crosswinds Counseling, Wheatfield Academy, Pierceton Woods Academy, and Spencer Home, provided direct care to nearly 15,000 people with the ripple effect of those services helping thousands more. The growth continues and will end with nearly 750,000 hours of direct mental health care in 2023 alone.
"The work is challenging and occasionally mistakes have been made, causing Lasting Change to take corrective action. It is not always easy, but neither is standing in the gap for a population shunned by society. At Pierceton Woods Academy, a few of those mistakes have received a lot of attention, but the challenging work of faithfully loving boys who were victims long before making mistakes of their own, goes largely ignored."
Just remember this in light of the rule in public life today: No good deed goes unpunished.•
__________
Smith is chairman of the Indiana Family Institute and author of "Deicide: Why Eliminating The Deity is Destroying America." Send comments to ibjedit@ibj.com.

Click here for more Forefront columns.
Please enable JavaScript to view this content.