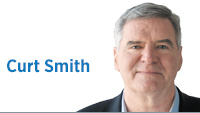 Shocking world events such as the Russian invasion of Ukraine, roaring inflation and a lingering pandemic fill our computer screens and newspapers, pushing out other important but seemingly less urgent topics. Yet America has much unfinished work, including the state of race relations, which have dropped from the front page but remain a critical issue.
To help spark a civil, constructive conversation on race relations and the state of urban America, The Remnant Trust is hosting a Great Conversations series symposium in Indianapolis in May, featuring Robert Woodson. It is titled "The American Founding: Toward A More Perfect Union."
Woodson is an apt leader for the discussion to guide us toward a "more perfect union," to use the language of the U.S. Constitution. He is a civil rights activist, social commentator and winner of a MacArthur "genius" grant who has done extensive work in Indianapolis through the Woodson Center (formerly Center for Neighborhood Enterprise). He will explore America's founding through the lens of the center's project 1776 Unites.
Woodson is based in Washington, D.C., where he has advised presidents, Congress and the broader policymaking community on the needs and concerns of African Americans and low-income Americans of all races.
1776 Unites describes itself as a movement to positively shape the American future by drawing on the best of our past. Radically pragmatic and unapologetically patriotic, it offers—through its essays and curricula—an inspirational and aspirational alternative to the prevailing narrative of racial grievance being perpetuated by an alarming number of businesses, schools and government institutions.
Further, 1776 Unites is a nonpartisan and intellectually diverse alliance of writers, thinkers and activists focused on solutions to our country's greatest challenges in education, culture and upward mobility.
Its leaders acknowledge that racial discrimination exists—and work toward ending it. But they dissent from contemporary groupthink and rhetoric about race, class and American history that defames our national heritage, divides our people and instills a sense of helplessness among those who already hold within themselves the grit and resilience to better their lot in life.
His host, The Remnant Trust, recently relocated to Indianapolis, is an educational not-for-profit committed to collecting and sharing the seminal works in their original form on liberty and human dignity. Its 1,500-work collection, dating from 2,500 BCE, is drawn from four continents and 12 languages. It is among the world's best private collections focused on the ideas and ideals of liberty.
The trust is collaborating with the historic Columbia Club, which will host the symposium. Indiana State University is also co-sponsoring the event, which begins May 3 with a reception and fundraising dinner for the trust. Over a light breakfast on May 4, also at the Columbia Club, Woodson and a panel will focus on the lessons from the founding most applicable to today's public life. This gathering is free to high school and college students, but RSVPs are required. More details are at remnanttrustevents.com.
The trust will display and encourage handling key works from its collection that helped shape the American founding and address race relations. Among texts on display and available to examine:
◗ The Magna Carta, a 1350 early English edition
◗ Frederick Douglass autobiography, 1855
◗ "Uncle Tom's Cabin," Harriet Beecher Stowe, 1852
◗ Declaration of Independence, 1776 (rare printing)
◗ The Federalist Papers
◗ The U.S. Constitution, Connecticut printing (1789 rare edition)
◗ "The Institutes," John Calvin, 1536 edition
◗ Second Treatise on Government, John Locke, 1694
Indianapolis is known for its hospitality and welcoming spirit. Let's trust our capital city not only welcomes Woodson, but that we all also welcome a candid, thoughtful, important conversation on race relations.•
__________
Smith is chairman of the Indiana Family Institute and author of "Deicide: Why Eliminating The Deity is Destroying America." Send comments to ibjedit@ibj.com.

Click here for more Forefront columns.
Please enable JavaScript to view this content.