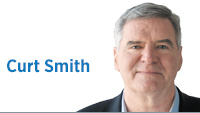 On Capitol Hill, legislators quickly settle into one of two camps—show horses and workhorses. Show horses prance and preen. Workhorses bear the burden of legislating.
Of late, the show horses, thanks to the power of social media, have the upper hand. Evidence of this troublesome trend abounds, but no more so than in the dysfunction that led to the ouster of U.S. House Speaker Kevin McCarthy on Oct. 3.
His crime, at least the one that tipped the show horses into taking action, was passing a stopgap bill to continue funding the U.S. government with a strong swath of Democratic support.
The response? Eight Republicans joined with all 208 Democrats voting that day to push McCarthy out. Got that? "We few dissident Republicans will work with all the Democrats to prevent our leader from working with most Democrats." It's a show horse kind of thing to do, prance and posture. It is also further evidence of the political dysfunction in America.
It's hard to remain optimistic in light of such developments. Still, let's take heart as we search for the silver lining:
This unfortunate development reminds us that, just as the stock market is not synonymous with the overall economy, so political drama in Washington is not the sum total of American public life. Many states—including Indiana—have healthy, dynamic political cultures where problems are addressed as we work toward advancing human flourishing.
All seven Indiana GOP legislators voted for the speaker on the final action, showing Indiana has a sober, realistic congressional delegation prepared to legislate and not just posture. Both our Democratic legislators—Andre Carson of Indianapolis and Frank Mrvan of Hammond—voted to bounce the speaker, showing that the partisan discipline remains perfect on their side of the aisle.
McCarthy, unlike some national leaders of late, accepted the outcome with grace and dignity, announcing he will not seek a return to the position. He spoke wisely and with restraint about his nine months in the third-highest office in the land, the position that accedes to the vice presidency should the president be unable to serve for any reason.
We are reminded politics touches many areas of our lives, from energy costs to public safety to taxes. But politics does not define us or the great experiment we call America. Those larger ambitions are defined by the values and ideals within the citizenry, not the practices of the distant political elites in Washington, D.C.
The common grace and common good continuing in our political culture, while eroding, remains a bulwark against despair and resignation. But it is harder and harder to remain upbeat about national politics in Washington.
We can always smile at the quip, "No matter how bad it gets, Lincoln had it worse," a reference to former President Abraham Lincoln's providential leadership during our nation's most tumultuous times. Yet there is no obvious Lincoln on the national landscape, as the GOP presidential primary underway reminds us daily.
Troubling times sharpen leaders and summon the best from them, in ways often unexpected. We should not wish for tough times, but there is solace in knowing tough times summon the best from the best among us.
The next year—as we head into the 2024 elections for the presidency, Congress and beyond—is a tough, critical time we must all wisely navigate.
In that process, sort out the workhorses prepared to legislate from the show horses prancing and preening. If we don't, we might need a third category, which refers to a horse's backside, for those most destructive leaders.•
__________
Smith is chairman of the Indiana Family Institute and author of "Deicide: Why Eliminating The Deity is Destroying America." Send comments to ibjedit@ibj.com.

Click here for more Forefront columns.
Please enable JavaScript to view this content.