How should the City-County Building be recast?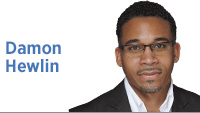 Indianapolis has an opportunity to create a legacy project for future cities to behold.
Meticulous Design + Architecture takes a collaborative approach in finding solutions to complex problems. Case in point, after two brainstorming sessions that included partners and new graduates alike, we passionately explored an abundance of aspirational possibilities for the 28-story City-County Building. As this writing developed, our care for humanity and enhancing the quality of life for all people rippled through the various scenarios.
The prevailing theme throughout our heartfelt debates on whether to demolish or infill the tower was to ensure the site revitalization adds value by becoming a transformational resource for good in the community. Our vision was less about the architecture than the possibility of what programming and what use would best serve the Market East Cultural District.
From afar, the City-County Building's mark on the skyline is significant. Dated architecture, perhaps, but noticeably part of the urban fabric. Its location is part of the historic Mile Square, flanked by City Market on the north and Lugar Plaza on the south. Currently, the building forms a wall dividing Lugar Plaza from City Market. These two venues could be physically linked to provide for greater continuity and walkability.
One team member suggested "opening up" the ground floor of the tower to provide a direct connection between the two plazas. Another team member proposed removing the tower altogether, keeping the two lower-flanking buildings and spanning across at roof level with a bridge-like space, ultimately creating a portal between the two plazas. This iconic gateway massing would symbolize the bridging of mankind's divisions, creating a visual "wow" factor for the district.
In capitalizing on the vision of the Market East planning, we envision the City-County Building as an eco-friendly, sustainable and marketable development that enhances long-term health and well-being within the city. When we asked ourselves what problem we wanted to solve, the answer was easy. We hope the recasting of the structure provides resilience for equitable programming and resources that offer opportunities for all people.
From our lens, it seems like a no-brainer to convert the tower into a mixed-use facility, subdividing residential to provide for different user groups—such as mixing affordable housing, transitional housing, artist's live-work studios and senior living with market rate.
Create opportunity for empowerment, through innovative incubation and maker space for new businesses. Other partners could include medical-education programs to provide residents on-site medical, dental and vision care while students clock clinical hours. Also, a community center for residents, children and aged-out foster adults with social and educational programs on topics such as financial literacy, jobs and skills training, and home ownership literacy.
The facility could be designed to attract trend-setting restaurants and entertainment venues to activate nightlife and change the current associated narrative into inspiration. These are just a few of the ideas we believe could transform the City-County Building into a beacon of light and hope.
Indianapolis has an opportunity to create a legacy project for future cities to behold. This can be a catalyst for creating a culturally vibrant and diverse "co-mingling" model for development: a mixed-use, multi-generational, mixed-income, inclusive community-based facility.•
__________
Hewlin is founding partner and principal in charge at Meticulous Design + Architecture in Indianapolis. Send comments to ibjedit@ibj.com.

Click here for more Forefront columns.
Please enable JavaScript to view this content.